Common interests bring India, Russia closer
Russia's sophisticated diplomatic and strategic policy offers India a model to pursue. Moscow has evolved a worldview with an independent and positive role in the region while keeping an eye on geopolitical stability and balance of power
Zorawar Daulet Singh
For the strategic community, the US and China are the two dominant images in Indian foreign policy. Indeed, of all the major bilateral visits this year, the Prime Minister's visit to Russia has been the most understated. Yet, both from a global balance of power and a regional security perspective, the Russia factor can no longer be ignored.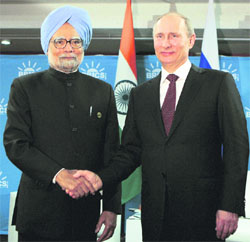 Prime Minister Manmohan Singh shakes hands with Russian President Vladimir Putin at the BRICS 5 Summit in Durban, South Africa Photo: PTI
Russia and world order
The Syrian crisis has been a turning point. Most observers have been surprised at the resilience of Russia's Syria policy. Many expected Moscow would ultimately buckle in the path of a western onslaught. Yet, nimble diplomacy and simultaneous signalling through a maritime buildup in the eastern Mediterranean was able to steer the evolution of the crisis. In September, the Russian Navy stated its Mediterranean deployments "can have a serious impact on the current military situation" around Syria. To be sure, the Obama administration did not appear inclined for an escalatory game that could have spilled over onto its regional allies and undermined America's regional position. Diplomacy became logical and the Russians persuaded the Syrians to concede international oversight over their chemical weapons in return for security and sovereignty.
At a larger level, it is the restoration of a global order regulated by Westphalian norms with the UN Charter as the fulcrum of international relations that makes this geopolitical event more important. The October 21 India-Russia Joint Statement reaffirmed these principles.
Countering radicalism
The other ideational convergence between Moscow and Delhi that found expression in their joint statement is a similar position on radical ideologies. Both states continue to confront the deliberate and spillover effects of radical ideologies that are sustained outside Indian and Russian frontiers. As Putin recently remarked, "Some political forces use Islam, the radical currents within it…to weaken our state and create conflicts on the Russian soil that can be managed from abroad".
The prospect of a failing and contested Afghanistan suggests a replay of recent history. During the 1990s, India and Russia, along with Iran, had closely cooperated in shoring up the Northern Alliance as a bulwark against the Pakistan-sponsored Taliban. After 2001, India adapted its Afghanistan policy by explicitly supporting the western intervention in the hope that this will transform South Asia's geopolitical problems. The western strategy, however, could never overcome its internal contradictions: supporting an Afghan state-building effort, and, simultaneously relying on Rawalpindi, a covert sponsor of the Taliban, to wage a counter-insurgency campaign across the Durand Line. The conflict of interests proved insurmountable and Afghanistan and its neighbours are bearing the consequences.
Russia has begun strengthening the Central Asia-Afghan frontier for precisely such a scenario. Russia has decided to double its air deployments in Kyrgyzstan to 20 Sukhoi jets, even as the US is shutting down its only logistical base in Central Asia in nearby Manas, Kyrgyzstan. Tajikistan, which hosts 7,000 Russian troops, has extended Russia's military presence until 2042.
Contrary to popular perception, it is the Collective Security Treaty Organisation (CSTO), a Russian-led military alliance that includes post-Soviet states, and not the Shanghai Cooperation Organisation (SCO) that is the principal security framework for Central Asia. For India to potentially assume any forward operational presence to secure its Afghan investments and general policy cannot occur without a bilateral entente with Russia and, by extension, an arrangement with the CSTO.
The main reason that would constrain an expanded SCO from stabilising Afghanistan is that Russian and Indian threat perceptions may not converge with China on the question of Taliban's rehabilitation in Afghanistan. Arguably, China could adjust to a Taliban-Pakistan Army sphere of influence in southern Afghanistan to secure China's Uighur problem and Beijing's economic investments in Afghanistan.
Russia's eastern "pivot"
Dmitry Trenin, a Russian analyst, recently observed that Russian foreign policy is likely to continue "a geopolitical shift towards Eurasia and the Asia Pacific Region" and a "further distancing from the US and Europe". Another scholar, Igor Okunev, argues Russia is "embarking on a pragmatic and sharp policy in the spirit of Realpolitik" and "moving away from its pro-European orientation".
Could Russia's evolving worldview make it more amenable to a subservient alignment with China? Russia's self-image as an independent great power rules out such a prospect. Even during the dominance of the westernisers, Moscow refused to accept an unequal partnership with the West. It is unlikely to accept one with China. Of China's 14 neighbours, Russia and India are the most important in continental Asia. Historically, it was the Soviet decision to normalise ties with China in the mid-1980s that persuaded India to follow suit in 1988. By 2008, Russia and China had solved all their territorial disputes.
In the contemporary phase, Russia and India's China policies appear similar. At a global level, both find it beneficial to collaborate with China whether in the UN or in BRICS. For Russia, China is a useful partner to restrain any unilateralist impulses of the West.
Regionally, and, on the Russian and Indian peripheries, however, the China factor becomes more complex and competitive pressures often form the backdrop to interactions. Although neither Russia nor India want to participate in a regional Cold War against China, neither is willing to entertain a Chinese sphere of influence in Asia. As Foreign Minister Sergey Lavrov remarked last year, "It is important to prevent…the Asia Pacific Region from going beyond the limits of natural and mutually stimulating competition and following the negative path of heated rivalry or even confrontation."
Russia's Asia Pacific policy, Sergey Lavrov more recently stated is, "aimed at a stable balance of power". Russia's actual conduct underscores this approach clearly.
In April this year, Russia and Japan began a new push to resolve their 70-year territorial dispute over the Kurile Islands and normalise relations. A former Japanese diplomat recently remarked, "The most important element for breaking a territorial stalemate is the international situation…the chance to settle the dispute is still there". For Japan, it is all about China.
For Russia, it is also part of a quest to restore some of its Pacific influence, develop new energy linkages and develop the Russian Far East. Russia has recognised that tapping maritime East Asia will require new transportation options such as shipped liquefied-natural gas (LNG) or sub-sea pipelines rather than its traditional focus on continental pipelines to Europe and China. Japan and South Korea are world's largest LNG importers absorbing 50 per cent of global supply. Japan imports 96 per cent of its gas of which Russia's present share is merely 8 per cent. Russian gas will offer a secure and much shorter line of communication to an import-dependent Japan.
Both the Foreign and Defence Ministers of Russia and Japan are starting their first round of dialogue this November. Russian President Putin and Prime Minister Abe have held talks four times this year, most recently at the APEC summit in Indonesia.
On the Korean peninsula too, Russia's eastern "pivot" is palpable. Both Russia and China are competing in leveraging their geopolitical location to offer new Eurasian lines of communication to East Asia, which has traditionally relied on the maritime route to Europe. In September, Russia opened a 54-km rail link to the North Korean port of Rajin as a pilot project to potentially link the entire Korean peninsula with the Trans-Siberian Railway network.
Moscow's ties with South Korea have grown wider with trade touching $25 billion in 2012. Russia has been assisting South Korea in developing its space programme since 2004, and this August put another South Korean satellite into orbit. In industrial R&D, South Korean companies such as Samsung and LG rely on innovation and software development centres in Russia for their leading-edge consumer electronic products. In the automobile sector, South Korea is the only East Asian economy to have opened a complete manufacturing facility in Russia with a high degree of local components.
In South East Asia, Russia is pursing a clear policy of assisting Vietnam and Indonesia's military modernisation. Russia is now the third-largest foreign investor in Vietnam after Japan and Singapore. Russia is also helping Vietnam renovate Cam Ranh Bay, an old deep-water harbor that served as an important Soviet naval base during the Cold War. Importantly, the select capabilities that Russia is providing Vietnam — submarines, frigates and fighter aircraft armed with anti-ship missiles — all indicate an attempt at enhancing Vietnam's interests in the South China Sea. By 2016, Vietnam will have 6 kilo-class diesel submarines that are more advanced than the ones Russia has supplied to China. Russia is increasing the bargaining space for Vietnam and enabling it to engage China more confidently on the South China Sea dispute.
India's interest
Too much of Indian security discourse is animated by the China factor, often at the neglect of defining Indian interests in various issue areas or in assessing structural trends in global and regional security or in political economy areas. The main ideational challenge before India is to construct a role for itself in the Asia Pacific region that is not simply a reaction to China's rise.
Russia's sophisticated policy offers one model to pursue just that — an independent and positive role in the region that also keeps an eye on geopolitical stability and balance.
The author is a PhD candidate at the India Institute, King's College London.