Incentives for youth joining armed forces on anvil
Chandigarh, November 4
To boost recruitment into the armed forces from the state, the Punjab Government has proposed a scheme to grant cash incentives to those who are enrolled in the rank and file of the three services. A sum of Rs 5 crore per annum would be earmarked for the purpose.
Govt tries to make police force more people-friendly
Chandigarh, November 4
No police officer will remain posted in his home district. Even the tenure of munshis, Station House Officers (SHOs), Deputy Superintendents of Police (DSPs) and Senior Superintendents of Police (SSP) are now being fixed.
Liquor trade fast becoming money-spinner in Punjab

Patiala, November 4
Septuagenarian Karamjit Singh from Samana is a worried man as his elder son is addicted to alcohol. With decreasing profits from farming, it is becoming increasingly difficult for him to fund his son's de-addiction treatment that costs him around Rs 3,000 per month. Singh's worries were compounded when he found out that his younger son also took to alcohol.
News Analysis
Opposition displayed resolve to take on SAD-BJP Govt
Chandigarh, November 4
The five-day assembly session, that concluded on November 1, saw the treasury and Opposition benches hurling serious accusations and counter-accusations at each other on land deals.



Cash-strapped govt to spend Rs 20 crore on kabaddi cup
Patiala, November 4
The debt-ridden Punjab Government is all set to host the next edition of the Kabaddi World Cup with a huge budget of Rs 20 crore. The government, however, claims that it would raise the money from sponsors. The event will be held from November 30 to December 14.
Tragic Diwali For Some
Man dies after eating langar
Amritsar, November 4
A man died after allegedly consuming langar organised near Gurdwara Baba Atal Rai on Diwali. He was identified as Amarjit Singh (60), of Prem Nagar, Jabalpur in Madhya Pradesh.




Wailing relatives of the deceased in Amritsar on Sunday. A Tribune photo

5 run over by train in Jalandhar
Jalandhar, November 4
Five persons were crushed to death by trains near the Jalandhar Cantonment railway station on Diwali.
Damp Diwali in waterlogged Muktsar areas
Muktsar, November 4
Diwali remained a low-key affair for a majority of villagers in the district which was recently hit by waterlogging leading to widespread losses to the farming community.
Health Minister's PA 'raids' clinic in Moga
Moga, November 4
Rakesh Sehgal, personal assistant (PA) of Health Minister Surjit Kumar Jyani, today raided a private clinic run by Dr Sunil Mittal here to see if obortions were being performed there illegally.
HIV-infected prisoner flees from Amritsar hospital
Amritsar, November 4
An HIV-infected inmate of Amritsar Central Jail, who was admitted to Guru Nanak Dev Hospital for treatment, escaped from Ward No 6 last night.
Chief Minister to inaugurate Sri Guru Granth Sahib Bhawan today
Patiala, November 4
Punjab Chief Minister Parkash Singh Badal will inaugurate the newly constructed Sri Guru Granth Sahib Bhawan on the Punjabi University Campus here tomorrow. The new structure will house the Department of Guru Granth Sahib Religious Studies and will carry out both research and teaching activities with focus on Sikh studies.


Festivities abound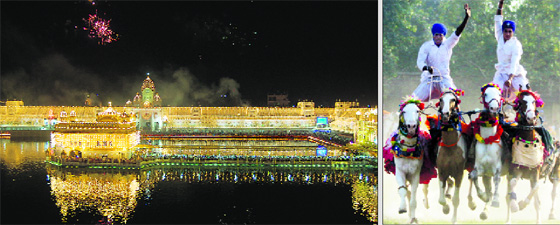 A sparkling Golden Temple on Diwali in Amritsar on Sunday; and Nihangs display horse-riding skills on the occasion of Fateh Divas on Monday. Photos: Vishal Kumar
Patiala Aviation Club may get night landing facility
Patiala, November 4
Soon, the newly trained pilots passing out with the Commercial Pilot License (CPL) from the Patiala Aviation Club (PAC) will be able to train at night. The PAC administration has applied to the Punjab Government for night operations.

Tackling rabies an uphill task in Sangrur district
Sangrur, November 4
The rising number of stray dogs and the acute shortage of rabies vaccine vials (doses) have made tackling dog bite cases an uphill task for the district administration.
Stray dogs maul old man to death
Machiwara, November 4
Stray dogs mauled an intoxicated old man to death at the Machiwara bus stand yesterday. Tarsem Lal (65), a resident of Nawanshahr, was seen lying in a pool of blood this morning.
Nine Faridkot jail inmates get remission in sentence
Faridkot, November 4
Nine life-time prisoners were released before the completion of their sentence from Faridkot Central Jail. The authorities concerned wanted them to celebrate Diwali and Bandi Chhor Divas with their family members.



Land dispute turns violent, one killed
Moga, November 4
Dalip Singh, 52, was crushed to death under a tractor and his brother Jaswant Singh seriously injured in a dispute over a piece of land belonging to the Central Government at Sanghera village in Moga district yesterday.
Fraud case against school management
Tarn Taran, November 4
Members of the managing committee and principal of Sri Guru Arjun Dev Khalsa Senior Secondary School, Aggara Pichhara, 15 km from here, have been booked on the charges of embezzling funds and selling a piece of school's land.
Bid to encroach on forest land, 3 booked
Ferozepur, November 4
Three persons have been booked on the charge of making an attempt to encroach upon forest land near Bhagwanpur village along the Left Marginal Bund in this region.