Boy killed, 20 hurt in cracker mishaps
Ambala, November 4
One person was killed and 20 others injured in different incidents during Diwali celebrations in Ambala City yesterday while blankets of worth lakhs were burnt when a fire broke out in a godown.
Two-day annual function concludes in Patiala school
Patiala, November 4
Narain Public School, Patiala, wore a festive look at its two-day annual function 'Aghaas'. The students captivated the audience with a spectacular show.
PharmFest-2013 held
Patiala, November 4
The Department of Pharmaceutical Sciences and Drug Research, Punjabi University, Patiala, celebrated PharmFest-2013 based on the theme 'Diagnostic Tools: The Backbone of Clinical Health Care System'. Various events like quiz competition, debate and poster presentation were organised. A guest lecture on 'Radiodiagnostic Techniques' was also delivered.
Man dies in road mishap
Banur, November 4
One person was killed in a road accident near here last night. The deceased has been identified as Jagat Singh, a resident of nearby Karla village.
Heavy vehicles on link road banned in Ropar
Ropar, November 4
Ropar Deputy Commissioner, PK Agrawal, has banned plying of heavy vehicles on the newly-constructed link road on both banks of Ganguwal Power House to Ropar-Majri via Anandpur Sahib here today.
Student killed in road accident
Ropar, November 4
A 19-year-old youth was killed when his motorcycle hit a tree at Mianpur near here last night. The deceased has been identified as Joginder Kumar, a resident of Mianpur, a student of Class XII.
10 hurt in Ropar
Ropar, November 4
Ten people, including two children, were injured due to burning of crackers here yesterday.
Diwali celebrated with fervour in Dera Bassi, no injury reported
Dera Bassi, November 4
Diwali was celebrated with fervour at various places in Dera Bassi sub-division. People used fire crackers and distributed sweets to each other. So far, no untoward incident has been reported regarding the celebration of festival.


Consumer forum penalises insurance firm
Chandigarh, November 4
District Consumer Disputes Redressal forum has penalised an insurance firm for undervaluing the insurance against a dead cow. The New India Assurance has been directed to pay Rs 10,000 to the complainant towards compensation for harassment and deficiency in service and Rs 5500 to the complainant towards litigation expenses.
Store fined for selling soft drink carrying foreign particles
Chandigarh. November 4
A departmental store has been penalised for selling a "Frooti" bottle carrying foreign particles. District Consumer Disputes Redressal Forum has directed Arora Karyana and Confectioner, Sector 37, to pay Rs 10,000 to the complainant for harassment and mental agony and Rs 5,000 towards litigation expenses.


28-yr-old labourer done to death
Mohali, November 4
A 28-year-old labourer was murdered by some unidentified persons on the eve of Diwali at Nayagaon village here. The body of the victim, Ashok Kumar, a painter, was recovered from a vacant plot at Vikas Nagar in the area. According to the police, the victim's head had been crushed under a vehicle in a bid to conceal his identity.
Six injured in clash
Panchkula, November 4
Six persons were injured in a clash after they were involving swords and stones this evening at Kharag Mangoli.
Man injured as gunshot fired in brawl
Mohali, November 4
A shopkeeper of Teur village sustained injuries accidentally when two groups quarrelled and later one of them opened fire.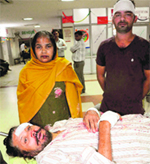 Property dispute: Three hurt
Chandigarh, November 4
A property dispute in a house in Buterla village went awry when members of a party attacked the rival party with rods and sticks. Three persons, including a woman, was injured in the attack.

The police has arrested a person, identified as Kuldeep Singh, in a case of trespass and rioting registered at the Sector 39 police station.


The injured at the GMSH-16 in Chandigarh on Monday. Tribune photo: Parvesh Chauhan

Two robbed of cash, phones
Chandigarh, November 4
Two cases of crime were reported in city today. In the first incident, Chandru and Sanjay, both residents of Industrial Area Phase II, were on rickshaw when two unidentified persons on motorcycle and two pedestrian stopped them and forcibly took away Rs 3,000 and a mobile phone from Chandru and Rs 1,000 and mobile phone from Sanjay.





Golf facilities at subsidised rates
Chandigarh, November 4
While the Chandigarh Administration and Chandigarh Golf Club management is yet to solve the lease money row, the UT Administration has proposed that the golf facilities of the club should be made available to common city residents at subsidised charges. At present, Rs 500 is charges from non-members from Monday to Friday, and Rs 1000 on Saturday and Sunday. The administration wants these rates to be subsidised.

SGGS College-26 crush PGGC-11
Chandigarh, November 4
The soccer team of SGGS College-26 defeated Post Graduate Government College, Sector 11 (B-team), in their opening match of the Chandigarh Institutional League that kicked off here today. The team thumped their rivals 5-2.


Players in action during a match at the Sector 17 football stadium in Chandigarh on Monday. Tribune photo: S Chandan
Daly College win U-17 cricket meet in Mohali
Mohali, November 4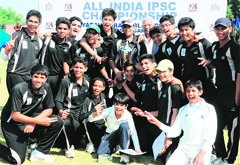 Daly College Indore defeated Delhi Public School, RK Puram, New Delhi, to win the final of The Indian Public Schools Conference Boys (U-17) Cricket Tournament, which concluded at the cricket grounds of Yadavindra Public School here today. Batting first, the winning side scored 118 runs for 8 wickets in 20 overs while the Delhi side could manage to score only 107 runs before getting all out in 19.3 overs.
The team of Daly College, Indore, in a jubilant mood after winning The Indian Public Schools Conference Boys (U-17) Cricket Tournament at Yadavindra Public School in Mohali on Monday. Tribune photo: Parvesh Chauhan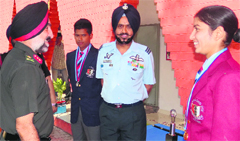 City cadet bags gold in shooting
Chandigarh, November 4
Chandigarh NCC cadet Neha Dadwal of No.1 Chandigarh Air Squadron has won gold medal in skeet shooting (clay pigeon-trap) at the All-India Vayu Sainik Camp that concluded at Bengaluru on October 31.

Maj Gen PS Mander, ADG, NCC, felicitates cadet Neha in Chandigarh. A Tribune photograph