Pratibha Prahlad, renowned classical dancer, was recently honoured by the media in China as the "most innovative and epoch-making artiste". She says the highly stylised Peking Chinese Opera is akin to Indian classical dances because of the performance codes. Excerpts: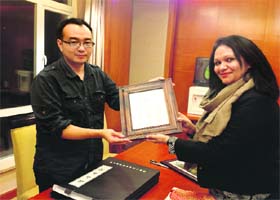 Pratibha Prahlad being honoured in China.
What is your experience of dancing before a Chinese audience? What is the level of appreciation of Indian classical dance?
The Chinese are interested in Indian classical dance. They understand the complexity of the dance form and the classical codes that govern it. Even if the language, music and stories are alien to them, they have a deep regard for Indian dance. My group was invited to the International Intangible Heritage Festival in Chengdu in June and International Country Music Festival in Zhangjiajie in August.
Does Chinese culture make them receptive to the nuances of Indian classical dance?
China is an ancient civilisation like us. There is a huge variety of performing arts tradition. Different dynasties that ruled China patronised different art forms. The Peking Chinese Opera is unique to China in its theme, costume, performing methodology and treatment. It is similar to our classical dances.
Appreciation of Indian performing arts is more among an oriental audience or a western audience?
I have performed in several countries over the last 25 years. I have performed more in the US, UK and Europe than in the East. If you do what you do really well, are a genuine artiste and love what you do, you transmit that love to your audiences. I have experienced the respect and awe audiences all over the world have for Bharatnatyam. In many festivals I have performed with artistes from several countries and have had the maximum applause and fan following. The other artistes have also become my admirers after watching my performance. I think it has to do with the majesty of Bharatnatyam as an art form. It is a composite dance style that gives one a glimpse of ancient India and takes one on a journey of ancient values and ethos.
Many westerners learn Indian performing arts, but it is not so with people from the Far East.
As a country, we opened up to the western world sooner than we did to the East. Our focus was on the West for a long time. We wanted western endorsement for everything, including our art forms. If artistes became famous in the US or Europe, they were considered achievers in our country. All first-generation post-Independence artistes like Balasaraswati, Kamala Lakshman, Padmini, Ali Akbar Khan and Ravi Shankar went to the US and set up schools there. Therefore, we have a great many westerners practising our art forms. People from Japan, China, Malaysia and Singapore come to India to learn the art forms. Now several of them have opened institutes in their countries.
Sitar and sarod have got a good following in the West. Do Indian classical dance forms have the same potential?
Indian dance is already very popular in the West. In fact, in the US, UK and parts of Europe, they are featured in mainstream festivals.
Did tension between India and China ever cast a shadow on your performance in China?
Surprisingly, no. There was no trace of any tension. I believe the tension is a creation of the media. It has nothing to do with the civil society in both India and China. We were welcomed, applauded and treated with great respect and awe.
You talked about investments being made by China in culture. Is India lacking in this respect?
India is a natural, cultural superpower. The depth and diversity of art forms in India is not found anywhere in the world. We have performances everywhere on all occasions. But time has come to put our tangible and intangible cultural heritage in the forefront in a concerted, planned manner to make it attractive to mass audiences. How we do it is a challenge as despite talking of public-private partnership, when it comes to cultural promotion, it is only the government that has to invest. Our corporate houses have no cultural responsibility and do not promote cultural festivals and exchanges. They do it only when some higher-ups in the government tell them to, or when they see a business opportunity. In India, foundations that support the arts are miniscule. Also, there is no dispassionate evaluation, thought or process in funds disbursement for festivals. Therefore, a festival as large and diverse as the Delhi International Arts Festival has to still go begging for funds, despite making a name for itself in the international festival arena and making Delhi a cultural destination.
Which foreign art forms appeal to you?
I am a classicist. I love classical ballet. I enjoy classical music, be it Indian or western. Of late, I have witnessed top-class performers of flamenco. Theatre and opera are other forms that I enjoy.