Police beefs up security
Ludhiana, November 2
To prevent any untoward incident during Diwali, the police today beefed up security in and around the city.
Shun challaning, manage traffic on Diwali, cops told
Ludhiana, November 2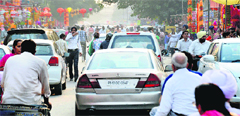 This Diwali, residents will get respite from traffic challans as ACP (Traffic) Deepal Hilori has given clear instruction to the traffic police to abstain from challaning vehicles and to manage traffic effectively instead.
A policeman manages traffic at Ghumar Mandi in Ludhiana on the eve of Diwali on Saturday. Photo: Inderjeet Verma
Property tax: MC richer by Rs 4 crore
Ludhiana, November 2s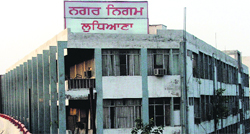 Exactly after one month since property tax was implemented in the city, the Ludhiana Municipal Corporation finally has some reason to cheer. The civic body has managed to collect more than Rs 4 crore as property tax in the last one month, which is also probably the highest collection by any municipal corporation in the state. The Ludhiana MC had started the process of property tax collection from October 2 and since then several city residents have deposited their property tax.
PPCB to monitor pollution levels
Ludhiana, November 2
The Punjab Pollution Control Board will be keeping a strict vigil on the level of pollution in the city on Diwali. The department has been monitoring noise pollution for the last four days.
Health teams raid sweets shops
Jagraon, November 2
Keeping in view the reports of use of adulterated "khoya" in preparation of sweets in various parts of the country, a team of Health Department officials conducted raids in various areas of Jagraon today. The team members visited several sweets shops of Jagraon.
20 new cases of dengue reported
Ludhiana, November 2
Although weather has changed but dengue cases are still on rise. Today as many as 20 new cases of dengue have been reported from the city hospitals. Out of these 14 are from city, 5 from rural areas of Ludhiana district and 1 from Jalandhar.
Suvidha centre staff feel neglected
Ludhiana, November 2
The Employees working at the Suvidha Centre have expressed their grievances against the state government for not providing them their dues.
Lakkar bridge project stuck in red tape
Ludhiana, November 2
The completion of the Lakkar Bridge project doesn't seems to be in sight anytime soon as the railways department has failed to get clearance for installation of concrete girders on the Lakkar bridge project. Earlier on October 19, the railways department had claimed that it would be able to get the necessary permission within a week, but still they yet have to obtain clearance.
Just another day for city fire-fighters
Ludhiana, November 2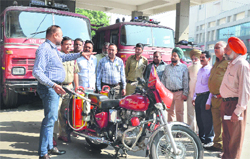 While the festival of lights, brings joy and happiness to everybody to celebrate, the fire brigade personnel of the Ludhiana Municipal Corporation have to remain vigilant and in the highest degree of preparedness till the next morning in order to bring incidents of fire under control.

ADFO Bhupinder Singh Sandhu (left) gives instructions to his staff at a fire station in Ludhiana on Saturday. photo: Inderjeet Verma
No fire brigade in Mandi Ahmedgarh, Payal
Mandi Ahmedgarh/ Payal, November 2
Residents of the region are prone to any fire mishap during Diwali, as the successive governments have failed to establish a fire brigade at any of the localities.
Shopkeepers fear losses in Jagraon
Jagraon, November 2
With low turnout of people in the local markets on the occasion of Diwali, the shopkeepers of Jagraon area fear financial loses. The shopkeepers claim that they have done little business this year during this festival season compared to that of the previous years.
Discoloured paddy: Farmers await relaxation in procurement norms
Doraha, November 2
Paddy with more discoloured content is still heaped up at the grain markets. As a result, the already persisting problem of accumulation has aggravated all the more.
Little Pihu is same in her real life too, says mom
Ludhiana, November 2


Cute and carefree, as the character 'Pihu' she played in 'Bade Acche Lagte Hain', little Amrita Mukherji is the same bubbly girl in real life. Candid and childlike, she said she doesn't want to become an actor when she grows up. She was here as a brand ambassador for Tru Milk for an exhibition organised at a city hotel.
Amrita Mukherji
MC staff brace for post Diwali garbage
Ludhiana, November 2
The Ludhiana Municipal Corporation's health and sanitation branch has asked its staff to pull up its socks for November 4, the day after Diwali as there would be litter all around.
Celebrations incomplete without tradition, say residents
Ludhiana, November 2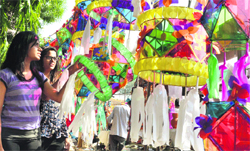 Markets are crowded and abuzz with activity. Commotion and cacophony reigns supreme amid the traffic snarl-ups. But in the middle of the chaos, is the sweet celebration, as the joy, smiles and elation precede the festival of lights. Everyone seems to be busy and smiling for making the best of tomorrow-Diwali-they wait for throughout the year.
Girls look at paper lamps and 'gadvaras' displayed at a market in Ludhiana on Saturday. Tribune photo
Traditional sweets, Diwali inseparable
Ludhiana, November 2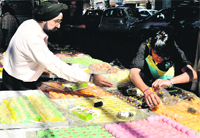 While the chocolates and pastries seemed to have temporarily overtaken traditional sweets on many occasions but Diwali has still managed to retain its traditional flavour with "mithai". Diwali and mithai are inseparable and one cannot detach sweets completely from the Diwali platter.


A man buys sweets in Ludhiana on Saturday. photo: Inderjeet Verma
Demand for lotus rises
Ludhiana November 2
Lotus flowers are selling in large numbers on the eve of Diwali across the city. National flower hardly sells throughout the year, but this time of the season, the demand for the Lotus rises as it is considered auspicious on Diwali.
Car sales up by 25 per cent on Dhanteras amid 'recession'
Ludhiana, November 2
Though the 'cash-rich' residents in Ludhiana are giving a reason that because of overall recession in the market, Diwali has been a very low-key affair this season yet even during the "recession" phase, the sale of luxury cars in the city has witnessed about 25 per cent growth in just one day-Dhanteras, which was celebrated yesterday.
Ludhiana markets don Diwali colours
City markets remained decked up on the eve of Diwali. Shopkeepers left no stone unturned to woo customers. Tribune photographers Himanshu Mahajan and Inderjeet Verma capture the Diwali buzz in Ludhiana on Saturday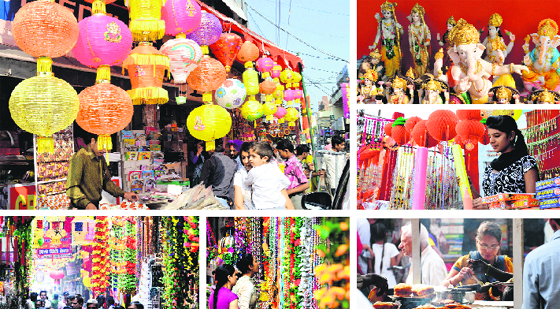 Eve-teasing victim commits suicide
Ludhiana, November 2
The festival celebrations turned sour for a family after a 19-year- old girl, who was being stalked and teased by a youth of the locality, committed suicide by hanging herself from a ceiling fan at her house in Bank Colony, near Basti Jodhewal, here today.
Raids on to nab clerk
Ludhiana, November 2
With the arrest of three persons in a fake registry gang has alarmed a section of industrialists, who have made money by taking multiple loans against properties.