gujarat
Land Rights
Death of Punjabi dream in Kutch?
In 1965, Punjab farmers moved to Gujarat following an appeal by the then PM Lal Bahadur Shastri. With their hard work, arid lands became prosperous farms. But with the recent land freeze orders by the state govt, they risk losing it all.
By Amarjit Thind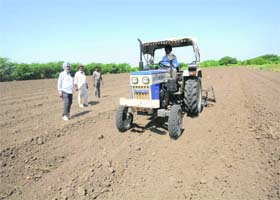 Kesar Singh and LS Brar watch their field being ploughed at Rava village near Kothara town, often referred to as 'Mini Punjab'. In the background can be seen kikar trees, the likes of which were cleared in many areas to create these fields.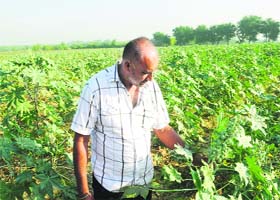 Jasbir Singh in his castor field outside Bhuj.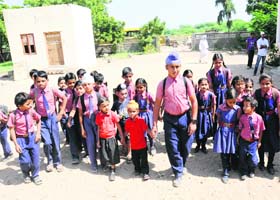 A school being run by the Sikh community at Kothara town.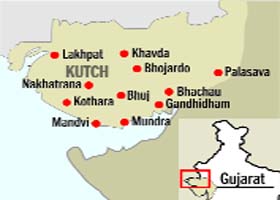 Paradise lost is what sums up the plight of the Punjabi farmers settled in Gujarat for the past over 45 years. They have grown from strength to strength and have put down their roots, albeit in a comfortable cocoon, but reality has a way of sneaking up with a rude awakening. And this is what the Punjabis are facing here; their nightmare has come to haunt them.
Contrary to the general perception and media misinformation by the Gujarat Government, the figure of those affected has been put between 10 and 40 families. But the truth is that this is the number of farmers who have knocked the doors of the courts after the land freeze orders of the state.
The Tribune team found that over 5,000 families are affected in Gujarat and went through a list of over 800 families who had been issued freeze notices in Abdasa tehsil alone. There are 10 tehsils in Kutch district, one of the largest in the country with an area smaller than Punjab and more than Haryana. The freeze orders cover over 1 lakh acres of arable land virtually claimed from the forest and desert by the hardy Punjabi farmers who are now more Kutchi than Punjabi.
Nobody would have thought in 1964-65 that farmers from Punjab, credited with filling the granaries of the country, would be treated with such disdain in a state that claims the legacy of Mahatma Gandhi.
Settling Punjabis was the brainchild of the late Prime Minister Lal Bahadur Shastri who felt that the martial Sikhs would be an ideal second-line of defence along the border mainly populated by Muslims, especially after the Indo-Pak war. He was not wrong.
On his appeal, many ex-servicemen took up the offer and started buying land at nominal prices. Initially, 'sanads' (land deeds) for 20 acres were given to the farmers in the border villages of the Kutch area, which shares a border with Pakistan. Certain areas like the Rann of Kutch and Sir Creek are still contested by both sides.
Octogenarian Harnam Singh was a young man when he came here with his father in 1965 and the whole countryside was a jungle of kikar trees ('bevar' in local parlance) and dense foliage. "It was tough going with no power. It took us several days just to get to Loriya village, and many more to get the land demarcated. The next task was to erect a thatched roof hut and get potable water. Transportation was also a problem and it was not uncommon to request a fellow Punjabi to bring essential supplies if he was even going for treatment to the nearby town," he recalls.
Language was another barrier and initially they had to make do with sign language. The tough part was to stand at the village shop for essential items. One would wait till a villager came and bought things they needed and then point these out to the shopkeeper, he chuckles.
"The new generation has it easy, but in the old days we stepped on snakes and killed jackals that were in plenty. But now we are battling with even more dangerous animals — politicians and land sharks. We are on the verge of losing our home," he laments.
Bhajan Singh, resident of Sumbrasar, is bitter at the turn of events. "My grandfather was allotted a war 'jagir' in present day Faislabad, but we were uprooted in the wake of the Partition. After many years, we were allotted land in a barren patch in Amritsar. After back-breaking labour and nothing to show for it, we took up Shastri's offer in Gujarat. Good climate and our hard work yielded results and when the time has come for us to sit back and enjoy the fruits of our labour, the government wants to hound us out. What is our fault? Are we foreigners or second-class citizens? Is being a minority a crime?" he asks.
"We profess to be a free country and anyone can settle anywhere as per law. Why are such steps being initiated against us? The Modi government has not frozen the accounts of thousands of Marathis settled in the districts bordering Maharashtra. Is Narendra Modi afraid of a backlash there while he has secured a tacit approval from SAD patriarch Parkash Singh Badal to do so in the case of Sikhs here?
"When we were needed along the borders to act as a second-line of defence, we were welcomed, but now that the economic agenda is being affected by the ownership of our lands, we are being thrown out. Maybe now the time has come for us to settle down in Arunachal Pradesh along the disputed border with China," he remarks sarcastically.
"With landholdings in Punjab shrinking and farming fast becoming an unviable proposition, where do Punjabis turn to? Already many states have riders against Punjabis owning land in their states. What are our options? Are we being targeted for working hard?"he asks.
Other old-timers like Joginder Singh said all was well over the decades when the farms were being developed by farmers battling with the adversities of nature — prolonged droughts and lack of good ground water for irrigation. The terrain was tough, but so were the farmers who did not give up.
The results were for all to see. Today Kutch has sprawling farms and prosperous farmers travelling in SUVs, amid the grudging acknowledgement of their Gujarati neighbours. Interestingly, while the state has labelled them "par prantiyas" (outsiders), the advent of any Punjabi farmer in Gujarat village is seen as a sign of greater prosperity in the Kutch belt.
Take the case of schoolteacher Narendra Jadeja, who has the final word in any dispute in the Parjan belt and is respected as a father figure. He says it was his father who facilitated the settlement of the first group of Punjabis and he is continuing that cherished legacy. Initially, the land was sold for Rs 15 an acre and but the rate now is Rs 5 lakh for land in the hinterland and a couple of crores in the developed belt along the state highways, he reveals.
The Gujarati farmers in those days only knew basic farming techniques and were eager to sell their lands to get out of the drudgery of the farms. The first settlers were taken aback when they were mobbed by those wishing to sell their farms, something a Punjabi would never do unless he was in dire straits, he laughs.
Timeline
In 1964-65, then PM Lal Bahadur Shastri urged farmers from Punjab to settle in Gujarat, as second-line of defence along the border and till land in the tough terrain.
Many ex-servicemen bought land at a nominal price of Rs 15 per acre. Initially, land deeds for 20 acres given to farmers in Kutch.
Area transformed; current market price Rs 5 lakh for land in hinterland and couple of crores in developed belt.
In 2010, orders to freeze land issued.
Farmers went to High Court, but got no relief.
They went in appeal, which was granted.
Appeal for stay of court orders rejected.
State went in appeal against the orders.
In deep freeze
Punjabi families affected in Gujarat: over 5,000
Families issued freeze notices in Abdasa tehsil: 800
Area under freeze order: 1 lakh acres