good news
In the drama of life, they stage a class act
TheatreAge, Chandigarh, has been instrumental in arranging education for underprivileged children as well as offering them a chance to improve their financial condition.
By Sanjeev Singh Bariana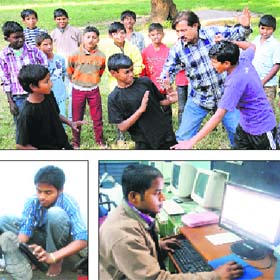 (Clockwise from top) Zulfiqar Khan, director of TheatreAge, with slum children; and Sambhu, now a peon at the office of the Punjab AG, who used to polish shoes earlier.
IT was a cold December morning last year, when three boys, aged under 12 years, walked up to the office of TheatreAge at Government School, Sector 24, Chandigarh. Led by the mother of a student, the boys from Maloya Colony were brought to the school for admission. The night before, the children were a witness to a gruesome brawl in the slum.
The boys, who were drug addicts, stand transformed today as zealous students. "I knew orders and threats would not have worked on these innocent minds. Having spent more than 18 years on the job, I have managed a decent collection of toys, games and eatables to draw these children. I did not ask them to study at all. Children have immense energy and cannot sit idle. I made them play or eat as per their wishes. One day, they all came to me and asked for books," says Zulfiqar Khan, director of TheatreAge.
The stories of many other children engaged in various activities on the campus are not very different. The common thread that binds them is their poverty. Some of them were polishing shoes and others gathering scrap before their life changed and they set foot in school. Residents of Kumhar Colony and Maloya, in particular, remember Khan walking in their area and urging parents to send their children to school. The children can now be seen making paintings, rehearsing plays or trying their hand at computers.
Things have changed dramatically over the years. No longer does Khan have to visit any colony or slum to coax children to attend school. The endeavour has been undertaken by parents of other children and old students who are spearheading the movement and are more than willing to offer any guidance.
However, not all who enrolled in the school could sustain their interest in education. Many of them dropped out, but a few set an example for other underprivileged children of adjoining areas to emulate.
Over 2,000 children have benefited from this movement initiated by Khan, who passed out from the department of Indian theatre, Panjab University, in 1992. Letting go of the chance to try his luck in Bollywood, where several of his contemporaries made a name for themselves, Khan chose to use theatre as a tool for 'employment and enlightenment'. The first street play (more than 40 have been performed to date) was staged by them in 1993. At present, TheatreAge is helping over 50 students, a majority of whom are from a humble background.
Veerpal would polish shoes outside Panjab University, but is now the head makeup man with a news channel. He was a member of the first group which started the journey with street plays. Similarly, Sambhu, who used to polish shoes in Sector 17, is working as a peon in the office of the AG Punjab.
Raman Kumar, who used to spend his time drawing in school, has graduated in fine arts and is making paintings to support his studies for the master's degree.
TheatreAge has also given wings to the dreams of girls like Savita, Bindu and Jyoti, who are pursuing a course in the Home Nursing Institute, Sector 15. "There are many who make a fresh beginning in their life. At the same time, there are many failures. I do not promise a revolution in society. I am just doing my bit to help these kids dream and offer them a chance to improve their lot. Even one success story is heartening enough for me to keep going," says Khan.
Except for the government school building provided by the UT Administration, TheatreAge has no permanent source of grant. The initiative is run on a novel mechanism of collecting money from selling old newspapers. "We have about 1,800 regular members as donors and 100-odd occasional contributors. We manage to collect Rs 50,000 to Rs 60,000 every month. We want to buy an accommodation so we can offer hostel facility to these children. A number of them fall back into the old routine after school and lose a chance to give their life some meaning," Khan adds.