M A I N N E W S
BSF fast-tracks 'great wall' in Jammu
Massive embankment behind fencing is aimed at thwarting intrusion, but can face land acquisition hurdle
Shaurya K Gurung & Ravi Krishnan Khajuria
Tribune News Service
New Delhi/jammu, November 30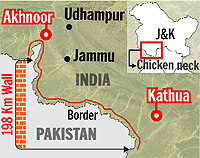 Over two months after Pakistan-based terrorists sauntered across the Hiranagar area barely 5 km from the International Border in Jammu killing 10 persons, including Lt Col Bikramjeet Singh, the Border Security Force has fast-tracked its ambitious "great wall" project.
The 'wall' – an embankment 135 feet (41 meters) wide and 10 meters high – will lie behind the existing border fence. It will straddle the 179-km stretch (from Paharpur on Punjab-Kathua border to Akhnoor, north of Jammu) out of 198 km border in the Jammu region. The BSF wants to have a second line of defence to ward off terrorists and smugglers besides giving a secure atmosphere to the farmers living close by.
This became clear on Friday when at a press conference, Director General of the Border Security Force Subhash Joshi for the first time spelled out details of the embankment. "The government has cleared the project. Land has to be acquired and construction will begin soon after," said Joshi.
A BSF delegation headed by the DG will leave for Lahore in December and inform Pakistan Rangers before starting the project, sources said.
BSF Jammu Frontier, IG, SS Tomar said work would be taken up "very shortly". It would start from Manyari (in Kathua district).
It's not the external threat the "great wall" plan would be first faced with. Given that nearly 45,000 people live close to the International Border, the land acquisition process could prove to be a cumbersome exercise. Officials said the project involves 118 villages in three districts of Kathua (17), Samba (29) and Jammu (72). The revenue survey has reached at an advanced stage in majority of the villages barring seven villages, said an official.
"The project, lying with the Union Home Ministry since 2010, picked up momentum this year only after the Hiranagar attack," said a state Home Department official. The Army already has a ditch-cum-bundh (DCB) in the Chamb-Jaurian area that starts from the banks of the Manawar Tawi river in Jammu. The DCB is 30 feet wide and is filled with 10-15 feet water. The water prevents the movement of tanks and can prevent enemy troops from using ladders to climb over. The bundh consists of bunkers with pillboxes. It remains to be seen if the BSF too will have the same system. The BSF Jammu Frontier IG said: "The proposed embankment can make the area more secure. We are more worried about the local population."
"The Central Public Works Department will undertake the project," said Tomar.
Double protection
It is like an embankment 135 feet wide. The existing fence is 60 feet wide
The location: From Paharpur on Punjab-Kathua border to Akhnoor, north of Jammu
Second line of defence: Will lie behind the existing border fence
The length: Will cover the 179-km stretch out of 198 km border in the Jammu region
The obstacle
Land acquisition: Nearly 45,000 villagers live near the border in 118 villages in three districts of Kathua (17), Samba (29) and Jammu (72)