with general election 2014 only a few months away...

Battle of ballot in 5 states



Rajasthan all set to vote today
Girja Shankar Kaura
Tribune News Service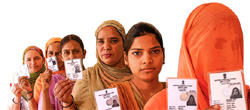 Jaipur, November 30
As 119 of the 200 seats in the Rajasthan Legislative Assembly go to the polls tomorrow, the desert state is one of the five states that will set the pace for the semifinals before the final Lok Sabha election in 2014.
While the state administration and the police have made adequate security arrangements across Rajasthan to have peaceful polling, the fate of 2,087 candidates who are in the fray for 199 of the 200 Assembly seats in Rajasthan would be decided tomorrow.
The poll provides an opportunity to former CM Vasundhara Raje and the BJP to be re-elected to power after unseating Chief Minister Ashok Gehlot, who is seeking a re-election on the back of his populist and welfare schemes.
With just a day to go for polling in India's largest state, most observers give Raje a slight edge, but are quick to add that this could be neutralised by Kirori Lal Meena throwing his lot in with the Congress.
Raje, however, has been haunted by protests, desertions and rebellions. After the names of 176 candidates for Assembly poll were declared in the first list, at least 12 former MLAs and several other party members from lower ranks jumped ship and joined former minister Meena who quit the BJP to join PA Sangma-led National People's Party (NPP).
Meena is said to hold sway over at least 25 seats and could emerge as the king-maker and in a position to seek his pound of flesh from his erstwhile party, while observers say that he might end up supporting the Congress.
Raje is also facing stiff challenge in the form of Ashok Gehlot's free medicine and pension scheme that is getting popular with the masses. This has made his government gain ground in the past few weeks.
Caste will play a big role in the election. The BJP is paying a lot of attention to this factor in the hope of swinging the vote in the state in their favour.
The BJP is also using royal blood to win support by fielding seven members of erstwhile royal families including chief ministerial candidate Vasundhra Raje.
Most political observers expect that both the BJP and the Congress would fall short of the halfway mark of 100 seats.
Currently, Gehlot runs a government with 96 lawmakers plus six BSP legislators and Independents and has clearly failed to establish any sort of dominance.
The government's inability to control the rise in prices of food, petrol and other items in the past few years is one of the top reasons why people in Rajasthan are unhappy. Inflation is set to be a major factor when the state votes.