with general election 2014 only a few months away...

Battle of ballot in 5 states



Chouhan may find it tough in Vidisha
Vibha Sharma
Tribune News Service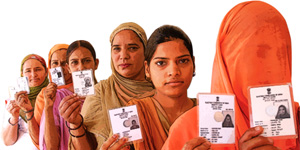 Vidisha, November 22
Vidisha and Budhni — what the two constituencies in Madhya Pradesh have in common is their high-profile candidate Chief Minister Shivraj Singh Chouhan.
Chouhan this time is contesting from two seats — located in opposite directions from the state capital Bhopal.




Shivraj Singh Chouhan
The Chief Minister, at most times, has been missing from the constituencies. It is his wife Sadhna and son Kartikeya who are filling the gap and campaigning extensively to make up for his absence.
Sadhna is in charge of Vidisha while the responsibility of Budhni has been entrusted to 20-year-old Kartikeya. The mother and son walk through streets and go door to door in their respective areas of responsibility, seeking votes for Chouhan. "Each vote matters," explains Sadhna.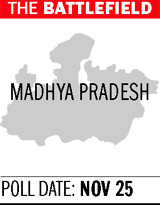 Now comes the difference — while Budhni is being considered a cakewalk, Chouhan is expected to face a few difficult moments in Vidisha.
Taking full advantage of his absence in Vidisha is Congress candidate Shashank Bhargava. While the general feeling is that the "Raghavji factor" may work against the CM, Bhargava does not think so.
Raghavji, former Finance Minister and BJP MLA from Vidisha, who was expelled from the BJP on sodomy charges.
"Shivraj Chouhan, and not Raghavji, is the factor here," he told The Tribune.
Bhargava, who lost to Raghavji by 31,424 votes in 2008, is confident of victory this time. He is also working to bring the Dangi samaj to his side. Considered a traditional BJP votebank, the fact that the boy Raghavji allegedly abused belonged to the community may work against Chouhan.
"Shivraj Chouhan will desert you if he wins, just like he had last time," Bhargav goes on telling the people.
On the seat the CM would retain if he won both, BJP sources said that he was most likely to pass on Budhni to his wife Sadhna.
Vidisha is not new to Chouhan. He won the Vidisha Lok Sabha seat several times since 1991. The constituency is now represented by Leader of Opposition in the Lok Sabha Sushma Swaraj.
After the Raghavji fiasco, it was the name of BJP's Mahila Morcha leader Sukhpreet Kaur which was doing the rounds for the Vidisha Assembly constituency.
Apparently, Sushma Swaraj also wanted that Sukhpreet should contest, but Raghavji's threat made Shivraj step in.
Backed by the strong Jain community in the region, Raghavji had threatened to contest as an Independent if his daughter was not nominated for the constituency.
Sukhpreet, however, maintains that the decision was not taken because of any individual's threat or "blackmail".
"It was the party's collective decision. My name was discussed but Raghaviji is not the reason why the CM is contesting from Vidisha. Raghavji is, in fact, no issue. He has many contemporaries in the region, including my father Gulab Singh who has represented Vidisha in the Vidhan Sabha," she said.
In comparison, Budhni is being considered a cakewalk for Chouhan. The area is dominated by Chouhan's OBC community of Kirars and the caste equation is balanced perfectly in his favour there.


Raghavji threat


Raghavji, former Finance Minister and BJP MLA who was expelled from the BJP on sodomy charges, represented Vidisha


Backed by a strong Jain community in the region, Raghavji had threatened to contest as an Independent if his daughter was not nominated from the constituency


This made Shivraj jump into the fray