BHOLA'S DRUG RING

CM rules out judicial probe
Gidderbaha, November 22
Rejecting the demand by former CM Capt Amarinder Singh for a judicial probe into the Jagdish Singh Bhola case, Chief Minister Parkash Singh Badal today asked the Congress leadership to desist from making such demands which hampered the ongoing police investigations.
Chief Minister PS Badal greets an elderly woman at a Sangat Darshan function in Gidderbaha on Friday. A Tribune photograph
Capt parades 'vendetta victims' in Ferozepur
Ferozepur, November 22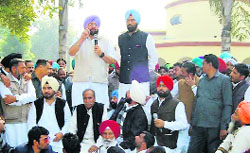 Former Chief Minister and senior Congress leader Capt Amarinder Singh today paraded before the media several party supporters who had been allegedly targeted by the SAD-BJP government. Amarinder said the Congress workers had been allegedly implicated in false cases at the instance of the Akali leadership. "As many as 17 cases have been lodged against Jagdev Singh of Changa Rai village alone.

Former CM Amarinder Singh, flanked by Guruharsahai MLA Rana Gurmit Singh Sodhi, in Ferozepur on Friday. A Tribune photograph

Jyani raps docs for obliging private medicine shops
Abohar, November 22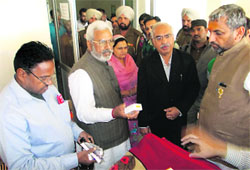 State Health Minister Surjit Jyani today pulled up a doctor of Nehru Memorial Civil Hospital for advising a patient to buy medicines from a private medicine shop. The patient was earlier intercepted randomly by the minister. The prescribed medicines were found to be available at cheaper rates at the Jan Aushadhi Kendra located on the hospital premises.
State Health Minister Surjit Jyani expresses concern over the issue of doctors advising patients to get medicines from private shops, at the Civil Hospital in Abohar on Friday. A Tribune photograph
Lemon grass proves a hit for Kandi growers
Hoshiarpur, November 20
The backward Kandi area of the state is witnessing an economic transformation with people in Hajipur and Talwara blocks opting for cultivation of lemon grass (cymbopogan flexuosus).
Drug control wing told to keep check on bogus sales
Chandigarh, November 22
The performance of the drug control wing of the state Food and Drug Administration was reviewed today. Hussan Lal, Commissioner Food and Drug Administration, Punjab, chaired the meeting. Lal reviewed the number of licences issued, number of retail and wholesale licences suspended, number of licences cancelled and drug seisures of illegal and other habit-forming drugs.
Security concerns haunt state police
Moga, November 22
With BJP Prime Minister candidate Narendra Modi set to address a rally at Kili Chahal village in the district on December 21, the state police and intelligence agencies have initiated steps to make elaborate security arrangements for him.
Bajwa seeks CBI inquiry into paddy procurement
Hoshiarpur, November 22
An inquiry by the CBI should be conducted to uncover as to how paddy purchased from farmers had reached procurement agencies, Punjab Pradesh Congress Committee (PPCC) president Partap Singh Bajwa said today.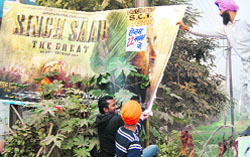 Sikh clergy clears 'Singh Saab'
Amritsar, November 22
The controversy surrounding the Sunny Deol-starrer 'Singh Saab The Great' came to an end today with the Sikh high priests giving it a go-ahead after their meeting here.



Youths tear a poster of Sunny Deol-starrer 'Singh Saab The Great' in Amritsar on Friday. Photo: Sameer Sehgal
Akal Takht decides: No chairs for elderly inside gurdwara hall
Amritsar, November 22
In a significant decision, the Sikh clergy has banned keeping sofas, chairs or benches for seating the elderly people and differently abled persons in the main hall of gurdwaras where Sri Guru Granth Sahib was installed.
Book 'Ram Leela' team, police told
Hoshiarpur, November 22
The court of Judicial Magistrate (JMIC) Mahesh Kumar has directed the Hoshiarpur city police to register an FIR against the producer and cast of Bollywood movie "Ram-Leela" under Sections 294 and 295-A.
Anganwadi workers protest non-supply of ration
Fazilka, November 22
Anganwadi workers of the area today met Social Security and Women and Child Development Minister Surjit Kumar Jyani to protest against the non-availability of ration at their centres.
Vigilance gives clean chit to Chahal's wife
Patiala, November 22
The Vigilance Bureau today gave a clean chit to BIS Chahal's wife Jaswinder Kaur and Dr Parveen Puri in a disproportionate assets case registered on July 11, 2007.
Sukhbir: Blue Cards to be issued from next week
Moonak, November 22

All Deputy Commissioners in the state have been directed to complete the process of issuing Blue Cards. These will be issued from November 25, Deputy Chief Minister Sukhbir Badal said here today.



Deputy CM Sukhbir Badal lays the foundation stone of a sewage treatment plant in Moonak on Friday. A Tribune photograph
Resource room for differently abled children sans teacher
Abohar, November 22
The resource room set up for differently abled children at Government Primary School in former cabinet minister Chaudhary Satya Dev's native village Choohriwala Dhanna, near Abohar, does not have a teacher.
UGC team arrives to inspect Sikh university
Fatehgarh Sahib, November 22
A six-member committee of University Grants Commission (UGC) experts arrived here on Friday to inspect the faculty and the facilities being provided at the Sri Guru Granth Sahib World University (SGGSWU).
As cigarette sales drop, cancer relief fund dwindles
Patiala, November 22
The Punjab Government's ambitious plan to hike value added tax (VAT) on the sale of cigarettes and contribute 33 per cent of the collections towards the cancer relief fund has hit a roadblock. The sale of cigarettes has declined.
Form SIT to probe docs' selection: HC to govt
Chandigarh, November 22
In an embarrassment for the Punjab Government, the Punjab and Haryana High Court today ordered the constitution of a special investigation team (SIT) to probe alleged irregularities in the selection of 312 medical officers in 2009-10 by the Punjab Public Service Commission (PPSC).
CBI court convicts 3 in bank forgery case
Chandigarh, November 22
Three accused have been convicted by the CBI Special Court in a 15-year-old forgery case wherein an NRI lost Rs 2.60 crore from his account in the Rajpura branch of State Bank of India.


2 in CBI net for taking bribe
Amritsar, November 22
A CBI team from Chandigarh has nabbed two officials of the Defence Pension Dispensing Office (DPDO) while allegedly accepting a bribe of Rs 12,000 from the pensioner.
Three booked for gangrape
Fazilka, November 22
The police have booked three teenagers for gangraping a 17-year-old girl in Chack Kheowali village of Fazilka district today.
Crusher owner hurt in firing in Ropar
Ropar, November 22
Crusher owner Gurmit Singh of Saidpur village was injured when attacked by four unidentified persons. They opened fire at him at Nurpur Bedi late this evening. Superintendent of Police (Detective) DS Mann said the assailants travelling in a Toyota SUV fired upon crusher owners Gurmit Singh and Ajwinder Singh.