Notification on industrial policy delayed
Chandigarh, November 20
The delay in issuing a notification by some departments for allowing incentives to new investors, as envisaged in the New Industrial Policy, has led to a delay in the final notification of the policy.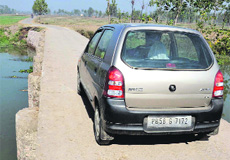 Killer bridges to be identified
Amritsar, November 20
The accident that snuffed out lives of 10 of a wedding party yesterday has brought to the fore the threat that bridges without railings in the border belt pose to commuters.




A narrow bridge in a village near Ajnala. A Tribune photograph

A Clarification
The news report, " Punjab lets off 12 babus facing disciplinary action", that appeared in The Tribune edition of November 20, 2013, erroneously mentioned that retired IAS officer Megh Raj, who is actively associated with a sports academy in Chandigarh, was dead. The distress caused to him, his family and well-wishers is deeply regretted. — Editor-in-chief
Bajwa: Sangat Darshan a farce
Chandigarh, November 20
PPCC president Partap Singh Bajwa today said it was strange that the Chief Minister's Office had "no record" of the Sangat Darshan programme.



Pensioners in 17 districts not paid since June
Chandigarh, November 20
Despite tall claims by the Punjab Government regarding timely release of funds for welfare schemes, more than 15 lakh beneficiaries in 17 districts have not received pension since June.
Moga hospital 'shoos away' HIV-positive pregnant woman
Moga, November 20
Reflecting an insensitive and discriminative attitude of doctors and nurses, an HIV-positive pregnant woman was allegedly not admitted to the district hospital for her delivery in Moga on Monday.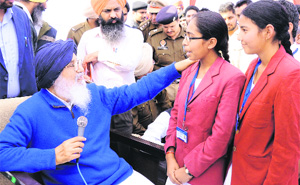 waterlogging
CM seeks World Bank support
Muktsar, November 20
Chief Minister Parkash Singh Badal today sought technical support from experts of the World Bank to seek a permanent solution to the problem of waterlogging and floods in the district.

Chief Minister PS Badal honours meritorious students during his Sangat Darshan in Lambi on Wednesday. A Tribune photograph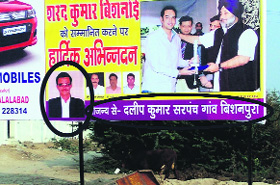 Hoarding by jailed sarpanch raises eyebrows
Abohar, November 20
A hoarding in this subdivisional town put up on behalf of a jailed sarpanch having allegiance with the ruling SAD has raised many an eyebrow.



A hoarding put up on behalf of jailed sarpanch Daleep Kumar Bishnoi (encircled) in Abohar. A Tribune photograph

Amritsar airport gets hi-tech ground station
Amritsar, November 20
Sri Guru Ram Das Jee International Airport is all set to glide into the select league of international airports in the country with the installation of automatic dependent surveillance broadcast (ADS-B) ground station to enable the Air Traffic Controller (ATC) to accurately track the aircraft movement.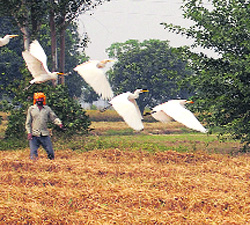 flight of fancy:

A flock of cranes takes flight in a field near Jalandhar on Wednesday. Tribune photo: Malkiat Singh
Key administrative posts lying vacant in Gurdaspur
Gurdaspur, November 20
It's a double whammy for the residents of Gurdaspur. For long considered to be one of the most backward districts of the state owing to its proximity to the border, the state government seems to have added to the woes of the residents by not posting the requisite number of officers against the sanctioned strength following which administrative work in this geographically sensitive district is suffering.
Mysterious death of bovines baffles police
Pathankot, November 20
Even as the Pathankot police are probing the mysterious death of eight cows and three bulls in the last three days, one more bull was found dead under "abnormal" circumstances today.
Kin of farmers killed during stirs to get jobs
Tarn Taran, November 20
The Revenue, Rehabilitation and Disastrous Management (RRDM) Department, Punjab, has decided to give jobs on compassionate grounds to the dependants of eight farmers who had died while participating in agitations.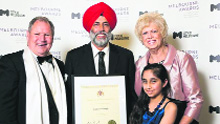 Sikh taxi driver awarded for honesty in Australia
Sydney, November 20
A Sikh taxi driver in Australia, who returned 1,10,000 Australian dollars he found on the rear seat of his cab to its owners, has received a Melbourne City Council award for his honesty.

Lord Mayor Robert Doyle with taxi driver Lakhwinder Singh Dhillon, Deputy Lord Mayor Susan Riley and Mr Dhillon's daughter Mantirat. A Tribune photograph

Religious bias: Firm to pay $50,000 to Sikh job seeker in US
New Jersey, November 20
A New Jersey car dealership will pay monetary compensation to a Sikh man to settle a religious discrimination lawsuit brought by him, which alleged that he was not hired by the dealership because he maintains a beard.
Kirpan case: Partial victory for petitioner
Chandigarh, November 20
In the historic IRS Kirpan case, the US 5th Circuit Court of Appeals has reversed and remanded the Religious Freedom Restoration Act (RFRA) claim for a trial and affirmed the Title VII claim.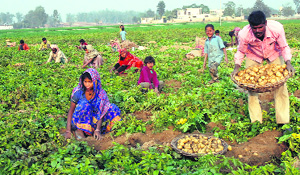 rich harvest:

Labourers busy digging out potatoes at a village on the Jalandhar-Kapurthala road on Wednesday. Tribune photo: Malkiat Singh
Gender sensitisation panel sought
Chandigarh, November 20
Around 60 advocates presented a representation to the Chief Justice of the Punjab and Haryana High Court for setting up a Gender Sensitisation and Internal Complaints Committee (GSICC).
Morinda SHO suspended in sexual assault case
Ropar, November 20
Morinda Station House Officer (SHO) Gurmit Singh and head constable Rajwant Singh were suspended today for pressuring a victim of sexual assault to reach a compromise with the accused. The action was taken after the victim had called helpline no. 181 and lodged a complaint.
6-yr-old raped, killed; body found in rivulet
Kapurthala, November 20
A six-year-old girl of Buta village here was allegedly raped and murdered by a youth of the same village here last evening.
Forest Department frees 76 acres from encroachers
Ropar, November 20
The district Forest Department today took possession of its 76 acres of land. The land, which was under the possession of encroachers, was located at Fatehpur village on the Ropar-Purkhali road. A total of 83 acres of the forest land was under the possession of encroachers at Fatehpur and adjoining Bhangala village.



CBI special court directed to proceed in panchayat secys' recruitment case
Chandigarh, November 20
The Punjab and Haryana High Court has removed the last legal impediment in the trial of panchayat secretaries' recruitment case. It has segregated the case of an accused, where sanction order was causing delay; and has directed the CBI special court at Patiala to proceed against the other accused.
2 get 5-year jail in NDPS case
Moga, November 20
Additional District and Sessions Judge Gurjant Singh today convicted two persons to five years of imprisonment and imposed a fine of Rs 25,000 each after having found them guilty of smuggling and selling drugs.
Two acquitted in rape case
Ropar, November 20
District and Sessions Judge Amarjot Bhatti today acquitted two persons facing trial in a rape case. The acquitted persons have been identified as Avinash Kumar, a resident of Kiratpur Sahib, and Harish, a resident of Mani Majra, Chandigarh.



Four booked for terrorist activities
Jalandhar, November 20
The Jalandhar rural police have booked four persons for allegedly involving in terrorist activities in the city under the Prevention of Unlawful Activities Act and Arms Act.