Restoration of Golden Temple's interiors to begin soon
Amritsar, November 14

The SGPC is likely to launch restoration work of the interiors of Sri Harmandar Sahib soon and has roped in a private firm with expertise in the field.

A portion of the damaged gold-plating inside the shrine. A Tribune file photograph

Moga MLA's son presides over official function
Moga, November 14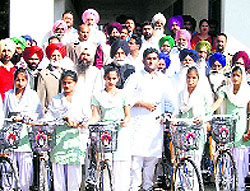 Akshit Jain, younger son of Moga MLA Joginder Pal Jain, has started presiding over official functions, pushing senior Akali leaders of the area into the background. Jain Junior today had teachers and Education Department officials dance to his tunes as he presided over a function to distribute cycles among Class XI and Class XII girl students under Mai Bhago Vidya Scheme at schools in Ghal Kalan and Daroli Bhai villages.


Akshit Jain (centre) gives away cycles to schoolgirls at a village in Moga on Thursday. A Tribune photograph


State govt failed to use OBC grants: Bajwa
Chandigarh, November 14
Punjab Pradesh Congress Committee (PPCC) president Partap Singh Bajwa today said the SAD-BJP government in the state had failed to protect the rights of people falling under the OBC category and most of the grants sent by the UPA government for their welfare had remained unused or had been used for some other purpose.

Partap Singh Bajwa, PPCC chief
Nine months on, PPCC yet to get new office-bearers
Chandigarh, November 14
It has been a long wait for Congress leaders keen to be appointed as office-bearers of the Punjab Pradesh Congress Committee (PPCC).


CPS Navjot conducts surprise check at Rajpura Civil Hospital
Patiala, November 14

In the wake of receiving complaints regarding government doctors charging patients extra, Dr Navjot Kaur Sidhu, Chief Parliamentary Secretary (CPS), Health and Family Welfare Department, conducted a surprise check at Rajpura Civil Hospital here today.



CPS Dr Navjot Kaur Sidhu speaks to doctors at the Rajpura Civil Hospital on Thursday. Tribune photo: JS Virdi


From a sleepy Kandi village to PCS
Nawanshahr, November 14
Sonam Chaudhary, a 23-year-old from a non-descript village in the remote Kandi belt in Nawanshahr district, has bagged the 4th rank in the BC category in the Punjab Civil Services (Executive Branch) exam.



Sonam Chaudhary is ranked fourth in OBC category
Pak denies 379 pilgrims visa to Nankana Sahib
Amritsar, November 14
Following the denial of visa to 379 SGPC members, a 774-member jatha will leave for Pakistan tomorrow to celebrate Guru Nanak Dev's birth anniversary at Sri Nankana Sahib on November 17.
Indo-Pak trade via rail dips; poor facilities to blame
Amritsar, November 14

Non-availability of adequate number of wagons coupled with lack of infrastructure at the Amritsar rail cargo facility has adversely hit the bilateral trade between India and Pakistan.



SETBACK TO TRADE: The deserted rail cargo facility in Amritsar. Photo: Vishal Kumar

Sikh teenager masters African language
Johannesburg, November 14
While most Indian-South African students shy away from Afrikaans, 13-year-old Angad Sena's mastery over the language has won him national accolades in just two years since he arrived from India.
All set for Gurpurb celebrations in Nepal after 30 yrs
Amritsar, November 14
The stage is set for the Guru Nanak Dev birth anniversary celebrations at 400-year-old Gurdwara Guru Nanak Math in Nepal on a large-scale after a gap of three decades.
3 states mull joint patrolling to check drug trade
Muktsar, November 14
Three days after the arrest of international drug smuggler Jagdish Bhola, a team of Punjab Police headed by the Inspector-General of Police, Bathinda zone, Nirmal Singh Dhillon, today held an inter-state meeting with senior officers of the Rajasthan and Haryana Police at Badal village to form a strategy to keep a check on drug smugglers.
Draft road safety policy has no action plan: Experts
Chandigarh, November 14
The draft of the Punjab State Road Safety Policy, prepared by the Governance Reforms Commission, has come in for sharp criticism with many calling it nothing more than a research paper based on unauthentic data.
Mandi board officials raid Mansa rice mills
Chandigarh, November 14
The Punjab Mandi Board has recovered market fee and rural development fund (RDF) to the tune of Rs 10 lakh from owners of some rice mills in Mansa district.


HC raps Centre over modernisation of jails in state
Chandigarh, November 14
The Punjab and Haryana High Court has rapped the Centre for its apparent reluctance on modernising Punjab jails. Miffed at the inadequacy of the Centre's response to the issue, the high court has also asked the joint secretary in the Union Ministry of Home Affairs to be present with relevant records.
Notice to State on fancy number for Maluka's wife
Chandigarh, November 14
The Punjab and Haryana High Court has issued a notice to Punjab Education Minister Sikander Singh Maluka's wife over allotment of fancy vehicle registration number (PB-65-R-0007) without even participating in the auction.
Name deleted from terrorists' list, HC told
Chandigarh, November 14
A month after the Punjab Police told the Punjab and Haryana High Court that the names of people going abroad during the days of militancy in Punjab were mentioned in the list of terrorists, the police told the court that it had deleted the name of one such victim.
Two Babbar Khalsa men get 10-year jail
Mohali, November 14
The Mohali Additional District and Sessions Court today awarded a 10-year sentence to two Babbar Khalsa extremists, three year to another, while acquitting their fourth accomplice.

Food supply official held in wheat scam
Nangal, November 14
The police today arrested local Assistant Food and Supply Officer Avtar Rangra for allegedly pilfering wheat meant for the Public Distribution System (PDS). The police said Avtar charged Rs 150 from ration depot holders for a quintal of wheat that was then sold in the open market.