Wheat bags go missing from Markfed storehouse
Moga, November 8
As many as 22,138 bags of wheat and thousands of wooden crates and gunny bags have gone missing from a Markfed storehouse in Moga district, resulting in an estimated loss of Rs 1.34 crore to the food procurement agency.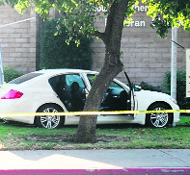 Migrant from Jalandhar shot in US, two held
Sacramento (California), November 8
Two youths were arrested today for shooting Amritpal Singh Sandhu, 21, of Modesto near Downtown Turlock, 50 miles from Sacramento, on November 6 after a car chase.





Amritpal Sandhu's car in which his body was found

Remove liquor vends along highways in three weeks: HC
Chandigarh, November 8
The Punjab and Haryana High Court today set a three-week deadline for the States of Punjab and Haryana to explain non-compliance of directions on removal of illegal liquor vends along national highways.
On eve of Sukhbir's visit, Cong men told to deposit arms
Bathinda, November 8
Congress workers and other local residents have been asked to deposit their arms in view of Deputy Chief Minister Sukhbir Singh Badal's visit to the city tomorrow.
Land deals: PCC president gets Capt's support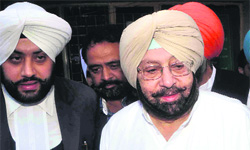 Mohali, November 8
Lending support to Pradesh Congress Committee (PCC) chief Partap Singh Bajwa, whose name has surfaced in the alleged encroachment of shamlat land recently, senior party leader Capt Amarinder Singh today termed the entire episode as a "political stunt".


Senior Congress leader Capt Amarinder Singh outside the court in Mohali on Friday. A Tribune photograph

Khaira questions police cover criteria
Chandigarh, November 8
Former Congress MLA and party spokesman Sukhpal Khaira has accused the Punjab Police of denying security cover to senior Congress leaders and providing the same to Akali leaders.
BJP leaders discuss poll strategy for Gurdaspur
Gurdaspur, November 8
The Gurdaspur, Batala and Pathankot units of the BJP today held a meeting at Jhakolari village, 15 km from here, to formulate a strategy to strengthen the party's base in the Gurdaspur parliamentary constituency. The BJP has been allotted the parliamentary seats of Gurdaspur, Hoshiarpur and Amritsar by its alliance partner (SAD).



Tale of 2 resorts: One razed, other buried under official apathy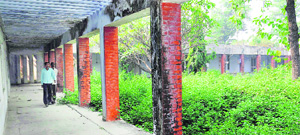 Ropar, November 8

Once a popular tourist destination in the district, the Kadamba complex in Nangal now speaks volumes about the official neglect it has faced over the years.


The dilapidated building of Kadamba complex. Tribune photos: Vicky Gharu

Sikh centre to be set up in California
Ludhiana, November 8
Shiromani Gurdwara Parbandhak Committee (SGPC) president Avtar Singh Makkar today announced that an international Sikh centre would be set up at Yuba City at California in the US. He said the centre would be set up to spread awareness about Sikhs so they were not mistaken for Arabs in the Western world.
Quebec Move
SGPC seeks Canadian PM's help
Amritsar, November 8
The SGPC today termed the move by Canada's Quebec province to ban religious symbols as "unjust" and appealed to Canadian Prime Minister Stephen Harper to intervene in the matter.
Depression victim's body being sent home: NAPA
Chandigarh, November 8
The Northern American Punjabi Association ( NAPA), in a statement emailed to The Tribune, said today that the body of Paramjit Singh was being sent by air from the US to his native village of Mohablipur near Sultanpur Lodhi in Kapurthala district.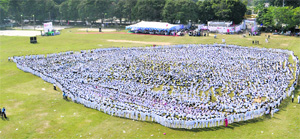 Students in Nangal form largest 'human droplet', set world record
Nangal, November 8
As many as 7,636 students from various schools got together to form the "largest human water droplet", setting up a Guiness world record at NFL Stadium here today.
Schoolchildren form a human droplet to set a Guiness world record at NFL Stadium in Nangal on Friday. A Tribune photograph

Students await free uniform as strike keeps funds on hold
Sangrur, November 8
Despite the availability of funds worth crores of rupees, over 17 lakh students studying in government schools of the state will have to wait for free uniform for an indefinite period due to a pen-down strike of the Sarva Shiksha Abhiyan (SSA)/Rashtriya Madhyamik Shiksha Abhiyan (RMSA) Non-Teaching Employees Union.
Special residential school project
Punjabi University to reclaim land ownership if project is shelved
Patiala, November 8
Punjabi University, which is all set to sign a memorandum of understanding (MoU) pertaining to its land being given to the Punjab Government for setting up a special school, has decided to include a clause to reclaim land ownership of the land in case the project is shelved at any stage. The decision comes in the wake of resentment expressed by students and teachers, who said it was "unethical" on the part of the university to enter into such a land deal at a time when there was a severe space crunch in the university and it was in a "financial mess".
Jails Dept pulls out all stops to educate inmates
Patiala, November 8
The Punjab Jails Department is encouraging inmates to study. There are some who are doing doctorates and others postgraduate degrees. Under the education awareness initiative of the Jails Department, over 250 inmates are pursuing various courses free of cost.
Experts discuss challenges facing legal system
Patiala, Novemeber 8
A two-day seminar on "Law in Globalized Era: Issues & Challenges", organised by the Department of Law, Punjabi University, began here today.
125 kiosks to be removed today
Fatehgarh Sahib, November 8
The fate of 125 kiosk owners hangs in balance as the authorities have decided to remove kiosks from the district courts complex by November 9. Kiosk owners have urged SAD general secretary Prem Singh Chandumajra to intervene in the matter. — TNS
A clarification
In the news report 'ADTO's appointment sparks row', that appeared in The Tribune columns on November 8, 2013, it was erroneously mentioned that the PPSC had appointed Simran Sran as ADTO. The error is regretted.



teachers' recruitment
HC to decide if MA, M.Ed are to be treated on par
Chandigarh, November 8
Can an M.Ed degree be treated on a par with an MA degree for the recruitment of teachers? The vital question of law will now be answered by the Punjab and Haryana High Court.
HC raps govt over stamp duty evasion
Chandigarh, November 8
The Punjab and Haryana High Court today virtually admonished the Punjab government for its failure to check the evasion of stamp duty.
Ropar court awards life to 5 in murder case
Ropar, November 8
The district and sessions court today awarded life sentence to five persons for murdering Daburjee village resident Teja Singh.



Firm owner, listed for award, booked
Jalandhar, November 8
The owner of Nutricia International Private Limited was today booked under the NDPS Act for allegedly selling proxivon capsules despite the Centre's notification banning its sale.