High Court raps UT Administration
Chandigarh, November 8
The Punjab and Haryana High Court has virtually rapped the Chandigarh Administration on its knuckles for apparently displaying a complete lack of will "to do anything".


| | |
| --- | --- |
| Chhath puja: 1 lakh offer prayers | 'Bhaji in Problem' star cast in city |
| | |
| --- | --- |
| The lake in Sector 42 witnessed a footfall of more than one lakh devotees who gathered to celebrate Chhath on Friday. The devotees started reserving locations with their families since the afternoon to ensure better visibility of the sun and enough water level to stand in while worshipping. Tribune photo: Vicky Gharu | A promotional event for the upcoming Punjabi movie, "Bhaji in Problem", was held on Friday at the Guru Gobind Singh College for Women, Sector 26. Gippy Grewal and Gurpreet Ghuggi, star cast of the movie, were present on the college premises to promote the movie. Gippy Grewal entertained the students with his hit numbers and also danced with them. . Tribune photo: Parvesh Chauhan |
RLA to auction remaining 183 vanity numbers today
Chandigarh, November 8
The Registering and Licensing Authority (RLA) is going ahead with tomorrow's auction of 183 vanity registration of vehicle numbers.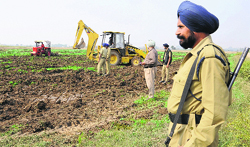 GMADA begins land acquisition
Mohali, November 8
To begin development works in the IT City and Medicity, the Greater Mohali Area Development Authority (GMADA) has started taking possession of its acquired land in the area.


GMADA officials oversee work on the land in Mohali on Friday. Tribune photo: Vicky Gharu
KV-47 challenges MC's records
Chandigarh, November 8 After three private schools, Kendriya Vidyalaya, Sector 47, have challenged Municipal Corporation's (MC) property tax record.
Another train between city & Amritsar soon
Chandigarh, November 8
After over a six month-long successful run of the daily Superfast Express train between Chandigarh and Amritsar via New Morinda and Sanehwal, the Railways is anticipating to commence another train between the two cities.
Rheumatic disease on the rise among women, children
Chandigarh, November 8
Rheumatic disease has emerged as a major concern affecting women and children in the past couple of years, while the awareness on the disease is relatively very poor both in patients as well as most medical practitioners. According to the PGI experts, at least 100 new cases are reported for screening at PGIMER at every clinic."Every year, the numbers are going up if we look at our figures. There is a separate unit of rheumatology at the Advanced Pediatric Centre for handling the disease in children," said Professor Surjit Singh from Department of Internal Medicine, PGIMER.
Now, humble potato goes out of common man's reach
Chandigarh, November 8
After onion and tomato, the cost of potatoes is also burning a hole in the common man's pocket. Rising from Rs 20 per kg two days ago, the cost of some varieties of potatoes has touched Rs 60 per kg. No variety of potatoes is costing less then Rs 40 per kg in the market.
Civic body proposes to amend norms
Chandigarh, November 8
The municipal corporation has proposed to amend the norms linked to the operation of Sahib Singh and Empire Store automatic parking lots in Sector 17. The MC is all set to auction these parking lots on a trial basis.
No consensus on chief guest's name
Chandigarh, November 8 A day after the chairperson of the Art, Culture and Sports Committee of the municipal corporation proposed local MP Pawan Kumar Bansal's name as the chief guest for the Children's Day function on November 14, a committee member today said that he would boycott the function if Bansal was made the chief guest.
New PCA panel formed
Chandigarh November 8
The Police Complaints Authority (PCA) is likely to get more teeth with the UT Administration appointing its new chairman and members today.
Four new dengue cases reported
Chandigarh, November 8
Four new cases of dengue were reported today from different parts of the city, bringing the total number of cases to 77 this year, so far.
Complaint against official
Panchkula, November 8
Local councillor today submitted a complaint to the Panchkula DC and DCP after he was told by a resident (Ravi Kant) of Abhaypur that an official of the Food and Supply Department had demanded Rs 1,000 for making a ration card.
Postmortem postponed
Chandigarh, November 8
As the parents of the 22-year-old woman who died 12 hours after delivering her baby at the GMSH-16, on Thursday could not reach today, the postmortem was rescheduled for Saturday. The police will record the statements of the parents and constitute a medical board for the postmortem examination. The family has requested that the postmortem be conducted after filing of a complaint with the police. — TNS


PECFest begins with a bang
Chandigarh, November 8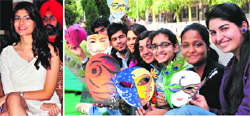 With an active participation of more than 5,000 college students, PECFest - 2013 at the PEC University of Technology commenced with a bang today. The Day 1 began with FBB Green Marathon encouraging youngsters to protect environment. Apart from this, the day saw scores of people from different colleges of the region coming and taking part in various competitions.
Former Femina Miss India Vanya Mishra during the events held on the PEC campus; and (right) students with masks made during a competition at the PECFest - 2013 on Friday. Tribune photos: S Chandan
Now, forms available online for free
Chandigarh, November 8
This time, there is no need for parents to make a beeline in front of schools for buying admission forms. In its fresh directions regarding the common admission schedule released today, the UT Education Department has made it mandatory for schools to make the admission forms available free of cost on their websites.
Radiography Day celebrated
Chandigarh, November 8
Students of B.Sc. Medical Technology, department of radiodiagnosis at Government Medical College and Hospital, Sector 32, today celebrated World Radiography Day. World Radiography Day is celebrated across the world on November 8 every year in the honour of Nobel Laureate sir WC Roentgen, who had discovered X-rays on November 8, 1895.
City-based college teachers clear PCS exam
Chandigarh, November 8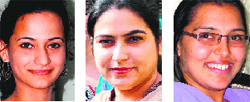 Two teachers of the city colleges have cleared the Punjab Civil Services (PCS) examination, the results of which were declared recently. Kimmi Vaneet Kaur Sethi, assistant professor in the Department of Psychology at MCM College, clinched 59th rank in the first attempt.

Kimmi Vaneet Kaur Sethi, Parminder Kaur and Damandeep Kaur
An insight into 'Midnight's Children'Vivek Gupta
Chandigarh, November 8
It was an exchange of handwritten notes between celebrated author Salman Rushdie and noted filmmaker Deepa Mehta that set the tone for recently talked about film "Midnight's Children", based on the epic novel by Salman Rushdie.