Amid opposition, state rolls out advance tax
Patiala, November 10
Despite stiff opposition from traders in the state, the Punjab Excise and Taxation Department has begun the process of imposing advance tax. The department claims the tax would plug loopholes and check tax evasion to the tune of several crore rupees. The step is aimed at preventing firms from carrying out benami transactions.
No norms flouted, claims Bajwa's lawyer
Chandigarh, November 10
Terming the notice given to Punjab Pradesh Congress president (PPCC) Partap Singh Bajwa's PCB Real Estates regarding the purchase of 108 bighas of land at Bharonjian village near New Chandigarh, as politically motivated, his (Bajwa's) advocate Inder Pal Singh has urged the Additional Deputy Commissioner-cum-Collector, Mohali, to withdraw the notice, claiming that no norms have been flouted.

PPCC chief launches counter-offensive
Chandigarh, November 10
Partap Singh Bajwa, PPCC chief, today expressed surprise over the "arithmetic of money-making evolved by Chief Minister Parkash Singh Badal's family which is making them richer and Punjab poorer by the day." In a statement, Bajwa asked Deputy CM Sukhbir Badal, to share his secret of multiplying money with the people of Punjab, who were turning paupers.
Khaira: Majithia picking parts of Justice Kuldip report to target rivals
Chandigarh, November 10
Punjab Pradesh Congress Committee (PPCC) spokesperson Sukhpal Singh Khaira today accused Revenue Minister Bikram Singh Majithia of adopting double standards on shamlat land deals.
Not sure if Sidhu will be fielded from Amritsar: Tandon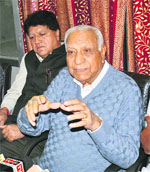 Amritsar, November 10
Punjab BJP poll panel chief Balramji Das Tandon has said it is not certain if MP Navjot Singh Sidhu would be fielded from Amritsar in the forthcoming Lok Sabha elections. Addressing mediapersons after a meeting of party leaders here today, he said it was the prerogative of the BJP's central election committee to nominate the candidate. On the continued absence of Sidhu from Amritsar and the consequent loss of work, Tandon said Sidhu had professional commitments to meet and once these were over he would resume his duty here.

BJP leader Balramji Das Tandon speaks to the media in Amritsar on Sunday. Photo: Vishal Kumar

Bajwa must quit his post, says SAD
Amritsar, November 10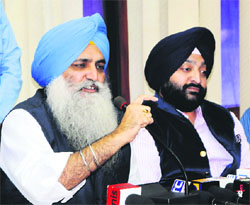 Chief Parliamentary Secretaries Virsa Singh Valtoha, Inderbir Bolaria and Harmeet Singh Sandhu, and other Akali MLAs today demanded that Partap Singh Bajwa resign as PPCC chief for causing an enormous loss to the state and national exchequer by way of "evading" stamp duty and income tax. They said Punjab Congress leaders should speak out against the "corrupt practices" of its president otherwise it would be deemed that he had their tacit support.
Virsa Singh Valtoha (left) and Inderbir Bolaria at a press conference in Amritsar on Sunday. Photo: Vishal Kumar

Sulking Bhagat skips party functions
Jalandhar, November 10
Internal bickering in the BJP is out in the open. Despite claims by senior party leaders, including BJP state president Kamal Sharma, to the contrary, developments in the past one month makes it amply clear that all is not well within the BJP.
Cong MLA votes for BJP man as Block Samiti chief
Dinanagar (Gurdaspur), November 10
In what is being termed as a political masterstroke, Dinanagar Congress MLA Aruna Chaudhary voted for a BJP man, catapulting him to the post of the Chairman of the Dorangla Block Samiti.
...But this Madhopur resort a profit model to emulate
Madhopur (Pathankot), November 10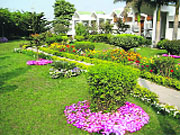 The Madhopur-based Coral River Resort is a classic example of how a loss-making government undertaking can be turned into a highly profitable venture. The resort, which was accruing losses worth lakhs every month when it was run by the mandarins of the Punjab Tourism Department, got a fresh lease of life when it was handed over to a private player following the state government's disinvestment policy initiated in 2006.

The Coral River Resort in Madhopur, Pathankot. A Tribune photograph

British PM awarded for serving Sikh community
London, November 10
Ahead of his visit to India, British Prime Minister David Cameron has been presented with a Special Recognition Award in recognition of the services he rendered to the Sikh community.
Indian banker gets Pride of Punjab Award in UK
London, November 10
Bhupinder Singh, Managing Director of Punjab National Bank International and three others have been presented with the Pride of Punjab Award for their contributions in diverse fields.
Three days after wedding, groom crushed under train
Batala, November 10
Just three days after he tied the knot at a village gurdwara near Batala, Amritpal Singh (23) was crushed to death late last evening as he stood too close to the Amritsar-Qadian rail line while a Qadian videographer 'filmed' him and his bride.
Villagers grab many acres of PSPCL land in Hoshiarpur
Hoshiarpur, November 10
Several acres of land belonging to the Punjab State Power Corporation Limited (PSPCL) along the Mukerian Hydel Channel (MHC), have been encroached upon. Local residents after claiming compensation for the land in 1978 have illegally built marriage palaces, farm houses, residential houses, etc. on the land. The worst affected area is the 40 km long stretch from Talwara to Terkiana village.
Govt profit from lotteries sinking
Muktsar, November 10
The state government's net profit from the sale of lotteries has decreased sharply in past eight years. During the fiscal year 2005-06, the Finance Department had earned a profit of Rs 107.65 crore from lotteries alone. This came down to Rs 6.59 crore in 2012-13, 16 times less than in 2005-06.
Victim's father meets Verka
Samrala, November 10
The three persons arrested for sexually harassing a Dalit girl were today sent to police remand for a day by a local court. The victim, a Class XII student and a resident of Mushkabad village, had allegedly attempted suicide by consuming poison.
HC raps Pepsu officials for harassing employee
Chandigarh, November 10
Admonishing Pepsu Road Transport Corporation officials for high handedness, the Punjab and Haryana High Court has categorically asserted that their insensitivity and illogical reasoning exposed an employee to rigours of litigation.
Drug smuggler Bhola's name crops up in ASI murder case
Patiala, November 10
The name of controversial former policeman turned drug smuggler Jagdish Bhola has cropped up again with the arrest of seven gangsters, who were allegedly involved in the murder of Assistant Sub Inspector (ASI) Gurdev Singh. He was killed at the Haveli restaurant on the Jalandhar-Phagwara highway in April.
6 booked for molesting fencing players, 1 held
Tarn Taran, November 10
Six youths have been booked for allegedly molesting fencing players late last evening. One of the accused Shamsher Singh Shera has been arrested.