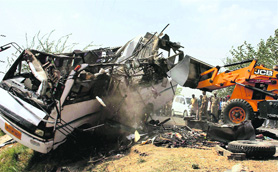 Curtailing road Casualties
Unified road safety agency must: Panel
Chandigarh, November 13
The draft of the Punjab State Road Safety Policy, prepared by the Punjab Governance Reforms Commission, has recommended a unified road safety agency instead of the 23 agencies engaged for handling road traffic in the state at present. The report has said that too many agencies were involved in the task.
Cops: Bhola used African nationals as couriers
Patiala, November 13
The Patiala police today interrogated druglord Jagdish Singh Bhola on the supply chain of his cartel. A senior police officer told The Tribune that Bhola's accomplices Sarabjit Singh alias Nick of Baliaon village in Khanna (now in Delta BC, Vancouver), former kabaddi player Harbans Sidhu from Ludhiana (now in Toronto), and Dara Singh Mathoda from Jalandhar (now in Vancouver), promoter of Azad Kabaddi Club in Toronto, had revealed that they would visit India regularly and sell heroin and other synthetic drugs worth Rs 20 to Rs 25 crore in one go.
Sukhbir discounts reports on Barnala
Barnala, November 13
Deputy Chief Minister Sukhbir Singh Badal has said that he is not aware if former Chief Minister Surjit Singh Barnala was to join the SAD. He said such reports were the brainchild of a few mediapersons.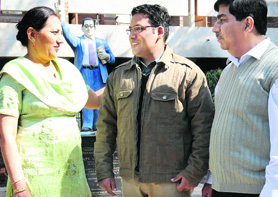 Making it to PCS
Despite odds, Nakodar teacher secures 6th rank
Mohali, November 13
Pawan Kumar (29), son of a leather tanner, worked hard to overcome odds in life and secured sixth rank in the PCS examination. He gives the credit of his success to his family, particularly father Keshwa Nand, and teachers Rajwinder Minhas and Ranjana.
Pawan Kumar with his parents in Mohali. Tribune photo

Modest background no deterrent for her
Amritsar, November 13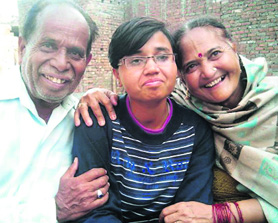 Sanyogta (30) has emerged as a role model for the residents of Haripura, a locality infamous for rampant drug addiction. She has secured 11th rank in the PCS (SC category). Talking to The Tribune, Sanyogta said she belonged to a family of labourers, but her parents had worked hard to provide education to their children. A BSc medical student, she cleared the PCS with public administration and sociology as her choice of subjects in the mains.
Sanyogta with her parents in Amritsar. Tribune photo

New trade policy will see 1 lakh dealers off VAT net
Chandigarh, November 13
The trade policy to be announced by the Punjab Government tomorrow will bring over one lakh registered dealers out of the net of value-added tax (VAT). These dealers will be exempt from paying the tax and maintaining sale accounts in ledgers besides freedom from the Inspector Raj.
Patiala Ayurvedic College gets Rs 75 lakh grant
Patiala, November 13
The state government will spend Rs 75 lakh to upgrade the Departments of Gynaecology, Surgery, Pathology and Panchkarma at Government Ayurvedic College and Hospital, Patiala. The move is aimed at helping the college get the permission from the Centre to hold admissions this year.
On anvil: Investment Promotion Bureau
Chandigarh, November 13
To facilitate investment in the industrial sector, the state government has prepared a draft for Punjab Investment Promotion Bureau. Sources said administrative secretaries have issued notifications to facilitate the functioning of the bureau related to their departments.
Sukhbir gives grants to 30 panchayats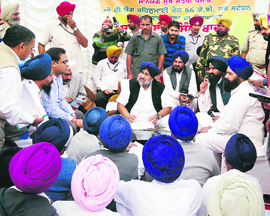 Fazilka, November 13
Deputy Chief Minister Sukhbir Singh Badal today hit out at Prime Minister Manmohan Singh and Union Finance Minister P Chidambram for their remarks against the country's premier investigating agency CBI. Speaking to mediapersons after completing his Sangat Darshan that he had to abandon on November 7 due to heavy rain, Sukhbir said the CBI was the same agency that the Congress-led UPA Government had been allegedly using for its vested political interests.
Deputy CM Sukhbir Badal holds Sangat Darshan at Jandwala village in Fazilka district on Wednesday. A Tribune photo

Probe accident, demands Punjabi Lekhak Sabha
Amrtisar, November 13
The Kendri Punjabi Lekhak Sabha and various literary organisations today demanded a probe into the road accident in which prominent Punjabi writer Talwinder Singh and his wife Balwinder Kaur were killed in the intervening night of November 11-12. The organisations urged Chief Minister Parkash Singh Badal and Cultural Minister Sarwan Singh Phillaur to give a compensation of Rs 25 lakh to the family of the deceased.
Jalandhar-Amritsar road to be 6-laned
New Delhi: The Cabinet Committee on Economic Affairs has approved the six-laning of the Jalandhar-Amritsar section of National Highway-1 in Punjab. The project is being taken up under the National Highways Development Project (NHDP) Phase II on an engineering, procurement and construction (EPC) basis. The cost is estimated to be Rs 523.85 crore, including that on account of land acquisition, resettlement and rehabilitation. The total length of the road will be approximately 20 km. The project will reduce the time and cost of travel between Jalandhar and Amritsar. — TNS
Chandigarh to Amritsar train to be flagged off tomorrow
Ropar, November 13
A super fast train to Amritsar will be flagged off from Morinda near here on Friday. This will be the second such train connecting the district with other places of religious importance for Sikhs. Ravneet Singh Bittu, MP from Anandpur Sahib said the train would help pilgrims pay obeisance at Sri Harmandir Sahib, Mata Durgiana Mandir and the Jallianwala Bagh in Amritsar. The train will start from Chandigarh at 6.55 am and reach Amritsar at 11.25 am. — TNS


Making it to PCS
Advance tax challenged in HC
Chandigarh, November 13
The advance tax being levied by the Punjab Government has come under judicial scanner. In a petition filed before the Punjab and Haryana High Court, a manufacturer and re-seller of cloth has challenged the tax on the grounds that it is unconstitutional.
Court puts state on notice over bungling in engg admissions
Chandigarh, November 13
The Punjab and Haryana High Court today put on notice the State of Punjab on a petition alleging failure to probe alleged large-scale bungling in engineering admissions.
Day 2: Lawyers block Ferozepur Road
Ludhiana, November 13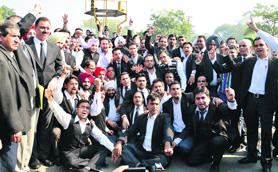 The city lawyers today blocked the Ferozepur Road near the Mini Secretariat in protest against the recently notified Punjab Rent Act that replaced the East Punjab Rent Restriction Act. District Bar Association president Parupkar Singh Ghumman, vice-president Gurdeep Singh Salh, secretary Rustam Pal Singh led the procession to Ferozepur Road.
Lawyers protest on Ferozepur Road in Ludhiana on Wednesday. A Tribune photograph