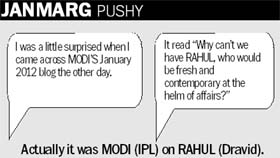 Field day for criminals in P'kula
Panchkula, November 13
Criminals had a free run in Panchkula as they orchestrated two robberies and a snatching incident within a span of 15 hours. A passenger, who had hired a taxi from Solan, was robbed of cash and valuables by the taxi driver before being pushed off the car in Sector 21, Panchkula.
Egg prices soar as demand increases
Chandigarh, November 13
For over one lakh residents in the city, having an omelette in breakfast these winters has got costlier by a Rupee. It may cost even higher as the winters progress. An egg now costs Rs 5 instead of Rs Rs 4. The per dozen cost of eggs has increased from Rs 48 to Rs 60 this week.


SPELL BEE
For them, vacuum is vacum and alleviate is aleviate
Chandigarh, November 13
Spellings of the most commonly used words in English were hard to come by for students during Spell Bee held on the first day of the Chandigarh Book Fair. They spelt vacuum as vacum, alleviate as aleviate and cassette as casette.
Children participate in the Spell Bee contest during Chandigarh Book Fair on Wednesday. Tribune photo: Manoj Mahajan
Darbar Sahib express
Eyeing polls, Cong leaders offer free ride to 300 persons
Mohali, November 13
You can hop on to the Darbar Sahib Express on its maiden run to Amritsar on November 15. Courtesy: Congress leaders who are offering free ride to around 300 persons to the Holy City.
Better Panchkula
Drives fail to drive away encroachers
Despite several drives of the Panchkula administration in past many years, street vendors keep encroaching upon the vacant space at various markets. Although the problem exists in all the markets of the town, it is rampant at Sectors 4, 7, 11, 15 and 20. Not just farhi-walas, even shopkeepers have extended their area of operation to the corridors, leaving no space for the visitors to walk.
Small vendors sell their wares from space encroached upon at the Sector 7 market; and (right) traders use open space around the shops to display as well as stock their items at the Sector 9 market in Panchkula.
Violations at markets of Sectors 2 and 11 in Panchkula.
Regional development plan panel notified, Centre tells HC
Chandigarh, November 13
The Central Government today told the Punjab and Haryana High Court that it had notified the Regional Development Plan Committee for the regional plan of the city and its periphery.


Residents reluctant to pay property tax
Mohali, November 13
With residents showing reluctance to pay the recently imposed property tax, the pace of collections of the levy has been tardy. A 10 per cent rebate offered by the Municipal Corporation (MC) for payments by November 30 has also failed to act as 'bait' for most of the tax-payers.

Residents gather information regarding property tax from a booth set up at Phase III B-2 in Mohali. Tribune photo: Vicky Gharu
book fair
Whole world under one roof
Chandigarh, November 13
An interesting juxtaposition of different ideologies is on display at Chandigarh Book fair that began today. The one corner of the fair has progressive and Marxist literature, aiming at spreading rationality among masses and other side has stalls selling books on preaching of many religious heads and gurus.
Students browse through books and (right); Milkha Singh interacts with the audience at the Chandigarh Book Fair, Parade Ground, Sector 17 in Chandigarh. Tribune photos: Manoj Mahajan and S Chandan
Respect deficit for city elderly
Chandigarh, November 13
Seventy-five year old professor Rakesh Kumar (name changed) was under stress as his tenant, who is working in an MNC, is neither vacating the premises nor paying rent. Adding to his woes was that the tenant used abusive language while arguing with him.
Youths risking lives, riding without helmets
Chandigarh, November 13
Helmetless driving continues unabated in the City Beautiful despite the UT police issuing maximum challans under this category. This year, the UT traffic police has issued over 36,000 challans for driving without helmet and another 20,000 for those who had not fastened their helmets properly.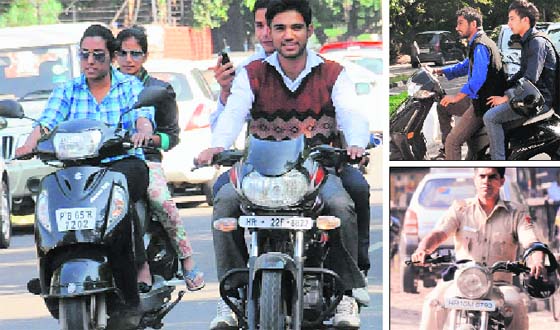 (Clockwise) Boys on two-wheelers opposite DAV College; boys on a scooter at Sector 11; and a policeman on a motorcycle in Sector 26 move without helmets in Chandigarh on Wednesday. Tribune photos: Manoj Mahajan and Parvesh Chauhan
police week celebrations
Bada khana for UT cops
Chandigarh, November 13
As part of the Police Week celebrations, the Chandigarh Police organised an IGP darbar and "bada khana" for the Chandigarh Police Personnel. KK Sharma, Advisor to the Administrator, Chandigarh, arrived as the chief guest at the function. About 3,000 police personnel took part in the function.
Toddler locked in room at PGI's reception area, rescued
Chandigarh, November 13
High drama was witnessed at the PGIMER today, when a one-year-old child of a hospital attendant, was locked inside the registration area in the afternoon. The attendant had left for duty after leaving the toddler sleeping inside the room.
haryana roadways
Strike hits residents
Panchkula, November 13
Local residents particularly students remained at the receiving end today after a two-day strike is being observed by the Haryana roadways. People could not get buses entire day.
Building violation
UT mulls lowering penalty
Chandigarh, November 13
Within a few months of UT appellate authorities quashing misuse of notices in different cases, issued by the Estate Officer under the Estate Rules 2007, the UT is seriously contemplating to bring down the penalty of misuse or building violation presently being calculated at a rate of Rs 500 per sq yard.
Passport office to remain closed tomorrow
Chandigarh, November 13
Due to the announcement of a holiday on November 15 by the Government of India, the Regional Passport Office has decided to entertain the scheduled appointments a day before in their respective offices.
BJP councillor flays Mayor
Chandigarh, November 13
BJP councillor Arun Sood today accused Mayor Subhash Chawla of deliberately keeping the MC officials concerned tied up in work to delay the former's stone-laying ceremony of toilets in green belts in his ward.
Lawyer dies of heart attack in court
Chandigarh, November 13
The work in the Punjab and Haryana High Court came to a standstill this afternoon, due to the sudden death of advocate Baljit Puri. He died due to heart attack, while he was sitting in a courtroom for his case to be taken up.
PGI launches new lab for MDR-tuberculosis
Chandigarh, November 13
PGIMER today launched two new laboratories in the Department of Medical Microbiology.
Coin mela at Sector 21
Chandigarh, November 13
A coin mela was organised today at Sector 21 by the Chandigarh Beopar Mandal and the Reserve bank of India for facilitating residents with Rs 5 and Rs 10 coins to meet out shortage.
feedback
Come down heavily on drunk driving
The nakas to check drunk driving during the late night hours by Chandigarh Police have reduced the number of accidents and put some fear among people who drive vehicles during the night after drinking. Those who don't take or use alcohol invariably face harassment, humiliation and chaos on roads due to drunk driving.


PU students to air grievances online
Chandigarh, November 13
Soon, students of Panjab University (PU) and its affiliated colleges in Chandigarh and Punjab will not be compelled to travel to the university to air their grievances related to the examination branch. Now, they will be able to submit their complaint online, and the official concerned will have to act on it within three working days.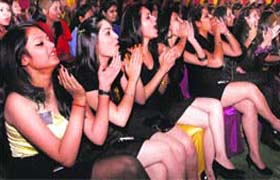 Style statement: Students enjoy a freshers' party at the Northern Indian Institute of Fashion Technology at Phase-1, Industrial Area, Mohali, on Wednesday. Tribune photo: Vicky Gharu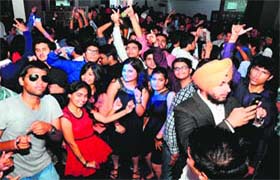 United colours of fun: Students of the University Institute of Engineering and Technology have a gala time during the freshers' party at a discotheque in Sector 26, Chandigarh, on Wednesday. Tejasav Singh was adjudged as Mr Fresher, while Nikita Raina became Miss Fresher. Tribune photo: Parvesh Chauhan
Now, admission process to begin on November 25
Chandigarh, November 13
The process of admissions to the entry-level classes for the next academic session, which was set to start in the city schools from November 29, will now begin on November 25.
punjab civil services
Proud moment for govt-run Mohali institute
Mohali, November 13
It is a proud moment for the staff of government-run Ambedkar Institute of Careers and Courses as five of their students have been selected as PCS officers in this session. The students, belonging to reserved categories, include Hardeep Singh, Pawan Kumar, Sandeep Singh, Kirandeep Kaur and Gurpreet Singh.
education notes
National seminar
A two-day national seminar on "Number Theory and Discrete Mathematics" started at Panjab University. The seminar was presided over by Emeritus Professor in the department of mathematics and former VC, PU, Prof RP Bambah. The seminar is being organised in honour of Prof RJ Hans-Gill, who turns 70.
FROM SCHOOLS
Tips on career in IT
Chandigarh: A seminar on career opportunities in the information technology (IT) sector was held at Government Model Senior Secondary School, Sector 10. The seminar was a part of the various outreach events planned in the run up to the mega IT conclave, Destination IT@North, being held on November 20 and 21 in Chandigarh.