Nehru and the building of a public morality
The nation could learn from the choices Jawaharlal Nehru made in a variety of situations and the moral positions he took
Peter DeSouza
IN his delightful book of essays, Patriots and Partisans, Ramachandra Guha has this very adulatory essay on Nehru titled Verdicts on Nehru: The Rise and Fall of a Reputation. If I have any critical comment on the essay, since I share its reading of the man, it is that Guha is not adulatory enough. This is said from a critical and objective reading of the contribution of the first Prime Minister to the making of the Indian nation-state. Today we are in a political mess. We are the producers of that mess. This has happened because we do not have the intellectual capability and the wisdom to see what it takes to keep a nation going, to give it its élan vital and build a state from the embers of Partition. Guha in his essay describes what it takes. We should study the text carefully and debate his analysis. In this article I shall take one quotation from the essay and build my argument on it.
Jawaharlal Nehru was born on November 14, 1889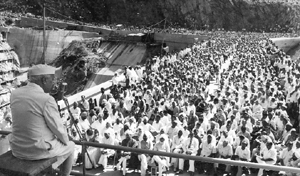 Jawaharlal Nehru could effectively bridge the gap between the ancient and the modern. Here he is seen addressing the people after inaugurating the Bhakra Dam. File photo: PIB
Rarely does one choose Nirad Chaudhuri to speak well of India but I shall do so here. This is what Niradbabu had to say of Nehru. He "is the most important moral force behind the unity of India". He was "the leader not of a party, but of the people of India taken collectively, the legitimate successor to Gandhiji"... "if Nehru goes out of politics or is overthrown, his leadership is likely to be split up into its components, and not pass over intact to another man. In other words, there cannot, properly speaking, be a successor to Nehru, but only successors to the different elements of his composite leadership". (page127) As eulogies go, this is high praise and when it comes from Niradbabu it must be analysed seriously for one can find in it both ethical issues in politics and a philosophy of history.
The key phrase that needs our analytical scrutiny is "the most important moral force behind the unity of India". What was the nature of this moral force? Is it akin to the moral force of a Narayan Guru or a Ram Mohan Roy or a Mahatma Phule or a Lajpat Rai, reformers who were working to change social mores but who did not have to build a new nation? Does such a moral persona carry a greater burden than that carried by social reformers? Why is such a moral force important for a new nation? What does it do and what happens when we lose it? These are questions that have relevance for us today, for our contemporary discourse, because those sitting in their armchairs in the winter sun as bystanders watching as the public discourse descends into a slanging match have now to take a stand. They would be foolish if they thought otherwise. But, before I illustrate what Niradbabu meant when he made that statement on Nehru, let me briefly reflect on the importance of this moral force.
Moral compass of new nation
A new nation needs to hold together, to bring its diverse parts into the new imagination that is being forged and that the parts can subscribe to. It needs a new iconography. It needs a new moral compass that will help its officials and citizens navigate, both individually and collectively, the troubled waters of a merciless history. A moral force helps a nation choose both the little things that matter and the big possibilities that count. A moral force gives significance to such choices and when ordinary people begin to make this morality a part of their inner being, then a public morality emerges which becomes the supporting glue of our public institutions. A moral force cements a nation especially when the moral force is wise, compassionate and non-partisan. India and Pakistan both needed such a moral force at Partition in 1947. India got one. Pakistan didn't and had to experience another painful partition in 1971. Today we are playing with fire when we begin to mock our moral force, when we seek to dismantle his legacy and descend into the worst form of partisan vituperative politics. When I listen to what is being said the image that comes to mind is of a viper's tongue.
So what were the elements of this morality that Niradbabu so admired. It refers to both private and public matters, to the choices that Nehru made in a variety of situations, and to the moral positions he took, from which the new nation could learn as it developed its public morality.
Matters of the state
Let me illustrate these choices and these judgments by drawing on the material available in the Selected works of Nehru from 1956 to 1959, which have been recently published by the Nehru Memorial Trust. Let me take four episodes.
The first concerns matters of state. His fortnightly letters to chief ministers were part of the process of building this public morality. In his letter of December 31, 1958, he shares his anguish about judicial pendency.
"There is one matter which has been troubling me very considerably. This is judicial delays. The figures I have seen of arrears of work in some High Courts are appalling. This matter is being considered by our Law Commission. That Commission consists of eminent men. But I suppose they think rather in a groove, accepting the expensive system that we have put up as a base. We have increased the number of High Court judges but this has made little difference to the piling up of arrears. Demands for more judges come. If necessary, we should have more judges. But how many more? … More judges, more lawyers, more work, more delays — and more demand for more judges. Surely this leads to the inevitable conclusion that procedures have to be simplified. … In judicial matters as in so many others, we have often to think of institutional changes."Here was the Prime Minister worrying about the delivery of justice for his people just eight years after the adoption of the Constitution. Judicial pendency is a grave problem threatening the creation of a fair society and if only our higher judiciary today showed a similar anxiety, in this their activist phase, then maybe we would have a more just society. But reforming the system is harder than simple judicial grandstanding.
Majority & minorities
Let me take another example. In a letter of January 16, 1956, he writes about the responsibility of the majority towards the minority.
"Minorities may be, and sometimes have been, troublesome and have made exaggerated claims. In a democracy however, it is the will of the majority that ultimately prevails. The responsibility therefore rests on the majority not only to do justice to the minority but, what is more important, to win over the goodwill and confidence of the minority group, whether it is linguistic, religious or other."
The majority must be like an indulgent parent. Nehru knew his history and was aware of the sources of civil strife. He argued for winning over, through gestures and generosity, the goodwill and confidence of an insecure minority. This is mature statesmanship not appeasement. Today we need to think through what a strategy of "winning over" entails because we face grave threats to our attempts in building a plural nation, the only one that can work.
From his letters to chief ministers on the normative issues confronting the young nation, let me move to the second illustration where Nehru speaks to parliamentarians on the normative principles concerning a political community. Responding to Acharya Kripalani during the debate on President's rule in Kerala, on August 19, 1959, Nehru dilates on the concept of satyagraha.
"… when we use the word satyagraha, surely, we would have in mind the basic elements of what is satyagraha. Surely this house will remember that in the old days, when satyagraha and all these direct action movements were pretty common, how Gandhiji stopped the whole movement, because he thought that it was going wrong; he stopped it. He even said that he was the one and only man in India who could perform satyagraha, nobody else. … with all deference to everybody concerned, I may add that if what I have said is satyagraha then there was no satyagraha in Kerala, none at all, because I have seldom seen any place so thick with hatred and incipient violence; it is amazing; it was a case of thick walls of hatred everywhere, group hatred. … there is so much hatred and so much bitterness about it, then it is dangerous to conduct any satyagraha; you may call it by some other name; it is not satyagraha.
Here was the PM and the prime accused in parliament inviting us to explore one of the key concepts of moral resistance in the face of injustice. He drew on history. He connected form with substance. He stressed the necessary conditions for such moral resistance to be authentic. We need to debate his views since satyagraha remains a key moral-political concept for any nation, especially ours.
Let me now turn to the little episodes. In his letter of November 23, 1959 to Jyotish Trivedi who made a film Kavi Kalidas, he writes,
"As you want my opinion of this film I would like you to know frankly how I feel about it. First of all, it is a very fine subject and there were many parts in the film which moved me considerably… But there were some parts which I did not fancy. It seemed to me that making Kalidasa, to begin with, a perfect idiot was overdoing it. An illiterate person can act foolishly and he can grow out of his folly, but a complete idiot can never become an able person. And I thought some of the dances were inappropriate in the setting and the dresses of the dances, especially the colours, did not seem to fit in".
Nehru was giving his views on the new modes of public culture and, in his distinction between illiteracy and idiocy, offers here a theory of moral development. While his views may appear a bit patrician, the idiocy he seems to be talking about is a social disposition not a genetic inheritance. Looking at our public culture one feels compelled to endorse the view that an idiot can never outgrow his folly.
Moral force
There many more episodes to detail the moral force that Nehru represented. In his letter to Kamaraj on March 21, 1959 protesting the security arrangements, he writes, "the other day I was in Bombay and was quite shocked to see how the whole city's life was upset by my visit… Far too many police and other cars accompanied me. I was so annoyed with all this that I said I would abandon all my programmes the next day".
Let me conclude by reference to a private exchange with his sister. In a letter to Krishna Hutheesing on July 21, 1959 he writes: "you can certainly publish those old letters which you have sent me. You have written about other matters also, rather personal ones. Do you think that all this helps? We do not improve each other by chiding and I suppose that, on the threshold of 70, I am a little past improvement even though I try to do so." In this letter you can hear echoes of King Lear. And this is the man the nation has taken to chiding. Can we improve each other by chiding?
Listen to Lear in Act IV, scene 7:
You do me wrong to take me out o' the grave:
Thou art a soul in bliss; but I am bound
Upon a wheel of fire, that mine own tears
Do scald like moulten lead.
We do Nehru wrong to mock him thus. Nirad babu, it seems, had reason to mock us, not him.
The writer is Interim Director of the Inter-national Centre for Human Development. The views expressed are personal.
A moral force helps a nation choose both the little things that matter and the big possibilities that count. A moral force gives significance to such choices and when ordinary people begin to make this morality a part of their inner being, then a public morality emerges which becomes the supporting glue of our public institutions