In order to look at the future one has to look back at the past. Unless we know where we came from, we won't know where to go and who we are. Cinema is the reflection of who we are and where we came from

Cinema — an endangered history
Shivendra Singh Dungarpur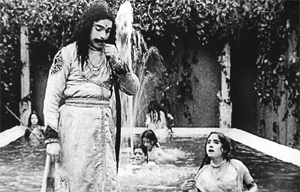 Dadasaheb Phalke's "Raja Harishchandra" released in 1913 — advertised as "a performance with 57,000 photographs. A picture 2 miles long. All for three annas".
"Film is history. With every foot of film lost, we lose a bit of culture to the world around us, to each other and to ourselves."
— Martin Scorsese
What is this magic of cinema that we all love? Those beautiful images of life projected onto a screen or, the interpretation of life projected on to the screen. I remember being fascinated as a child with my grandfather's collection of Chaplin films. Cinema was magic for me at the age of five and it continues to be so. I still remember when I watched my first film, I cried. I couldn't believe reality, or the life around me was being played on a screen in the dark hall, where the only light was the light streaming from the projector.
Who invented cinema? We can keep going back – back to our respective cultures – back to the beginning of civilization. In India, we can go back 30,000 years to the cave paintings of Bhimbetka. I remember when I was living in Bhopal during my early school days, my father used to take me to see the paintings in these caves. They were fascinating. You enter the darkness of the cave and look at the paintings, you get the feeling of motion, of time — who these people were, where did they come from? These paintings are nothing but depictions of daily life, but they make you imagine what is not depicted. That is the power of imagination that goes beyond this to create an illusion and that is what cinema is. When you look at these images you are already interpreting reality and that's what we do at the movies.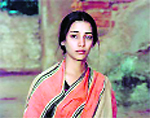 A scene from Mrinal Sen's restored film "Khandhar"
A lost heritage
The journey of Indian cinema began with the release of Dadasaheb Phalke's "Raja Harishchandra" on May 3, 1913 — released as a four reel film, 3700 feet long. Interestingly ,Phalke advertised the film later, post the release as "a performance with 57,000 photographs. A picture 2 miles long. All for three annas".
Suddenly you had several filmmaking units coming up, amongst them were Madan's Elphinstone Bioscope in Calcutta, Maharashtra Film Company in Kolhapur by Baburao Painter. In Madras you had Nataraja Mudaliar, an automobile spare parts dealer who made the film "Keechaka Vadham" in 1917. He set up the Indian Film Company. The film industry in Madras went on to make 124 films and 38 documentaries in the silent era. I wish I could have seen all these films because sadly, only one film survives – "Marthanda Verma" which is interestingly not a Tamil film, but a Malayalam film made in 1931 by P.V. Rao in Nagercoil.
After the arrival of sound, between 1931 and 1941, more than 250 films were made and only 15 survive. If you look at the overall statistics of silent films made in India, there were a total of 1700 films. NFAI(National Film Archive of India) says, they have only 5 to 6 complete films and 10 to 12 films in fragments. One of these incomplete films is a film by Phalke titled "How Films are Prepared". The idea was to educate people about this new art form.
By 1950, we had lost 70 to 80 per cent of our films. Tragically we had also lost our first sound film "Alam Ara". The first surviving sound film is Prabhat's "Ayodhyacha Raja" (1932). And of Phalke's wonderful 2 mile long film "Harishchandra", only 1 mile or 4 cans remain.
The lure of silver
If we look at the real reasons behind this loss, the majority of the early films before 1950 and before the advent of safety film were made on highly flammable cellulose nitrate. Many of them were destroyed in studios or vault fires or even during projection. In fact there was a major fire at B.N. Sircar's New Theatre vault where most of his original negatives were destroyed. As recently as 2002, there was a fire at the Film and Television Institute in Pune in the Prabhat vaults and 45 original negatives and prints were destroyed by the fire. Some of them were the original prints that P.K. Nair had got from Dadasaheb Phalke's family like "Raja Harishchandra" and "Kaliya Mardan" along with some of the old Prabhat classics.
Then of course there was the problem of silver extraction from nitrate films. Those of you who watched my film "Celluloid Man" would have seen the way silver is still being extracted from old black and white films. "Alam Ara" the first Indian talkie was a victim of silver extraction. The son of the filmmaker confessed to P.K. Nair that he himself had sold off the cans to extract silver.
But to me, one of the main problems is the way cinema has been looked upon in India, as a form of entertainment for the masses. Films were made purely for commercial reasons. Once they made their money, they were done away with. The Film Preservation Officer at the NFAI has an interesting story about how a lot of films came to arrive at the National Film Archive, thanks to the Indian Railways. He says a lot of producers find themselves with several prints of their film after the theatrical release of their films is done. Not knowing what to do with them, they put them onto trains with no destination marked on them knowing that if the prints are unclaimed, as per the law, it is the Indian Railways' responsibility to deal with them. Thousands of cans have been sent to the archive in this way, courtesy the Railways.
Cinema is art
Nobody cared what happened to films as it was not considered an art form or an integral part of the country's culture. Even though it has logically evolved from our culture and art, it's still not recognised as an art form in the Constitution of India. In India, we don't have a culture of preservation. We talk about our ancient civilization but have done very little to preserve it.
The Constitution of India mentions cinema in the Seventh Schedule at Entry 33 in List II (the state list) — "Theatres and dramatic performances; cinemas subject to the provisions of entry 60 of List I; sports, entertainments and amusements." Strangely cinema is still classified as a luxury under entry 62 in the Seventh Schedule of the State List which deals with "taxes on luxuries, including taxes on entertainments, amusements, betting and gambling."
If you look at the statistics from 30 years ago, in 1982 we produced 760 films in 17 languages. Today India produces over 1000 films a year. The National Film Archive established in 1964, has only 5000 Indian film titles even though we are celebrating 100 years of Indian cinema. In fact the NFAI was set up as a media unit of the Information and Broadcasting Ministry in 1964 and does not have a manual till date.
By contrast, the National Film Registry in the United States of America, established under the National Film Preservation Act, 1988, is a Selection Board that selects 25 culturally, historically and aesthetically significant films each year showcasing the range and diversity of American film heritage to increase awareness for its preservation. To be eligible for inclusion, a film must be 10 years old and is not required to be feature length or to have been theatrically released. The Registry contains newsreels, silent films, experimental films, short films, films out of copyright protection, television serials, home films, documentaries, independent films and music videos.
Art needs to be preserved
"Kaagaz ke Phool" (1959, India's first cinemascope film directed by Guru Dutt), was not successful at the box office. It was only in the 1980s it started being viewed again at film societies and began to be regarded as a classic. In the 2002 Sight and Sound poll of the best films, it was ranked 160th in the world. "Mera Naam Joker" directed by Raj Kapoor had a similar story. A film may be released at a particular time, but it is viewed differently at different times and it is this timeless quality of cinema that makes it so important to preserve films. Because you don't know how a film will be viewed 50 years from now even though the context, the values and the time has changed. As the American journalist Nani Faber said, "Every movie transmits the DNA of its time." That's why preserving and restoring films is important.
Like archaeologists' constantly searching for past civilizations, we should not give up the search for films. For instance, during WW II a number of Tamil films were being shown in Singapore and Malaysia. A lost Modern Theatre film, "Burmah Rani" (1944) was discovered in Singapore. Similarly a John Ford silent film made in 1927 called "Upstream" was found in New Zealand. Missing scenes from Fritz Lang's "Metropolis" were found in Argentina. A Chaplin film called "Thief Catcher" (1914) missing for years was discovered in an antique fair. Interestingly a lot of Indian films were screened in Algeria and Luxembourg. We need to keep looking and I'm sure "Alam Ara" our first sound film will be found like the Chaplin film.
People are now talking about the death of celluloid. But, cinema is all about technical innovation. First, it was black and white then came sound and colour. People were shooting different formats, different cameras, different stock and now the advent of the digital era has made it possible to restore films and to see them the way they would have been on the day they were released.
Cinema is a century old today. Throughout history cinema has been a powerful force in India's culture and national life, often shaping our very notion of contemporary events. A national plan must be implemented to save Indian films and make them more accessible to the public. Greater public-private partnerships are essential. We must accept that it is only through the efforts of the film community and the support of the public, can significant progress be made to save films.
Films are a part of our culture and we need to preserve it for humanity. What is lost is lost; what is there we need to restore; and what we create we need to preserve.
The writer is an award winning filmmaker, producer, film archivist and restorer.
Survival plan for cinema
To recognise Indian cinema as an art form in the Constitution of India and to be included in both the state and central lists.
Cinema to come under the purview of the Ministry of Culture and not under the Ministry of Information and Broadcasting.
To have a National Film Preservation Act along the lines of the United States of America law that recognises not just feature films, but all other film forms.
NFAI to be an autonomous body and to be run by qualified film archivists.
All states to have their own film archive.
To educate people about the language of cinema and that not all visuals are for consumption like fast food.
All restored films to be screened to bring about awareness of our film heritage.
State support for exhibition spaces for small budget, independent, documentary, short films and other alternative forms of cinema.
Film schools and institutes to include film preservation and archiving in their curriculum.