Leave decision on promoting students to states: Minister


Ludhiana, November 11
Punjab Education Minister Sikander Singh Maluka said he had asked the Director General, Secondary Education, India, Jagmohan Raju, to allow states to decide the fate of students from Classes VI to VIII on merit and the Centre must not enforce its decision that the students of these classes have to be passed even if they are not up to the mark.



Sikander Singh Maluka, Education Minister
Chinese hosiery goods hit local industry hard
Ludhiana, November 11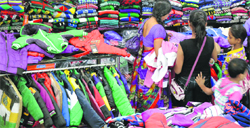 Chinese hosiery goods arriving in India through illegal channels are giving a hard time to the local industry as the goods are eating into its profits. Smuggled Chinese garments are cheaper as they come without paying the customs and excise duty. Similarly, shawls brought from Nepal to India via the land route are usually sold at half the price of locally manufactured shawls.
Chinese hosiery goods have flooded the markets in Ludhiana. Photo: Inderjeet Verma

From pillar to post for death certificate!
Ludhiana, November 11
Despite the much-hyped claims of the state government about the e-governance and IT-enabled services, getting a death certificate remains a Herculean task for common people.
Stamp issued on golden jubilee of Indian Academy of Paediatrics
Ludhiana, November 11
The postal department has issued a postage stamp to commemorate golden jubilee of the Indian Academy of Paediatrics (IAP). The academy was formed after amalgamation of Association of Pediatricians, Bombay, and Indian Paediatric Society, Calcutta, during its joint meeting in Hyderabad in 1963.
Kirti Kisan Sabha demands special bonus for farmers
Doraha, November 11
The Kirti Kisan Sabha organised its meeting at the K Kaushal Memorial Bhawan in Doraha today. The sabha demanded special bonus and compensation for farmers of Punjab, who have suffered huge losses on account of untimely rain and storm.
Rs 110 crore for cattle owners, fish farmers, says minister
Raian, November 11
The state govermnet has fixed a target of Rs 110 crore for strengthening the economic condition of cattle owners and fish farmers. This was stated by PWD Minister Sharanjit Singh Dhillon while inaugurating a district-level cattle milking mela at Raian village.
Contact police fearlessly, SHO tells students
Ludhiana, November 11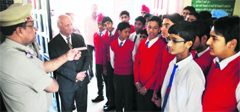 Students were all wide-eyed as they were not in their classroom but at a police station on the first day of Visitors' Week.



Students pay a visit to the Division No. 5 police station on the first day of Visitors' Week in Ludhiana on Monday. Tribune photo
Bomb hoax at CMCH
Ludhiana, November 11
Panic gripped the city after a hoax call regarding a bomb at the Christian Medical College and Hospital (CMCH) was received at the police control room today.
Dept fails to provide C forms online
Ludhiana, November 11
The Excise and Taxation Department's promise to make C forms online has yet not been fulfilled. Traders have to struggle a lot to procure C forms as these are in short supply with the department. Many times, the traders procure these forms from the neighbouring states, while some time they keep on making rounds of the department.
Traders seek more time to submit receipt
Ludhiana, November 11
The last date for filing VAT 20 annual returns is November 20 and traders will be filing their returns online. The acknowledgement receipt of the online filing has to be submitted with the department within five days of online filing. Traders are asking for more time as they are finding it difficult to submit the receipt within the stipulated time.
BJP presses for more relief to developers, plot holders
Ludhiana, November 11
With the last date for the regularisation of unauthorised colonies and plots/properties in these colonies being over on November 5, 2013, and now compounding to be allowed till November 15, 2013, with a 10 per cent penalty for plots and property owners and 25 per cent for developers, the Punjab Government is understood to be under immense pressure from its coalition partner, the BJP, to grant more relief to both the developers of unlicensed colonies and the plot holders.
16 more dengue cases confirmed
Ludhiana, November 11
Sixteen more patients tested positive for dengue at various hospitals in the city today. Of them, 10 are from the city and six from rural areas. Five cases are from other districts - two each from Hoshiarpur and Jalandhar and one from Patiala.
PAU Employees Union to hold general body elections in January
Ludhiana, November 11
A general body meeting of the PAU Employees Union was organised to decide on the election date of the union. It was decided that the election of the union will be conducted in January instead of December.
Cooks allege exploitation by govt
Ludhiana, November 11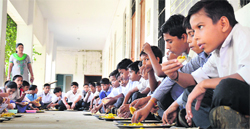 The cooks, preparing the mid-day meals for the students of government schools in Punjab, are being paid Rs 1,200 per month and on the days, when the respective schools fail to make arrangement for the ration or the department fails to provide the ration to the schools, the wages of the mid-day meal cooks are cut even though they remain on duty from 8:30 am to 2 pm on the school premises.
Students partake of mid-day meal at a government school. A file Photo
Students take part in block-level quiz competition
Ludhiana, November 11
A block-level quiz competition was held for students of classes 9th and 10th (Punjab School Education Board) at different blocks today. The quiz competition was conducted by the RMSA. The quiz competition was organised in four subjects, including maths, science, social studies and English.
Trainees get tips on storage of foodgrains
Ludhiana, November 11
The farm scientists of Punjab Agricultural University (PAU) will dwell on the changing role of Punjab in national food security during a week-long course on "Safe Storage of Foodgrains and Quality Standards" which started at the PAU today.
Youth ends his life
Ludhiana, November 11
A 20-year-old youth committed suicide by hanging himself from the pipe of a water tank at his friend's house in Preetam Vihar, Bahamian, here yesterday. The deceased has been identified as Sunil.
Factory owner 'thrashes' worker to death, booked
Ludhiana, November 11
A factory owner allegedly thrashed a worker to death at his factory on Chandigarh Road late last night. The deceased has been identified as Sonu Kumar (20), a native of Gaggari village in Bihar.
Ludhiana lads lift overall trophy
Ludhiana, November 11
Hosts Ludhiana district garnered 26 points to emerge as overall champions in the three-day Swami Vivekanand Punjab State Rural Games (Boys-16) that concluded at Guru Nanak Stadium here today.
World Kabaddi Cup: 46 probables shortlisted
Ludhiana, November 11
The names of 46 probables (men), including 26 raiders and 20 stoppers, were shortlisted to attend a coaching camp prior to their participation in the fourth edition of the World Kabaddi Cup Championship slated to be held at different venues across the state between November 30 and December 14.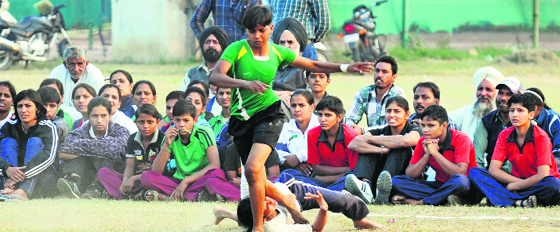 Selection trials for the Indian team in progress at the PAU in Ludhiana. Tribune photo: Himanshu Majahan
Navbharti school record wins
Ludhiana, November 11
Navbharti Public School, Ludhiana, recorded victories in the junior as well as the senior sections (Boys) in the IMG Reliance Basketball League being held at Doraha Public School near here today.