HPCA land grab: Xen held
Dharamsala, November 20
The vigilance and anti-corruption bureau today arrested Executive Engineer, PWD, Devi Chand Chauhan in the case pertaining to alleged encroachment over government college land by the Himachal Pradesh Cricket Association after the demolition of the residential facility of the institute. The executive engineer has been accused of forwarding the allegedly illegal report of the SDO to the higher authorities declaring the residential facility of Government College here as illegal. — TNS
Apple farmers for more subsidies on anti-hail nets
Shimla, November 20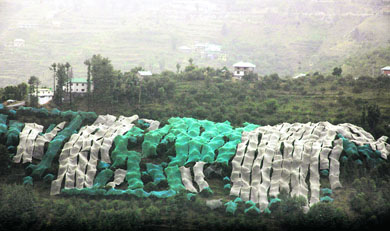 Reeling under the recently concluded apple season marred by poor returns, market gluts and poor size and quality of the fruit, apple farmers have upped their ante demanding that the state government should include structure cost in 80 per cent subsidies on anti-hail nets and Rs 1 lakh cap on it should go to make the scheme attractive to farmers.
Apple orchards covered with a net to protect apples from hailstorm on the outskirts of Shimla. Photo: Amit Kanwar

Govt committed to development of education in rural areas: CM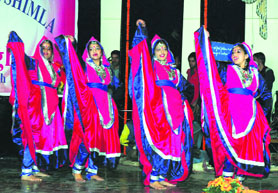 Shimla, November 20
Chief Minister Virbhadra Singh today said the government was creating the best educational infrastructure in the rural and far-flung areas of the state so that students in the backward areas could get quality education at par with their counterparts in the towns and cities.



Girls perform at a cultural function organised by the alumni association of RKMV in Shimla on Wednesday. Photo: Amit Kanwar

Calendar of events prepared for Gaiety Theatre
Shimla, November 20
To make events taking place in the state more vibrant, the State Language, Art and Culture Department has tied up with cultural organisations and prepared a calendar of events for the historic Gaiety Theatre and the state capital. It is for the first time that a calendar has been prepared with several mega events such as a film festival next year. The department will tie up with cultural organisations most of them in Delhi.
Licence Renewal Fee
Shop, dhaba owners ignore MC deadline
Shimla, November 20
As many as 3,000 shop owners and about 100 dhaba and eateries owners in the city have defied the October 31 deadline set by the Shimla Municipal Corporation (MC) to deposit the licence renewal fee as mandated by the Prevention of Food Adulteration and Safety Act and the Municipal Act.
Ex-minister for probe into British paraglider's death
Dharamsala, November 20
Former minister and senior BJP leader Kishan Kapoor has demanded an inquiry into the death of British paraglider in Dharamsala. The former minister said an inquiry should be held into the circumstances that led to the death of the paraglider as it had defamed Dharamsala as a tourist destination. He claimed that many people were carrying out illegal business of paragliding in Dharamsala that was putting the life of tourists at risk.
Bail pleas of three HPCA officials dismissed
Dharamsala, November 20
The anticipatory bail applications of three office-bearers of the Himachal Pradesh Cricket Association (HPCA) were dismissed by the Indora circuit bench of the District and Sessions Court today. The office-bearers are Attar Singh Negi, Prem Thakur and Surinder.
Villagers' cry for link road falls on deaf ears
Jogindernagar (Mandi), November 20
Naik Sanju Ram of 19 Dogra Regiment cannot go to his native Karkuhi village in Ladbharol here because he lost his legs during a mine blast in Srinagar on September 6, 2012. There is no link road to his village. The link road to Sanju Ram's village and three other villages reached the Prime Minister's Office (PMO) when Sanju lodged a complaint in April this year. Like his co-villagers, his application was ignored by the PWD.
Sainj Wildlife Sanctuary merger with Great Himalayan National Park hits roadblock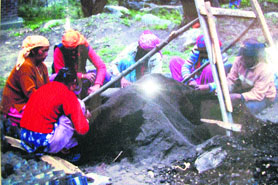 Shakti-Maror (Kullu), November 20
The proposed merger of the Sainj Wildlife Sanctuary with the Great Himalayan National Park (GHNP) to clear the stage for getting the UNESCO World Heritage Status to the GHNP has hit a major roadblock. Three villages in the Gara Parli gram panchayat have refused to move out from the sanctuary area as the lord of the land, Brahma Rishi Devta, resides here down the centuries.
Village women of Shakti and Maror at a training camp.
Lawyer's study part of Cambridge publication
Shimla, November 20
A Himachali lawyer, Viplav Sharma, has earned recognition for his literary work in the field of law with the inclusion of his study pertaining to special courts in a recent publication of the prestigious Cambridge University Press.
'Accountability of media has increased'
Chamba, November 20
A symposium was organised by the Information and Public Relations Department at the auditorium of the local Bhuri Singh Museum to mark the occasion of National Press Day on Sunday.
Tourists face power woes in Manali
Manali, November 20
Local residents and tourists in Kullu-Manali are facing problems due to the maintenance works going on at the Bajaura-Kangu and Larji-Kangu transmission lines, which shall continue till November 22.
Expedite reimbursement of funds under Central schemes, depts told
Shimla, November 20
Ram Lal Thakur, Chairman, state Planning Development and 20-Point Programme Committee, has asked various departments to expedite the reimbursement of funds under Centrally-sponsored schemes and externally-aided projects (EAP).
Cong failed to protect state's interest: BJP
Shimla, November 20
The BJP today accused the Congress regime of failing to protect the interest of the state and get Rs 4,250 crore as power arrears from neighbouring states. In a statement here today, state BJP spokesperson Ganesh Dutt alleged that the only achievement of the Virbhadra Singh government was ordering 60,000 transfers since it came to power in December last year. "Not only the state government has failed to get the Rs 4,250 crore arrears, but also due to its inability to present its case effectively before the Centre, the amount has been reduced to a mere Rs 1,650 crore," he said.
Regulate sports in state: CPM
Shimla, November 20
The CPM has asked the state government to bring in a legislation to regulate sports and sports bodies in the state CPM state secretariat member Tikender Panwar on Sunday said it was high time that the government should intervene and bring in a law that bound all sports bodies and made certain essential elements fundamental to the new law.
Implement Mandal panel proposals: BSP
Nurpur, November 20
The Bahujan Samaj Party (BSP) has demanded the implementation of the recommendations of the Mandal Commission in the state. BSP Rajya Sabha member and party in charge of the state Avtar Singh Kareempuri, while addressing a public meeting at Indora near here, yesterday warned that if the state government adopted an indifferent attitude on this issue, the BSP would launch a statewide agitation.
HC defers hearing on HPU interview plea
Shimla, November 20
The HP High Court today deferred the hearing of a petition challenging the decision of Himachal Pradesh University (HPU) vide which it had decided to hold fresh interviews for 30 posts of teachers tomorrow.
Youth pushes Nalagarh DSP
Solan, November 20
A youth today pushed a Nalagarh DSP in his office when the officer asked him not to interfere in an inquiry. He also called in activists of the Youth Congress and they gheraoed the police station and raised slogans against the police.
TMC medico selected for Lung India Award
Kangra, November 20
Dr Sunil Kumar, Associate Professor, Department of Community Medicine, Dr Rajendra Prasad Government Medical College (DRPGMC), Tanda, has been selected for the Lung India Award for his paper "Cognitive Functions in Non-Hypoxemic Chronic Obstructive Pulmonary Disease (COPD)".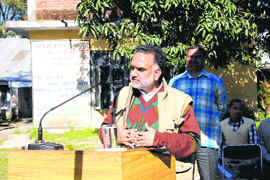 MP announces withdrawal of funds
Kangra, November 20
Dr Rajan Sushant, BJP MP from Kangra Lok Sabha seat, has withdrawn funds allotted by him to the Massal panchayat of Nagrota Bagwan block as these funds were not utilised by panchayati raj representatives even after a lapse of more than three years.
BJP MP Rajan Sushant at a meeting in Nagrota Bagwan on Monday. Photo: Ashok Raina
Pvt firm stopped from setting up lab at Tanda medical college
Kangra, November 20
Workers of a private firm dealing with pathological tests entered into the Dr RP Government Medical College, Tanda, yesterday and removed aluminium partitions of the pathological laboratory of the hospital and tried to set up their own laboratory without the permission of the college authorities.
Machinery at Kasauli lab yet to be validated
Solan, November 20
With the new machinery at the Kasauli-based Central Research Institute (CRI) yet to be validated, the newly constructed Good Manufacturing Practice (GMP) laboratory is yet to manufacture even trial batches of the Diphtheria Pertussis Tetanus (DPT) vaccine.
Tailoring skill upgrade camp organised
Kangra, November 20
The first-ever 'Cut and Sew' training camp, organised by the National Institute of Fashion Technology (NIFT) and sponsored by the DRDA, to provide women specialised training for skill upgrade in tailoring culminated here today. Rohan Chand Thakur, ADC, Kangra, while declaring the camp closed, said 19 tailoring teachers from three blocks of Kangra, Nagrota Bagwan and Dharamsala were selected by the DRDA for the 10-day training, which had received a positive response.
Youth booked in rape case
Nurpur, November 20
The local police have registered a case of abduction and rape against Jagtar Singh of Nangal Naloa, Hoshiarpur district, Punjab, today.
Relief given to Kinnaur flood victims
Shimla, November 20
The district administration of Kinnaur yesterday distributed relief material, donated by the Lions Club, Shimla, among the 200 flash flood victims there. Lions Club district governor Jagdish Rai Goel said the club, assisted by the administration, distributed 200 pressure cookers, 200 gas stoves, 200 blankets and 200 jackets among the flood victims in Kinnaur.
Vikramaditya gets warm welcome
Mandi, November 20
Newly elected state Youth Congress president Vikramaditya was given a warm welcome during his private tour of Kullu and Mandi districts today. Youth Congress activists had assembled at Kullu, Mandi, Balh, Sundernagar and few other places to welcome the youth leader and garlanded him and raised slogans. Thanking the activists for voting for him in the Youth Congress organisational elections, Vikramaditya said he would work for strengthening the organisation and for promoting sports, cultural activities and preserving environment. — TNS
Movie shooting gathers crowd
Chamba, November 20
The shooting of a Himachali movie, going on in full swing in Chamba, is drawing huge crowds, said Hitender Rana, director-producer of the movie. The film "Rut Basant" focuses on the lifestyle of people in the Chamba region and is the story of Shailesh Sharma (Mithu), an urban boy, who falls in love with a rustic girl (Sheetal). Ibrar Mirza (Choudhary), along with his two brothers Pritpal Singh (Tuta) and Karan Arya (Balua), is in the role of a villain. Pankaj, Vikram and Duni Chand Rathore are the other actors in the film. "The work on the movie had begun in January last year and it is expected to be accomplished with the advent of 'basant' season," Rana added. — OC

Hydel projects told to deposit arrears
Palampur, November 20
The state government has asked all the hydel power projects under construction or those already commissioned in Dhauladhar hills, to deposit the local and catchment area development plan funds immediately in the state exchequer or face stringent actions. Bhupinder Attari, SDM, Palampur, today convened a meeting of project managers and categorically advised them to make the payments of arrears, failing which the state government could withdraw the no-objection certificates already issued. Attari asked them to get the lease deeds of the state lands under their possession finalised and make the payments of lease money due from them. — OC
9 of family hurt in mishap
Kangra, November 20
Nine members of a familywere injured, two of them seriously, when their car dashed against a hillock at Kadreti village falling under Haripur police station yesterday. Sansar Chand, SHO, Haripur, said the car was on its way to Moharbala Lunj, carrying members of a family, who were returning home after attending a function. The injured were first rushed to Nagrota Surian hospital from where eight were shifted to the DRPGMC Hosiptal in Tanda. — OC
Two HPS officers elevated to IPS
Chamba, November 20
The Government of India has appointed two Himachal Pradesh Police Service officers, Ajay Krishan Sharma and DK Chaudhary, to the Indian Police Service (IPS), according to a notification issued by the Union Ministry of Home Affairs today. The notification also said these two IPS officers had been allocated the Himachal Pradesh cadre, adding that their appointment would take effect from the date of notification. — OC
2 acquitted in criminal case
Nurpur, November 20
The local court on Monday acquitted two brothers Mohan and Sohan Lal of Bhojpur in a criminal case registered against them in 2010. Nirmeet Singh, alias Kalu, a resident of Bhojpur, had got an first information report (FIR) registered under Sections 341, 324 and 504 of the Indian Penal Code (IPC), against them for allegedly stopping him on the way and thrashing him severely. It is alleged that the accused had attacked Nirmeet with a sickle, injuring him seriously. — OC