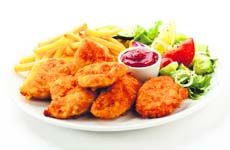 Spice route
Cook's special
Dressed in his white coat, medals and badges covering a larger part of his chest, Chef Thomas A Gugler makes for a commanding presence at the Tourism Fest on at Parade Ground-17 in Chandigarh.




On the funny side
Just when they are happening a dime-a-dozen and treading the beaten path, Punjabi movies kick a storm before the lull. A lot many raise hopes and hibernate into oblivion. The very few who do make a mark appear worth the wait and anticipation. As of now, all that Myself Ghaint does is raise the eyebrows and catch our attention.
The cast of the film Myself Ghaint
Old world charm
Gathering a crowd comes easy…sustaining the crowd is not difficult either and given the immense talent, entertaining them is the all the more effortless. What's difficult, however, is finding a platform. A platform where there is appreciation for folk art, culture, music and traditions.


Icing on the cake
Food, dance, travel- Tourism Fest 2013 brings all these for Chandigarh folks and much more! Organised by the Confederation of Indian Industry (CII), Chandigarh Tourism and CITCO, this fair that has more than 80 stalls, both national and international.

Golden treat: Chef Nikhil Mittal
stress buster
Give in to dark temptation
My favourite part of the festive season is the excuse to eat mitthai. I have a sweet tooth but the stress of consuming too much sugar keeps me at bay. The fun times of festivals, the celebration of love and camaraderie are wonderful, but I feel that the abundance of sweets flowing all around, makes the atmosphere warmer and so much more delightful.
Step on
LaBriza, an all women specialized footwear brand, has entered the domestic market with its specially crafted and elegantly designed footwear "for today's woman" on the move. LaBriza is the domestic venture of RNB Global Impex, whose parent company, RN Bajaj Overseas has been catering to the global footwear market since the past 49 years.
Sound of technology
Taking 'coolness' to a complete new dimension, MTV, the leading youth iconic brand in association with Soundlogic, makers of state-of-the-art technology products, together launched an uber cool range of gadgets for the youth—MTV Fashiontronix by Soundlogic.
Play time
Students of CIPA will stage a Hindi play Ajaatghar written by noted playwright Rameshwar Prem and directed by Shyam Juneja on December 7 at Randhawa Auditorium, Punjab Kala Bhawan, Sector 16, Chandigarh.


Dimple opens up
During promotions for her upcoming film What The Fish, Dimple Kapadia opens up about her late husband Rajesh Khanna, movies and more.

Kainaz gets married
Actress Kainaz Motivala, who catapulted to fame with Ragini MMS, tied knots with her beau Urvaksh Doctor in a Parsi wedding with close friends and family on November 28.

Knot here: Kainaz Motivala with her husband.
Sallu's quotable quotes
Salman Khan tells it like it is. He is a brand in himself. His recent appearance on Koffee with Karan was a complete riot and unique because we hardly ever hear him talk like that. Here are some of his quotable quotes in recent times.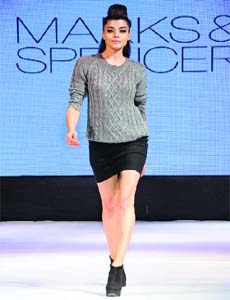 Mark the occasion: Models sashay down the ramp at a fashion show organised under The Great Britain Campaign at a luxury hotel in Chandigarh on Wednesday night. British luxury fashion brand Marks and Spencer previewed its Winter 2013 collection for the first time in India for the city glitterati. — TNS
Prabhudeva in Balaji camp
Since he has changed tracks from choreography to direction, Prabhu Deva is a man in demand. And after his debut direction in Bollywood with the Salman Khan-starrer Wanted, he has gone on to helm other Bollywood projects namely Rowdy Rathore, Ramaiya Vastavaiya and the latest being the upcoming R…Rajkumar.
I am single: Aditya
Actor Aditya Roy Kapur has denied reports that he is dating his Aashiqui 2 co-star Shraddha Kapoor. "Everybody asks me this question but I chose to keep mum or say no comments. All I can say is I am single and not dating Shraddha. She is a good friend," Aditya said.