Spice route
Being a chef is not everybody's piece of cake. But for these four, making a delicacy is a cakewalk...
Mona
Cook's special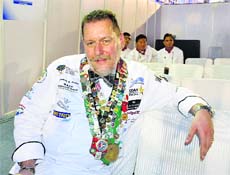 Dressed in his white coat, medals and badges covering a larger part of his chest, Chef Thomas A Gugler makes for a commanding presence at the Tourism Fest on at Parade Ground-17 in Chandigarh.
This mountain boy from Germany is in an enviable position in the world of chefs! Continental Director, World Association of Chef's Societies for Africa/Middle East, he has travelled and gained experience in close to 109 countries; he speaks nine languages, including German, English, French, Spanish, Turkish, Swedish, Greek, Maltese and Thai fluently. Based in Saudi Arabia for the last 13 years, he has been in the field for 29 years and earned laurels. "As a young boy I dreamt of being a chef one day," says Thomas, who stepped into the profession at a time when it was not something that people looked up to. "One, chefs that time were not educated, secondly, they had no fall-back option." But as he grew in the profession, chefs started earning more money than doctors or pilots and even enjoyed star status in their field!
Thomas has enjoyed his run — won the world championship at 18, was executive chef with Sheraton at 20 and went on winning titles and coaching teams for competitions around the globe. "That's how life should be for everyone; learning, earning from different cultures."
Ask him on what goes into the making of a good chef and he says, "Passion and dedication is one. It being a demanding profession, one has to sacrifice much of one's personal life and time; one needs to adapt and be flexible, but the good part here is that feedback is immediate."
Thomas loves to experiment and considers his work an art. Having achieved so much (the medals he's supporting are only ones earned in just two years, there's a stock full of others), what's next? "I dream of having a very exclusive culinary school, kind of university apart from making a happy family," says Thomas, adding the parting shot, "As we say only a chef can make a woman happy!"
Jolly good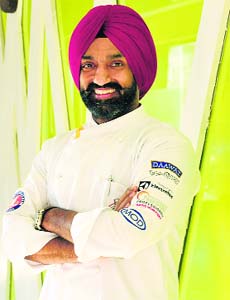 Surjan Singh Jolly is a jolly good story-teller apart from having earned a name as a chef. Having studied in Chandigarh, former head boy at Shivalik School Jolly puts much of the credit of his choosing this field to Punjabis' love for food.
Encouraged into the profession by his parents, Jolly, who did very well in his hotel management course, fell in love with cooking once he entered the field. "Do what you love or start loving what you do...are only two ways to be successful. I fall in the second bracket," says Jolly.
"Cooking is not as flamboyant a profession as it looks like; there is loads of hardwork involved," says Jolly, judging competitions at the Tourism Fest organised by Confederation of Indian Industry (CII), Chandigarh Tourism and CITCO.
'Give more to gain more' is Jolly's mantra but it's not books he asks a chef to delve into, "Train on the ground; travel, meet people and explore their food culture." A goal is a must to reach somewhere, according to Jolly who hosts interactive show Zee Khana Khazana's Ab Har Koi Chef!
Namak shamak
Hosting three food shows Harpal Singh Sokhi is a known face among the cooking enthusiasts. He focuses on making delicious fare using simple ingredients.
If he hosted the first show of Zee's Khana Khazana, Turban Tadka and Kitchen Khiladi took his journey forward as a show host!
Having spent school time at Kharagpur, West Bengal, where every kid dreamt of get into the IIT, Harpal chose a different. His approach to the profession is different too, "I aim to bring happiness to people's lives with my cooking."
Spreading happiness with his food (he does lots of fusion) and shows is what he wishes to continue with. Ask him about his pet line, Namak shamak, namak shamak, daal dete hain, and he goes, "Put whatever fancy ingredients you like, without proper amount of namak the dish falls flat."
Well said!
No shortcuts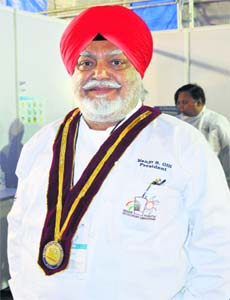 Chef Manjit S Gill has enjoyed every bit of his professional journey. Donning many a hats at the Chef's Corner, he is happy giving his advice to all the youngsters.
The president of the Indian Federation of Culinary Association and Corporate Chef ITC Hotels, he has loads of responsibilities, "But this is what I love to do. It is the first time in Chandigarh and helping the young know the possibilities this profession offers is our responsibility as well."
It's not just the passion for food that makes a good chef, according to Gill; a good vision and being honest as well as ethical is paramount. "With food, we are playing with people's health. Add to it patience (there are no shortcuts in this field) and be a great disciple if you want to rise in this field."
What he loves most about his profession is that it keeps you physically and mentally fit. "One needs to think ahead," he says.
mona@tribunemail.com