Cloud computing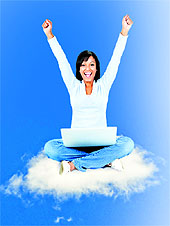 Be on Cloud 9
Cloud Computing is the latest buzz that is growing bigger everyday. Cloud Computing is a pay-per-use computing service. In simple words, imagine your company has a website that has a number of users interacting with each other. The website is hosted on a server. Imagine these users start interacting with their friends and their friends start interacting with their own circle of friends and it grows wider. Success knocks at your door and suddenly you have customers clamoring for you. Now, you need extra server space to cater to the increase in traffic which might require extra costs and might not be instantaneous. Cloud Computing comes to your rescue. You can place all your software and code on the cloud server for a fee.
smart strategy: surviving the first week in a new job
Smooth transition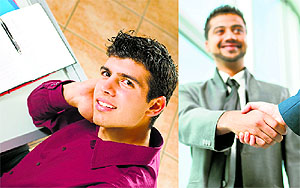 No matter if you are a fresh graduate or a senior management person — everyone is anxious about the first week at work. One day prior to the joining day, you keep everything aside and prepare for the next day. You plan to utilise the first day as a productive day and make the best impression in the manager's as well in other people's mind. However, it is very unlikely to get hold of everything related to your job description in a week's time.
Career Hotline
How can I get employed in construction companies?
Pervin Malhotra


Q. I am a student of BBA and have another year to finish my graduation. There are not many openings available and I need to work to supplement my family income and pay off the loans. How can I get employed in construction companies?



Job scope for MSW


What are the options in biotech?


Sales or marketing?
Be indispensable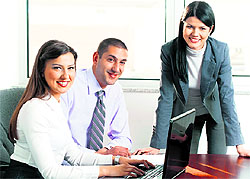 It is not unusual to find that in some organisations even some senior persons are ignored or sidelined, while those in junior positions have their say and perform important duties. The latter category is of the indispensable employees. The former ones might have a senior post, but they carry little worth for the organisation. The indispensable employees in a company seem "shock" proof or immune to job insecurity. These people are genreally ready to weather any storm.
field in focus: forestry
Try the forest route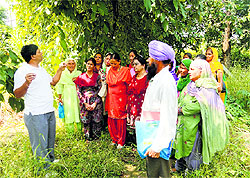 New areas of jobs have emerged in the field of forestry with the dawn of the modern world. Traditionally, forests are managed by the foresters who are recruited after doing their graduation in science. But in the recent past various courses have been started in the country with an objective to meet the need for trained manpower in the field of forestry research, watershed management, forest-based industries, NGOs, state forest department, Indian forest services, climate impact studies, plantation jobs rural management, management jobs in NABARD, Environment management etc.
field in focus: the spa industry
The wellness zone
With the stresses and strains of our fast moving everyday life, and greater awareness, most people are realising the importance not only of looking good, but feeling fit too. This is the mantra of the modern generation. As more and more people start looking at the mirror a little closely, pampering their bodies and getting into shape is not only good for the body, but good business too.
How to draft an effective resume
Resume is your first introduction to your prospective employer and hence it should be drafted with utmost care. Here are some ways in which you can make an impression with your resume.
CareerCature
sANDEEP jOSHI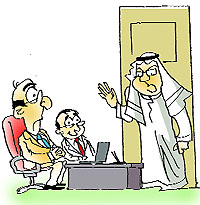 No, no, I am not here to make an investment. I am only looking for a job
Happiness @ work
Gems of ancient wisdom
Prod at each step
As humans seek incentives to act, great missions cannot materialise by themselves. Constant goading by others or by one's own self is required to see a job through. Demon King Tarakasur defeated the gods and drove them from heaven.
book shelf
Business sense
BIG-Business India Guru is structured to act as a business advisor-cum-facilitator — an authentic compilation of essential business informatics and critical inputs for entrepreneurs from across the globe.
course cruising
Rural development courses
Distance Education Cell of the National Institute of Rural Development, Ministry of Rural Development, Hyderabad , has invited applications for admission to the following courses for academic year 2014-15.
Scholarship roundup
Fellowships in Netherlands
RNTC is offering fellowships for developing countries' students. RNTC's Fellowships are available for professional journalists, programme-makers, broadcast trainers and managers.
newsboard
CBSE National Financial Literacy Test
In a bid to make its students economically more aware and educate them on the current fiscal scenario, the Central Board of Secondary Education in association with National Institute of Securities Markets (NISM), Mumbai is going to hold the National Financial Literacy Test (NFLT).