11/12/13 blesses 25 couples beyond words
Chandigarh, December 11


For Atul Thakur and his wife Pooja, it was a day of pleasant surprises. While rushing his wife to Chaitanya Hospital, Sector 44, on Tuesday, he had no idea what fate had in store for him.
Pooja Thakur and Geetika Goyal with their newborns in Chandigarh on Wednesday. Tribune photos: manoj Mahajan
POWER SHUTDOWN
chandigarh: Parts of Sector 26, including Transport Area, Bapu Dham Colony, Timber Market, Industrial Area, Phase-I, Slipper Factory near Kala Gram 9 am to 2 pm

Chandigarh
Play: A play titled '5 Jewels of Conduct' will be staged at the Tribune Model School at 6.30 pm.
Theatre fest: Theatre festival will be organised at Atam Auditorium in Jainendra Public School, Sector 1, Panchkula. The festival will commence at 6 pm. The festival starting today will continue till December 14.
Annual function: Sacred Heart School, Sector 26, will be organising annual function at Inderdhanush Auditorium in Sector 5, Panchkula. The function will begin at 2 pm till 4 pm.
Apni Mandi: Apni Mandi will be held at Ram Darbar.


2 labourers trapped in pit, rescued
Chandigarh, December 11
Two labourers digging a pit while laying sewage pipes near Power House Colony in Sector 52 were trapped after the earth caved in. The rescue operation carried out by the Fire Department and Civil Department lasted for 45 minutes. Both labourers were rescued safely with minor injuries.



The rescue operation underway; and the two injured workers who were rescued at Sector 52, Chandigarh, on Wednesday. Tribune photos: Vicky Gharu
MCís shame: Recently carpeted roads give way
Chandigarh, December 11
The quality of construction material used in the repairing of roads and parking lots in the city was exposed once again when shopkeepers of Sector 19 C market complained to the area councillor about the poor condition of recently re-carpeted parking area of the market.



Newly re-carpeted parking area in Sector 19; and freshly made road in Khuda Ali Sher in Chandigarh. Tribune photos: Manoj Mahajan
Demand for underpass in industrial area in city
Chandigarh, December 11
Industrialists today demanded that an underpass be constructed between Industrial Area, Phase I and II for the smooth movement of traffic between the two phases.
A first in district: Mohali launches computerised test centre
Mohali, December 11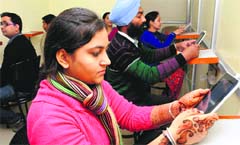 With the launch of computerised test centre for making learnerís license, Mohali has become the first district of the state to have this facility.





Test for getting learnerís licence being conducted in Phase I, Mohali, on Wednesday.
Tribune photo: Vicky Gharu
Outgoing SSP holds orderly room
Chandigarh, December 11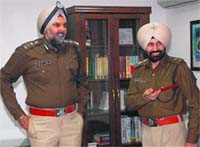 In an interesting move, the outgoing SSP, Naunihal Singh, today organised orderly room at the Police Lines in Sector 26. Around 85 police personnel from the rank of Constable to Inspector who had departmental inquiries pending against them were called to represent their cases.


Outgoing SSP Naunihal Singh (left) and new SSP Sukhchain Singh Gill at the police headquarters in Sector 9, Chandigarh, on Wednesday. A Tribune photograph
Cattle sent to gaushalas in Punjab
Chandigarh, December 11
City Mayor Subhash Chawla today flagged off trucks carrying 88 head of cattle. The animals are being shifted to Chandpur Rurki village and Bhaddi village in Garhshankar and Nawanshahr.
MC introduces first draft of pet bylaws
Mohali, December 11
The Municipal Corporation, for the very first time, has framed a draft of the bylaws for the owners of pet dogs in the tricity.
7 AFPI cadets honoured for making it big
Mohali, December 11
Maharaja Ranjit Singh Armed Forces Preparatory Institute (AFPI) honoured seven of its former students for paving their way into the National Defence Academy (NDA) and the Naval Academy, here today.
Panchayat secy suspended
Mohali, December 11
The panchayat secretary of the Majri block, Onkar Singh, has been put under suspension by the Department of Rural Development and Panchayats, Punjab, here.
Year 2013 ender
An action-packed year with real drama
Chandigarh, December 11
General House meetings remained action packed throughout the year. Infighting and blame game topped the agenda of councillors. The authorities failed to live up to the expectations of residents, with only a little done in the name of development.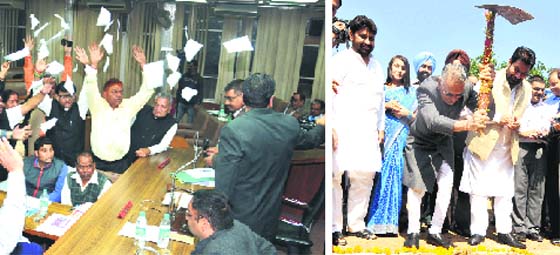 BJP and SAD councillors throw copies of an agenda during a General House meeting; and (right) UT Administrator at the multilevel parking site in Sector 17 in Chandigarh. Tribune photos: Pradeep Tewari
Rs 1.68-crore heist: Police zero in on kin of tainted policemen
Panchkula, December 11
To get leads in the Rs 1.68 crore heist, the Panchkula police are zeroing in on the kin of the policemen involved in criminal activities in the past.
Notice to Home Secretaries, UT Adviser
Chandigarh, December 11
A local district court today served statutory notices to Union Home Secretary, Adviser to UT Administrator and UT Home Secretary regarding the appointment of Pradeep Mehra as chairman of Police Complaint Authority, Chandigarh.
MCís effort proves futile as councillors refrain from using Internet facility
Chandigarh, December 11
While earlier it was babus of the Municipal Corporation (MC) who had not been updating records on the website of the civic body, now the elected representatives too seem to be towing their line.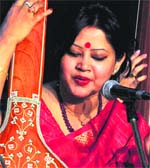 Classical singer casts spell
Chandigarh, December 11
Delhi-based Kirana Gharanaís vocalist Sanhita Nandi mesmerised the city audience with her melodious vocal recital at Bhaskar Rao Indoor Auditorium, Sector 35.





Sanhita Nandi performs at Bhaskar Rao Indoor Auditorium, Sector 35, Chandigarh. Tribune photo: S Chandan
Importance of right to vote in constitution discussed
Chandigarh, December 11
A democratic order will flourish only if citizens exercise their right to vote. This way not only constitutionalism will be maintained but it will also give a boost to citizen empowerment. This was stated by Prof Virendra Kumar at the 9th lecture of the Panjab University (PU) Colloquium held today.


No takers for government schools
Chandigarh, December 11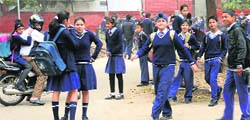 With the onset of the sale of admission forms, majority of the local parents are shying away from admitting their wards to the government schools in Chandigarh.



Parents are preferring private schools to government schools. Tribune photo