M A I N N E W S
Kabaddi over gender of Pak women team players at World Cup
Nikhila Pant Dhawan
Tribune News Service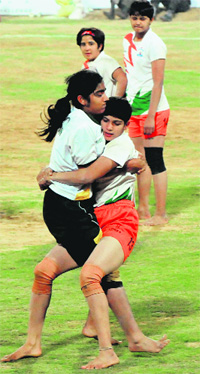 A Pakistani player tackles an Indian opponent in Bathinda.
Bathinda, December 11
The kabaddi associations of Punjab and England engaged in a war of words today over the demand for gender identification of some Pakistan women team players.
England's women team coach had yesterday pointed out that at least three players in the Pakistan's women team were allegedly transgenders. "During our match with them in Jalalabad, we suspected that some of the players were not women. We raised an objection with the authorities but it went unheard," said Ashok Das, coach of the England women team.
England Kabaddi Association general secretary and team manager Kawal Das said: "Their behaviour, their built and the way they played were not how a woman would play or behave. In spite of our complaint, the authorities went ahead with the match.
"After the match, a coordinator brought doctors to make the Pakistan players undergo a medical examination. But a Pakistan team official requested the coordinator not to conduct the test as it was against their religion.


The England team objection

The England women team management on Tuesday approached the organisers raising suspicion over the gender of some Pakistan women players


Despite the objection, the match for the semifinal berth was played in which Pakistan team emerged winners


The England team on Wednesday claimed the organisers failed to conduct gender identification test on suspected players


Punjab Kabaddi Association chairman Sikander Singh Maluka said they had no reason to question their status as the players' passports clearly stated they were women
"He also argued that a medical examination of their players would bring disrepute to the team, which was competing for the first time in the tournament," Kawal said. She added that the coordinator assured them of conducting a dope test on the Pakistan team.
"I wonder if the coordinators knew that a dope test was different from a gender specification test. We have faced trouble every time our team has participated in this tournament. The standard is not up to the mark," said Kawal. While the officials and players of the Pakistan women team remained unavailable for comment, chairman of the Punjab Kabaddi Association Sikander Singh Maluka called it a case of sour grapes.
"The England team is raising an objection since it lost to Pakistan and didn't get a spot in the semifinal. To avoid any confusion, we had this time insisted on allowing only those players to represent their countries who had passports of their respective nations," he said.
"Before the start of the tournament, the passports of all players were verified. If the passport says a player is a female, we will believe it. We do not have any reason to question a country's legal document," he said.