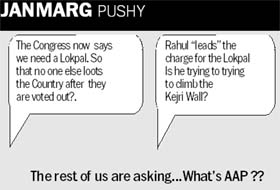 Conversion policy
Two sets of rules for industrial plots
Chandigarh, December 14
The Chandigarh Administration is adopting two sets of rules while dealing with industrial plots that have been converted under the conversion policy for Industrial Area. As a result, at least 48 per cent of the industrial plots converted under the UT Conversion Policy have failed to raise new construction as per the revised norms.


Prime Minister to visit Mullanpur on Dec 30
Mohali, December 14
Prime Minister Manmohan Singh is likely to visit Mullanpur on December 30 to lay the foundation stone of a cancer hospital in Medicity. Sources said today that dates for laying the foundation stone of Tata Memorial Centre (TMC) Hospital had been fixed on earlier occasions, too, but the Prime Minister could not make it to the venue.
The boundary wall of Tata Memorial Centre (TMC) Hospital being painted at Pandhojian near Mullanpur on Saturday. Tribune photo: Parvesh Chauhan

No flight after 1 pm today
Chandigarh, December 14
There will be no flights after 1 pm tomorrow at the Chandigarh domestic airport. As per the standing instructions of the Indian Air Force, which is managing the airport runway, the airport will remain closed on the first and third Sunday of every month due to renovation work of the runway. Tomorrow, being the third Sunday of the month, there will no flight after 1 pm.


Year ender 2013
A stressful year for crime busters
Chandigarh, December 14
For the UT police, the year started with the new UT IGP RP Upadhyaya taking charge and ending with Sukhchain Singh Gill joining as the new UT SSP. Even as the crime graph soared during the year, the UT police remained in news, with their own officials courting controversies.
| | |
| --- | --- |
| The police use water cannons on protesting lawyers in Chandigarh. Tribune photo: Manoj Mahajan | The mangled remains of a Tavera SUV that collided with an Audi Q7 on the road separating Sectors 17 and 18. Tribune photo: Manoj Mahajan |
Prioritise NRI complaints: IGP
Mohali, December 14
All complaints related to the NRIs should be sent to the NRI police wing so that these can be disposed of at the earliest. This was stated by IGP Gurpreet Kaur Deo during a meeting at the head office of the NRI police wing.


New SSP visits police stations
Chandigarh, December 14
The new UT SSP today visited various police stations to monitor the functioning of 'Know Your Case', an initiative launched earlier this year. The SSP visited the police station in Sectors 26, 17 and 34.

New UT SSP Sukchain Singh Gill takes up the queries of a complainant at the Sector 26 police station in Chandigarh. Tribune photo: S Chandan
Inquiry marked against SI
Chandigarh, December 14
An inquiry has been marked against a sub-inspector and a woman constable for keeping a drunk girl in the police station on the intervening night of Friday and Saturday. The sub-inspector, Ramesh Kumar, is posted at the Sector 3 police station.


Candlelight march in support of Capt James
Chandigarh, December 14
Merchant Navy officers and their families based in the tricity today held a candlelight march at Sukhna Lake here to express their solidarity with Capt Sunil James, an Indian mariner who is in the custody of Togo authorities following allegations of aiding pirates.
Merchant Navy officers along with their family members hold a candlelight march in support of Capt Sunil James at Sukhna Lake in Chandigarh on Saturday. Tribune photo: S Chandan

AN-12 officers hold reunion
Chandigarh, December 14
Members of the AN-12 Officers' Association (ANTOI), a group of retired air force officers who had served with squadrons that operated the IAF erstwhile transport workhorse, held their 20th reunion here today.


Members of the AN-12 Officers Association (ANTOI) during their 20th reunion at the DSOI, Sector 36, Chandigarh on Saturday. Tribune photo: Pradeep Tewari

Oscar Theatre Fest: Play on Shaheed Udham Singh staged
Panchkula, December 14
Three-day 4th TFT Oscar Theatre Festival was concluded today with the play "Azaad", staged here at Atam Auditorium, Sector 1, Panchkula. The play was based on the life and freedom struggle of Shaheed Udham Singh, the revolutionary who killled Michael O' Dwyer in the Caxtan Hall, London.

Artistes enact a scene from the play "Azaad" during the Oscar Theatre Festival held at Atam Auditorium in Sector 1, Panchkula on Saturday. Tribune photo: Parvesh Chauhan
Tips for health professionals
Chandigarh, December 14
The Department of Transfusion Medicine and the Pharmacovigilance Centre, PGIMER, jointly organised a one-day CME (continuous medical education) on haemovigilance programme today. The programme was organised on the premises of the PGIMER for the blood bank and pharmacovigilance personnel from Haryana and Chandigarh.
Only a portion of road recarpeted
Chandigarh, December 14
A day after Mayor Subhash Chawla directed officials to restart repair of the road in the Sector 19-C market, the contractor concerned recarpeted only a portion of the road. Shopkeepers and area councillor Mukesh Bassi had filed a complaint stating that substandard construction material was being used.
FEEDBACK
Rickshaw-pullers sans licence a threat to city residents
I am shocked to read the news about the decision of MC Chandigarh to allow unlicensed/untrained rickshaw-pullers to ply on roads without any restraint. Does the learned MP Mr Bansal and his supporters realise how they are putting the lives of residents, who would either be using these rickshaws or driving some other vehicles on city roads, to unwarranted danger?



Students display skills at annual exhibition
Mohali, December 14
Junior wing of Yadavindra Public School, Mohali, organised its annual Visual and Performing Arts Exhibition, here today. Students displayed their creativity and artistic persona through awe-inspiring artefacts.
Students perform at Annual Visual and Performing Arts Exhibition at Yadavindra Public School in Mohali on Saturday. Tribune photo: Parvesh Chauhan
St Kabir students shine at creativity Olympiad
Chandigarh, December 14
Five students of St Kabir Public School, Sector 26, here have brought laurels to the city by securing top ranks in the National Creativity Olympiad held at the IIT, New Delhi, on December 8.
Cultural items mark DPS annual day
Chandigarh, December 14
Delhi Public School (DPS), Chandigarh, presented a cultural extravaganza 'Anubhuti' today as part of its annual day celebrations. Rajasthan Governor Margaret Alva was the chief guest.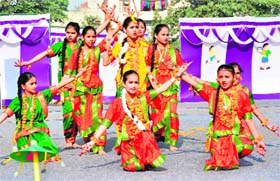 Perfect poise: Students present a cultural item during the annual day function of Sant Ishar Singh Public School, Phase VII, in Mohali on Saturday. Tribune photo: Parvesh Chauhan
Play marks annual function
Chandigarh, December 14
The annual function of JPA Toddlers' World School, Panchkula, was held amid fanfare at Tagore Theatre here today. Over 300 children participated in the colourful event titled 'Blossoms'.
FROM SCHOOLS
Exuberance-2013
Chandigarh: Students of Kids 'R' Kids School, Sector 42, presented the school's annual cultural programme 'Exuberance-2013' with great zeal and fervour.