| | | |
| --- | --- | --- |
| | NEIGHBOURHOOD | |
10 techies selected in campus placement
Our Correspondent
Dera Bassi, December 15
Firecop Solution Private Limited, Delhi, recruited 10 BTech (ECE) final-year students of Sri Sukhmani Institute of Engineering and Technology here.
The company deals in fire-fighting equipment. In a pre-placement talk, Abhishek Verma, national head (sales & service) of the company, detailed about various products of the company. Later, 50 students underwent interviews. Of them, 10 were selected for an average pay-package of Rs 3 lakh per annum. They
would work as service engineers with the company's office in Delhi.
Earlier, Prof Avtar Singh, chairman of the Sukhmani Group, welcomed the company officials and complimented them for recruiting young and dynamic technocrats. Principal Dr GN Verma and director-tecnical Gurpreet Kaur congratulated the selected students.

Two held for stabbing vendor
Chandigarh, December 15
The Chandigarh police have arrested two persons, including a juvenile, for attacking a vegetable vendor and snatching his purse during the night of December 13.
The vegetable vendor, Rajendra Kumar, a resident of Hallo Majra village, was attacked near the dispensary in the village while he was returning home. The accused stabbed him and snatched his purse. A case has been registered at the Sector 31 police station.
The police stated that on the basis of the information provided by the victim, accused Sita Ram and the juvenile had been arrested and the weapon used in the crime recovered.
The juvenile was sent to the juvenile home and Sita Ram was produced before a court, which sent him on one-day police remand. "The third accused involved in the crime has been identified as Chandan. Raids are being carried out to nab him," the police stated. — TNS

Abducted minor girl recovered, youth arrested
Chandigarh, December 15
The Chandigarh police today recovered the minor girl, who was reportedly missing since November 20, from Sector 9, Noida (UP), and arrested her "kidnapper".
The 14-year-old victim's father Mohhamad Sattar, a resident of Colony No 5, had lodged the missing report at Sector 34 police station on November 24. He had alleged that one Sunny, along with his family members, Sarita and Kailashi, instigated his daughter to elope with him.
The police had arrested Sarita, Kailashi and Sunny's father Raj Narayan on December 4. At present, they are in judicial custody.
On December 11, the case was transferred to the Crime Branch of the Chandigarh police. The girl's relatives had filed an application in the Punjab and Haryana High Court seeking speedy police action, following which the court directed the police to speed up the investigation.
The police today succeeded in recovering the girl and arresting Sunny, who had allegedly abducted her. Both were taken to Government Multi-Specialty Hospital, Sector 16, for medical examination. — TNS

Karandeep beats Rishabh 8-5 in tennis
Tribune News Service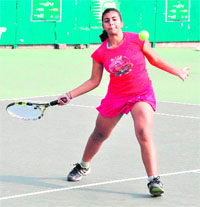 A player in action during the CLTA-AITA Championship Series Tennis Tournament at the CLTA, Sector 10, Chandigarh, on Sunday. Tribune photo: parvesh chauhan
Chandigarh, December 15
Karandeep defeated Rishabh Sharda 8-5 and Shashikant beat Jagdeep Bajwa 8-6, in the boys (2nd round) matches of ongoing CLTA-AITA Championship Series Tennis Tournament, played at CLTA Tennis Stadium, Sector 10, being held here today. In the boys singles round 3, Param Pun defeated Sagar Sehrawat 4-0 and 4-1 whereas Gurjot Siddhu defeated Akhil Dhuoon at 4-1 and 5-4.
Results
Boys (Singles) 2nd Round
Karandeep bt Rishabh Sharda 8-5; Shashikant bt Jagdeep Bajwa 8-6; Rohit Kumar bt Dalbir Singh 8-1; Sahishanu bt Bhupender Dahiya 8-3.
Boys (Singles) 3rd Round
Param Pun bt Sagar Sehrawat 4-0, 4-1; Gurjot Siddhu bt Akhil Dhuoon 4-1, 5-4 (1); Himanshu Mor bt Neeraj Yashpaul 4-1, 4-0; Krishna Rajput bt Navjot Singh 4-1, 4-3; Mritunjay Badola bt Calvin Golmei 5-3, 4-1; Ishan Sethi bt Aditya Pratap Singh 4-2, 5-4 (8-6); Digvijay Pratap Singh bt Sohraab Singh 4-0, 4-0; Nihit Rawal bt Krishan Hooda 4-0, 4-1; Aditya Vashist bt Rahul Verma 4-0, 4-1; Sourabh Kalkal bt Padam Kumar 4-2, 5-3; Eklavya Singh bt Rohit Kumar 4-0, 4-0; Vikrant Dahiya bt Tushar 4-0, 4-0; Sagar Bains bt Sahishnu Sharma 4-1, 4-1; Shashikant bt MS Karthik 4-1, 5-3; Rohit bt Vijyant 4-1, 4-0; Karandeep bt Gurkeerat 4-0, 4-0.
Girls (Singles) 1st Round
Protiksha Sharma bt Priyanka Jakhar 8-1; Muskan bt Ibadat Kaur 8-1; Ikshika Sangri bt Mansi Singh 8-4; Ashpreet K Bajwa bt Mitali Singh 8-2;
Girls (Singles) 2nd Round
Rubani Ahluwalia bt Gunjan Agarwal 4-1, 5-4 (8); Alisha Menon bt Saumya Saxena 4-2, 4-0; Deepshikha bt Ambika Choudhary 4-2, 0-4 (7-4); Khushbeen Kaur bt Saisha Khanna 4-0, 4-1; Seerat Pannu bt Ashpreet 4-1, 4-0; Tanya Batra bt Rahat Mangat 4-1, 4-2; Ravita Rawat bt Bindu Kulhria 7-5, 4-1; Baani bt Protiksha 4-1, 4-0; Muskan bt Harleen Kaur 4-1, 4-1; Arti Nayan bt Aditi Dogra 4-0, 4-0; Nandini bt Nikita Kharangra 4-2, 5-3; Gurneek Bhandal bt Yashi Saxena 4-1, 4-1; Princy Panchal bt Gurleen Dhadda 4-2, 4-0; Jahnavi Shivran bt Bhavya Sangri 5-3, 4-1; Pious Mudgil bt Ikashika Sangri 4-1, 4-0.
Boys (U-16 Doubles) 1st Round
Nihit Rawal and Param Pun bt. Akshay Chouhan and Nishant 6-3, 6-0; Gurjot and Mritunjay bt. Sagar and Padam 6-3, 6-3; Eklavya and Rohit bt. Rahul Verma and Anmol K 6-3, 6-2; Prithvi K and Siddharth bt. Savneet B and Sohraab 6-1, 6-4; Rishab S and Himanshu bt. MS Karthik and Karan B 6-1, 6-3; Jagdeep and Krishna Rajput bt. Calvin G and Raunak Marwah 7-5, 6-4; Aditya V and Ishan bt. Vatsal Chouhan and Naresh B 6-1, 6-0; Vikrant Dahiya and Digvijay Pratap bt. Sourabh Kalkal and Sahil Y. 6-0, 6-0.
Girls (U-16 Doubles) 1st Round
Yashi Saxena and Soumya Saxena bt. Aditi Dogra and Tanya Batra 6-4, 6-2; Muskan and Nandini bt. Ravita and Arti 7-5, 6-1; Deepshikha and Reet Malik bt. Smera Mehta and Mansi 6-1, 6-4; Ibadat and Harleen bt. Priyanka and Nikita 6-0, 6-1; Khushbeen and Rahat bt. Bindu and Princy 6-1, 6-2.