A victory that went beyond the battleground
The Bangladesh War marked a spectacular victory over Pakistan and defeated the Two-Nation theory on the basis of which Pakistan was created. It was India's first foreign military intervention in the backdrop of a hostile United States and China that surprisingly was fought without a strategic aim or vision.
Dinesh Kumar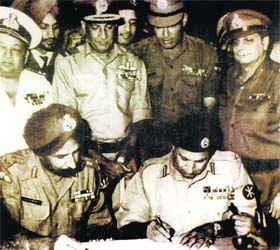 Historic Surrender:

Lt General Jagjit Singh Aurora, General Officer Commanding-in-Chief of the Eastern Army Command (left) watches Lt General A.A.K. Niazi sign the Instrument of Surrender on 16th December 1971. Standing from left to right: Vice Admiral N. Krshnan, Flag Officer Commanding-in-Chief Eastern Naval Command, Air Marshal N.C. Dewan, Air Officer Commanding-in-Chief Eastern Air Command, Major General K.V. Krishna Rao (later Army Chief) and Major General JFR Jacob (later Lt General), Chief of Staff, Eastern Army Command. (File Photo)
Exactly 42 years ago on 16th December 1971, Lieutenant General Amir Abdullah Khan Niazi, who headed the Pakistani forces in East Pakistan, signed the Instrument of Surrender to India's General Officer Commanding-in-Chief of the Eastern Army Command, Lieutenant General Jagjit Singh Aurora, in Dacca (later renamed Dhaka). That one-page landmark document signed at the end of a 13-day-war marked three simultaneous historic events — a spectacular Indian military victory over an abject Pakistani defeat, the territorial break up of Pakistan leading to the creation of Bangladesh as an independent sovereign nation; and an ideological defeat of the idea of Pakistan with the ripping apart of the Two-Nation theory that stipulates a Pakistan for the Muslims and an India for Hindus.
By the end of the war, 93,000 Pakistanis had surrendered to Indian forces marking the world's largest surrender in post World War-II military history which remained the case until the large scale surrender of Iraqi forces to the US-led coalition in the one-sided 1991-92 Gulf war. All this by a nation that had attained freedom after being partitioned by the British colonialists only 24 years earlier. The 1971 India-Pakistan war was the third war India had fought in a preceding short span of nine years, one of which had resulted in a humiliating territorial defeat to China in 1962 and a second that had resulted in a lost victory to Pakistan in 1965.
In all previous post-Independence wars and military engagements, the Indian armed forces had fought to either defend or consolidate the territorial integrity of the country. And thus this Bangladesh War, as it is known, was the first ever military intervention by India in a sovereign country. Indeed this war presents a fascinating study of war preparation and military tactics and, yet, a lack of strategic thinking; a spirited fight given by the Pakistani soldiers in the face of all odds and despite sound logistical planning by the Indian Army; some delicate diplomatic balancing with the great powers; and both international and domestic power politics. Just how well India handled both the run up to and the conduct of the war is borne by the fact that most western scholars, especially Richard Sisson and Leo E. Rose in War and Secession: Pakistan, India and the Creation of Bangladesh, have acknowledged the Bangladesh war to be a sound example of implementation of all the key principles under the Just War theory or justum bellum – the jus ad bellum and jus in bello clauses which, respectively, are about the 'circumstances' and 'conduct' of war.
East-West differences
Differences between East and West Pakistan, which were separated by 1,200 miles across a large Indian land mass, had begun immediately after Partition with a strong lingual grievance after Mahomedali Jinnahbhai announced in his first and also the last visit to East Pakistan on 21st March 1948 that Urdu would be the national language of Pakistan. This eventually led to the February 1952 language riots that resulted in police shootings and deaths. While this provided the initial spark, the long list of severe dissimilarities and grievances were all too pronounced – lingual and cultural differences, lack of representation of Bengalis in both the government and the military, uneven economic development between East and West Pakistan, failure of the government to make a constitution that lasted, and, subsequently, electoral mismanagement.
The point of no return came after the Central government in West Pakistan reneged from its announcement to convene the post December 1970 election for national assembly in which the Awami League would have, with its numerical majority, formed a government with Mujibhur Rahman as Prime Minister following a first ever free and fair election. What followed instead was a severe military crackdown on the night of 25/26 March, 1971 which turned out to be, as described by no other than Niazi, 'a display of stark cruelty more merciless than the massacres of Bukhara and Baghdad by Chengez Khan and Halaku Khan or at Jallianwala Bagh by the British general Dyer'.
The magnitude and extent of the repression was subsequently acknowledged and detailed by Pakistan's Hamoodur Rahman Commission Report and by even General Agha Yahya Khan, the President-cum-military ruler at that time. The military crackdown had continued throughout the year leading to massacres that claimed between a conservative 26,000 to a staggering 3 million lives.
Repercussions for India
These incidents had serious repercussions for India which eventually led it to militarily intervene. India was forced to play host to a massive 10 million refugees (9,899,305 to be precise) that were accommodated in 825 relief camps spread over 2,800 km across several states bordering East Pakistan making it perhaps the largest influx of refugees after World War-II and the 1947 British-facilitated Partition of the Indian subcontinent. Of these 10 million refugees, as many as 7.2 million had entered India within a short span of four months. The refugees, who cut across all religious persuasions and every strata of society, were accommodated at tremendous cost (US$ 500 million followed by another US$ 700 million as calculated by the World Bank which is valued much higher today) and accounted for less than half the world's refugee population that stood at 27.6 million at that time. Yet, as the International Commission of Jurists noted, the UN did not take note of the large scale human catastrophe and treated it as an Indo-Pak issue.
The huge refugee problem considerably added to the adverse economic, social and political strains in the already overpopulated, poverty stricken and trouble-torn north eastern states where Pakistan had been allowing Chinese operated training camps in East Pakistan for Naga and Mizo rebels. Economically, in addition to considerable drain on resources, the influx of refugees was affecting the job market in an overcrowded labour market thereby depressing wages and inflating prices with 3 million refugees having entered the job market. The Left parties had been quick to exploit some of the legitimate complaints in West Bengal and Tripura over the economic impact of this influx. On the sociological and political front it was threatening the internal stability of a complex political system in the tribal north eastern states which pitted indigenous communities with the 'outsiders' and added fuel to the Nagas and Mizos fighting its secessionist battles.
No cake walk
Even after getting about seven months to logistically prepare for the war and the fact that India had stopped Pakistani aircraft from overflying Indian airspace while blockading the sea around both West and East Pakistan, the Indian Army fought a tough battle which had in fact begun with Indian troops entering East Pakistan on 21st November, i.e. 12 days before West Pakistan declared war on India by launching air strikes on 3rd December 1971.
Surprisingly, as brought out by Lt General Jack Fredrick Ralph Jacob in his book Surrender at Dacca: Birth of a Nation, there was no clear strategic aim and no considered overall strategy. Even until 13th December, i.e. three days prior to the surrender, Dacca was not on the agenda for capture. The focus was more on capturing towns and cities which until then didn't make strategic sense. Even otherwise both Lt General Jacob and Lt General Niazi (The Betrayal of East Pakistan) bring out in their respective books that the Indian Army met considerable resistance and was forced to fight a tough war despite complete air and naval superiority over the Pakistani forces.
The Indian Army, which lost 1,421 soldiers and 4,058 wounded with another 56 soldiers missing, presumed dead withdrew from newly created Bangladesh 13 days ahead of the scheduled date of withdrawal and before leaving assisted in quickly rebuilding bridges and roads, clearing mines, opening ports and repairing runways. On the western front India fought a relatively 'holding', 'limited' and defensive' war and did not take advantage of the situation to settle the Kashmir issue by military means which has been met with some severe retrospective criticism.
The Indian government looked after the prisoners far beyond the requirements of the Geneva Convention which has even been acknowledged by Niazi who narrates how the Pakistani prisoners lived in concrete barracks and according to their respective ranks while Indian soldiers lived in tents. In contrast, Indian soldiers were tortured, beaten and humiliated by the Pakistani army. Further, India refused to handover the captured Pakistani troops for trial to the leadership of newly formed Bangladesh despite knowing well that many had been guilty of perpetrating repression in East Pakistan. But the safety of the Pakistani prisoners was guaranteed under the Instrument of Surrender, a unique clause not found in most surrender documents.
Tight rope and no lessons learnt
At the international level, India had to balance an anti-India Nixon-led US regime and a pro-Pakistan China to which India had only nine years earlier lost a war. A week after the war begun, a hostile United States despatched its naval Task Force 74 centred around its nuclear-powered aircraft carrier USS Enterprise to the Bay of Bengal. The war ended shortly before its arrival but by then the UN was breathing down India to end the war. Only four months earlier, in a major balancing act, India had managed to sign a 20 year Treaty of Friendship with the Soviet Union which until then had been supplying light weapons to Pakistan but on India's request kept vetoing UN attempts at ceasefire.
Yet 42 years later, the shortcomings remain the same and continue to haunt. The Research and Analysis Wing (RAW) then lacked operational intelligence which remained the case in the subsequent military operations in Sri Lanka (1987-90) and the Kargil War (1999). Coastal security and capability of launching amphibious operations remains deficient (evident 37 years later during the 26/11Mumbai terror attacks) as does logistics preparation (evident during Operation Prakaram in 2001-2002) while the post of Chief of Defence Staff remains an illusion and strategic thinking a casualty. Indeed India remains an unenviable case study for the adage 'those who do not learn from history are condemned to repeat it'.
Prominent turn arounds
A.K. Fazlul Huq, a one-time member of the Muslim League, had ironically moved the historic Lahore Resolution in 1940 seeking the Partition of India and the creation of a Pakistan. The same year he left the Muslim League to form the Krishak Sramik Party. Soon after Independence, Huq declared at a speech in Kolkata that he could not accept the idea of two Bengals. "…India exists as a whole…I shall dedicate my service to the cause of the motherland and work with those who will try to win for India—Hindustan and Pakistan—a place among the countries of the world".
Another prominent Bengali and member of the Muslim League, H.S. Suhrawardy, who moved a resolution on 9th April 1946 for a Pakistan that included Bengal and Assam as a Muslim majority Pakistan, later shifted to India where he lived in exile for some years before returning to fight for Bengali rights.