Iran breakthrough — not so fast
The recent landmark nuclear accord with Iran has triggered unprecedented commentary and assessments. It has evoked a cautious vision of a thaw between Iran and the US. Though the term 'Middle East' does not figure in the document, it has the potential of bringing about a historic transformation in the region.
Sheel Kant Sharma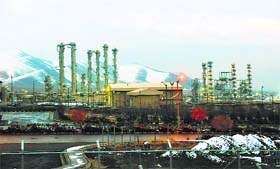 The Arak heavy water facility. Atomic experts were at the plant recently to inspect it for the first time in over two years. AFP photos
THE accord reached last weekend between Iran and its western interlocutors about Iranian nuclear programme is of enormous significance even as a first step. The outcome of long and intense negotiations until the wee hours of November 24, which Iranian foreign minister Zarif's tweet likened to 'white smoke' that signals new Pope's election in the Vatican, comprises just four terse pages of minutiae entitled, "Joint Plan of Action". It is focused entirely on Iran's nuclear programme and related sanctions - and is nowhere near closure on either. Yet it is widely and unquestionably seen as a breakthrough.
It sets as goal of negotiations a comprehensive agreement ensuring exclusively peaceful nuclear programme in Iran and lifting of all UN Security Council and other US and EU sanctions on Iran. That goal will be reached by a reciprocal, step-by-step process, fully transparent to the International Atomic Energy Agency (IAEA) inspections, involving stopping, curtailing, and partial dismantling of Iran's existing and planned uranium enrichment and plutonium production capacity, facilities and activities as also conversion and dilution of existing stocks of enriched uranium with effective safeguards against its military use potential. Iran will be enabled to enjoy right to peaceful uses of nuclear energy under the Non-Proliferation Treaty (NPT) as well as agreed closure of UN Security Council's file on its nuclear programme.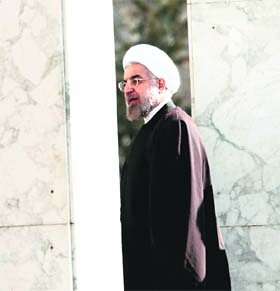 Iranian President Hassan Rouhani has made friendly gestures to neighbours and is the key player in the nuclear deal.
The interim first steps will be taken within six months and essentially involve Iran ceasing enrichment of uranium above 5 per cent; converting half of 20 per cent enriched gaseous uranium to metal oxide and diluting remainder to less than 5 per cent thereby delaying return to further enrichment; capping 5 per cent enriched gaseous stocks by conversion of new additions to metallic form, halting of further advances at Natanz and Fordow enrichment plants as well as the Arak reactor project, and accepting embargo on new locations for enrichment.
All these will be under enhanced monitoring by the IAEA, including daily access for inspections of enrichment activities, and information about Arak project and uranium mines and mills. These measures should ensure that Iran would not get closer to the bomb as negotiations progress.
New experience
As quid pro quo Iran will receive proportionate, limited sanctions relief from the US and EU; marking marginal concessions with regard to oil sales to Iran's customers, releasing sales revenue held abroad, suspending sanctions on Iran's petrochemical exports, auto industry, oil related insurance and transportation costs, gold and precious metals, and licensing spares for flight safety of civil aviation. Up to 7 billion dollars will be released to Iranian economy from the sanctions' hold over the initial six months. No new sanctions will be imposed by the US, EU or the UN Security Council.
This accord has triggered unprecedented commentary, analyses and assessments. Its text evoked visions of an abiding thaw between Iran and the US. Though the term Middle East does not figure in the document, it is vested with the potential of bringing the region on the verge of a historic transformation and of reordering alliances. Iran's Gulf neighbours, not mentioned in the text, are concerned about its praxis even as they voice nervous welcome and applause. The document contains the overriding proviso: "Nothing is agreed till everything is agreed". Thus, the reciprocal measures agreed by both sides are still 'voluntary' first steps. Nonetheless, scaremongering among the US right wing and Israel about Iran's stringing out on its part and President Barack Obama's premature release of tighter sanctions, remains unabated.
The success of sustained and quiet diplomacy, which has been in the works between the US Administration and Iran for most of the current year, has made both cynics and optimists go overboard. Undoubtedly, it has evoked a sigh of relief from the dark portents of military action which loomed large last winter. However, caution and understatements with which the authors of this accord have related their achievement back home is in strong contrast with the hyperbole about the unfolding of a historic denouement.
The caution may have much to do with the extreme cynicism about Iran in the US Congress, and the wounded psyche of 'the Iranian nation', for whom the accord in President Rouhani's pithy comment, 'marks a starting point for a new experience'.
Ground for hope
Stakes for both sides in making progress on the first steps are very high. The badly chequered record of the on-off diplomatic efforts over the past decade-plus may hound the process. Both the sides face the stark choice of honouring the process set by the accord on the one hand and the alternatives on the other of military action and mounting conflict, tension and unceasing attrition. The body language at Geneva and the emerging feel-good factor give ground for hope. As for the hyperbole, visionary zeal of some commentators, including many in India, needs moderation lest extraneous stuff weighs on
the process.
Take for instance the talk about reordering in the Middle East — it is too early to imagine that the modus vivendi with Iran on the nuclear question will be at the cost of decades of close US and western ties with Saudi Arabia and the Gulf. It is worthwhile recalling that President Obama had certified to the Congress in March 2012, apropos implementation of tighter sanctions on Iran's oil trade, that the global oil market was strong enough to prevent spikes due to loss of Iranian oil. This assumes Saudi co-operation.
The step-by-step process will still depend on the continuation of existing sanctions on Iran's oil export until 'all is agreed'. This is inconceivable without undiminished cooperation of Saudi Arabia and the Gulf. Those dreaming of Iran's instant mainstreaming in global oil trade should be reminded of the vexed political legacy of past several decades and of the years of stagnation of Iranian oil economy.
So, the longstanding relationships of the US and its European allies with the Gulf States and Saudi Arabia are not likely to change. On the contrary, the calming of Iran's relations with the US and EU may have beneficial impact on the neighbourhood as a whole. The more Iran engages globally, the more responsive to good neighbourly relations it is likely to be. Rouhani has already made friendly gestures to neighbours, and nuanced sound bytes for Israel, shunning his predecessor's bluster and offensive language. Early signs of warming with Turkey too need not be considered out of bound.
Iran may eventually retrieve something more than the 2003 situation when there were fewer sanctions and it had offered a freeze at just 164 centrifuges as part of a grand bargain. This was spurned at a great cost. The supreme leader's endorsement of present breakthrough may lie in the tradeoff between entering mainstream of global economy and the staggering cost of isolationism as well as opprobrium of, at best, a risky breakout capability.
What Iran may finally concede was already on Rouhani's brief in 2003, including the acceptance of the Additional Protocol to the IAEA. The text of the accord duly recognises the Majlis's position within Iran's polity. It was Majlis which had suspended the Additional Protocol. The upturn has come about due to the farsighted, dignified and accommodative stance of Iran's interlocutors instead of the unremitting punitive approach of 2003-05. This seems to have made all the difference as reflected in Zarif's happy welcome back home. The praxis of the accord when seen in this light should augur well for all.
The writer is a former Ambassador of India to Austria & Permanent Representative to UN Office in Vienna & IAEA.
Going nuclear
2002: Russian technicians begin construction of Iran's first nuclear reactor.
2005: IAEA finds Iran in violation of the NPT.
2006: UN Security Council deadline to halt work on nuclear fuel passes.
2007: US imposes sanctions against Iran.
2009: IAEA passes resolution condemning Iran for developing a second uranium enrichment site.
2012: IAEA inspectors denied access to Parchin site; EU imposes further curbs.
2013: Newly elected President Hassan Rouhani says Iran will not build nuclear weapons; agrees to curb uranium enrichment and give UN inspectors better access to sites.