analysis
Need to keep up the momentum
Chandigarh, December 10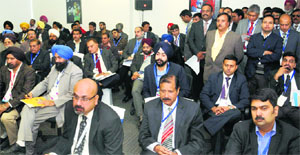 Its curtains on the first-ever Progressive Punjab Investors Summit. But it is actually the unveiling of a new era of growth. Having pulled off what many believed to be impossible, the signing of 117 memorandums of understanding (MoU), entailing an investment of Rs 65,000 crore, could well put Punjab on the fast track.

A section of the audience at the summit on Tuesday. Tribune photo: Manoj Mahajan

fee waiver on basmati
Recovery notices to traders withdrawn
Chandigarh, December 10
On the directions of the state government, the Punjab Mandi Board today withdrew notices given to about 70 traders to recover market fee and rural development fund on basmati purchased by them in Faridkot district.
Jathedar seeks PM's help on detainees
Amritsar, December 10
Akal Takht Jathedar Giani Gurbachan Singh today said the Union Government, particularly Prime Minister Manmohan Singh, should wake up to the plight of Sikh detainees languishing in jails for years despite having completed their sentence and to ensure that they are released forthwith.
Ex-Mayor instigated me to frame Patiala resident, says complainant
Patiala, December 10
In a major turn of events, the complainant in the rape case against Amarjeet Singh Sodhi, father of Parampreet Kaur (29), who had died under mysterious circumstances in February, following which the then Patiala Mayor Jaspal Pradhan had to resign, backtracked from her statement in the court of Additional Sessions Judge Harinder Kaur Sidhu today.
Murmers as Congress leader visits rival's house
Phagwara, December 10
Former Congress minister Joginder Singh Maan's visit to former BJP minister Swarana Ram's house here yesterday has tongues wagging in political cicrles. Maan described the visit a courtesy call, as "he went to meet ailing Ram". It was learnt that the Congress leader wanted to cash in on factionalism in the BJP's Phagwara unit, taking Ram into confidence. A faction of the party is annoyed with Chief Parliamentary Secretary Som Parkash.
Discharged from PGI, Khalsa resumes indefinite fast
Mohali, December 10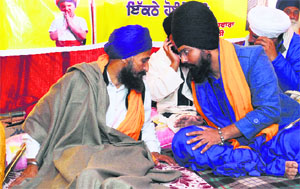 After being discharged from PGI, Chandigarh, in the wee hours today, Kurukshetra-based Gurbaksh Singh Khalsa returned to Gurdwara Amb Sahib to continue his indefinite fast. He began the fast 25 days ago, demanding the release of Sikh youth, who are lodged in jails despite having completed their jail terms. Ropar Jail staff had taken him to the PGI after releasing him last evening.

Gurbaksh Singh Khalsa (left) outside the Gurdwara Amb Sahib in Mohali on Tuesday. Tribune photo: Vicky Gharu

11-12-'13 requests deluge nursing homes in Patiala
Patiala, December 10
Nursing homes are flooded with requests by expecting mothers for delivery on 11-12-13 (December 11, 2013). These numbers are considered auspicious.
Police fail to arrest Faridkot child killer
Faridkot, December 10
A 22-year-old man who alleged beheaded a seven-year-old boy in Phidde Kalan village of Faridkot last evening is yet to be arrested. The accused is suspected to be suffering from a serious mental illness, who allegedly killed the child without any provocation.
300 teachers seek cancellation of deal
Patiala, December 10
Over 300 teachers have asked the Punjabi University authorities to cancel the land deal with the state government for setting up of a residential school for poor meritorious students on the campus.
Maximum sentence for hate crime accused sought
New York, December 10
A civil advocacy group has demanded the maximum punishment for a Seattle man who was indicted for assaulting a 50-year-old Sikh taxi driver last year. It said such a punishment would send a clear message that racially motivated crime was "unacceptable".
Rights body questions Sikhs' exclusion from US army
Washington, December 10
A US commission has asked Defence Secretary Chuck Hagel to explain exclusion of Sikhs, known for their valour and pride, from the American armed forces. In a letter, the US Commission on Civil Rights requested Hagel to respond to a Department of Defence policy that "appears to presumptively exclude" Sikh Americans from serving in the US armed forces if they do not give up certain articles of their faith or unless an individual accommodation is granted.
CPS Sidhu conducts surprise check at Nawanshahr hospital; warns staff
Nawanshahr, December 10
Chief Parliamentary Secretary Dr Navjot Kaur Sidhu today conducted a surprise inspection of the civil hospital after receiving complaints about the functioning of the doctors.
Restoration work begins in Golden Temple
Amritsar, December 10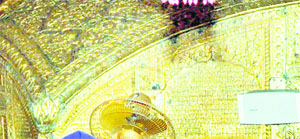 The Shiromani Gurdwara Parbandhak Committee (SGPC) has begun the restoration work on the interiors of the sanctum sanctorum at Golden Temple with the help of experts from a Delhi-based firm. This is the first time that restoration work is being conducted inside the shrine.
A view of the damaged gold plating inside the Golden Temple in Amritsar. A Tribune photograph

Rs 50 lakh for water pipes in village set for relocation
Bathinda, December 10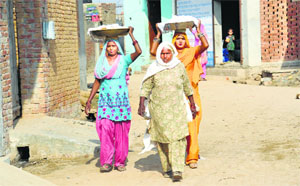 Strange are the ways of the Punjab Government. It has spent nearly Rs 50 lakh on laying water supply and sanitation pipes in Kanakwal village, which it has announced will be relocated elsewhere.
Women of Kanakwal village in Bathinda district going about their work as they await relocation. Tribune photo: Pawan Sharma

12 days on, no lead in Phagwara murder case
Phagwara, December 10
Twelve days after a murder of four members of a family at Kot Rani village near here, police are yet to make a breakthrough. Police are still to record the statement of main accused Baljinder Kumar, who has been admitted to a Jalandhar hospital, as doctors have not declared him fit. He is the husband of one of the deceased. The remaining accused are at large.
Police soon to act on 'questionable' transfers
Hoshiarpur, November 9
Police will soon initiate action in a case concerning transfers in the local health department based on forged appointment letters. Senior Superintendent of Police (SSP) Narinder Bhargav has summoned the case file.
BJP to organise 'Run for Unity' on Dec 15
Sangrur, December 10
On the 63rd death anniversary of country's first Home Minister and 'Iron Man of India' Sardar Vallabhbhai Patel, the BJP's Punjab unit will organise "Run for Unity" on December 15 across the state. Bharatiya Janata Party (BJP) state secretary Jatinder Kalra today said the run would be organised from 8 am to 11 am, in which thousands of members of the BJP would participate.
Property tax opposed
Hoshiarpur, December 10
The All-Party Joint Struggle Committee against Property Tax yesterday protested against a Punjab Government's decision to impose property tax. Protesting outside the MC office here, members of the committee waved black flags and asked people to not deposit tax. — OC
3-day police remand for acid attack accused
Ludhiana, December 10
The city police produced all the accused in the Ludhiana acid attack case before a local court last evening. They have been sent on police remand till December 12. The accused comprise Amitpal Kaur, Parvinder Singh, Sunnypreet Singh, Gurtej Singh, Rakesh Kumar and Jaspreet Singh.
regularisation of illegal colonies
Petitioners told to submit representation to state govt
Chandigarh, December 10
Taking up a petition filed in public interest on regularisation of illegal colonies in the state, a Division Bench of the Punjab and Haryana High Court today directed 42 petitioners to submit their representations to the state government. They had challenged Punjab government's August 21 notification for regularising illegal colonies.
Under-trial gives police the slip in Sangrur
Sangrur, December 10
An under-trial, who was lodged in the Sangrur District Jail, fled from the district judicial court complex today. He had been taken to the complex to attend a case hearing. Station House Officer (SHO) Harinder Singh said Akash (22) of Sunder Basti, Sangrur, had been remanded to judicial custody. He said the accused fled from the complex after attending the hearing.
Religious place burgled
Hoshiarpur, December 10
A religious place at Darapur village in the district was burgled on Sunday night. On a complaint of Jahar Peer Darbar care taker Balwant Singh, police have booked a case against unidentified people. He said thieves stole two gas cylinders, an inverter, a battery, six fans and Rs 12,000. — OC