Reliance set to invest Rs 3,500 cr
Chandigarh, December 7
Amid cacophony created by the Opposition parties against the claims about industry czars participating in the Progressive Punjab Investors Summit, the state government has managed to score a point. Reliance Industries Limited (RIL) chairman Mukesh Ambani has confirmed his participation in the event, and that he is going to announce an initial investment of Rs 3,500 crore in the state.
High Court raps cop's 'attacker' for seeking relief
Chandigarh, December 7
The move to get an FIR quashed by the alleged attacker of a policeman during Deputy Chief Minister's function at Tarn Taran has backfired. The Punjab and Haryana High Court has ruled that offence of "mischief causing damage" too was, prima facie, made out, and the trial may frame the charge for the same.


Sikh bodies fortify Mohali protest site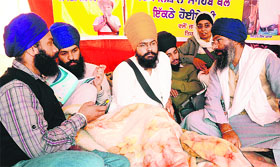 Mohali, December 7
Following the midnight detention of fasting Kurukshetra-based radical Gurbaksh Singh Khalsa, several Sikh bodies have decided to depute their armed supporters at Gurdwara Amb Sahib here to thwart any such police action in future.



Damandeep Singh (yellow turban) on hunger strike in Mohali on Saturday. Tribune photo: Parvesh Chauhan

Sukhbir: NDA to seek kabaddi's inclusion in Olympics
Jalalabad, December 7
Deputy Chief Minister Sukhbir Singh Badal today claimed that kabaddi would become part of the Olympics as soon as the NDA government came to power at the Centre.
Tourism sops to benefit Sukhbir's project: Khaira
Chandigarh, December 7
PPCC spokesman Sukhpal Singh Khaira has "trashed" the New Industrial Policy alleging that it has nothing to offer for the existing industry. He also accused the SAD-BJP government of extending concessions to the tourism sector to benefit a green hotel project being developed by a company promoted by Deputy Chief Minister Sukhbir Singh Badal at Pallanpur in Mohali.
Sikh leader forgery case remains unsolved
Wellington, December 7
Jurors remain deadlocked in the case of a Sikh leader in New Zealand who had been charged with using forged election documents in a bid to win a local body poll three years ago.
Indian-origin rapist's case sets precedent in UK
London, December 7
An Indian-origin serial rapist, sentenced to life imprisonment by a British court, has set a legal precedent in the UK regarding retrial of cases where the accused had previously been acquitted.
Ruby Dhalla's initiative to offer legal aid to deserted NRI brides
Amritsar, December 7
Former Canadian Member of Parliament Ruby Dhalla will soon launch an initiative "Dream For You" to sensitise the Punjabi brides deserted by NRI grooms and also provide legal aid to them.
Mega project to check waterlogging begins in a month, says Badal
Muktsar, December 7
Chief Minister Parkash Singh Badal today said the Punjab government would soon initiate a project worth Rs 3,277 crore to eliminate waterlogging within a month, besides starting a major scheme to promote fish farming and eucalyptus planting in the waterlogged areas.
Jathedar takes up Gurbaksh's arrest with Sukhbir
Amritsar, December 7
Akal Takht Jathedar Giani Gurbachan Singh today held a meeting with Deputy Chief Minister Sukhbir Badal here and discussed the arrest of Gurbaksh Singh.
Singer Babbu Maan detained in Manila
Chandigarh, December 7
Punjabi singer and actor Babbu Maan was arrested in Manila, Philippines, for holding a benefit concert for "Yolanda" victims without a work permit, it is learnt.



Notice to ex-DGP Gill for 'harassing' Canadian citizen
Moga, December 7
The court of Civil Judge today issued notice to former Director General of Police (DGP) Paramdip Singh Gill and local Superintendent of Police Bhupinder Singh for January 15 in a case filed by India-born Canadian citizen Jagdev Singh.



3 Ludhiana firms booked for money laundering
Jalandhar, December 7
Three Ludhiana-based hosiery exporters, who were allegedly involved in the Rs 500-crore VAT refund scam, have been booked by the Enforcement Directorate (ED) under the Prevention of Money Laundering Act. A probe has been initiated to determine if their firms were involved in money laundering and if they had also claimed duty drawback illegally on their "bogus" exports to Bangladesh.
7 arrested for Dhudike violence
Moga, December 7
The police today picked up seven persons for their alleged involvement in a clash between Sikh hardliners and Dera Sacha Sauda followers at Dhudike village in the district during a religious congregation two weeks ago. Among those arrested are four supporters of Sikh hardliners and three dera followers.