SAD, BJP activists compete to help fill wheat scheme forms
Abohar, December 4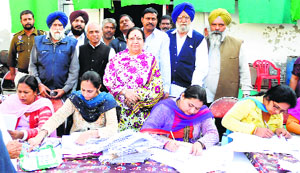 Factionalism in the ruling alliance of Punjab surfaced today when the BJP organiaed a camp for BPL families to help them fill forms to avail subsidised wheat. Perturbed over a complaint that forms photocopied from newspapers are being sold for Rs 10, factions of the ruling alliance (SAD-BJP) competed in organising camps to fill forms of the BPL families.

BJP leaders filling forms for BPL families to avail subsidised wheat in Abohar on Wednesday. Tribune photo

Police, Sikh radicals come face to face in Amritsar
Amritsar, December 4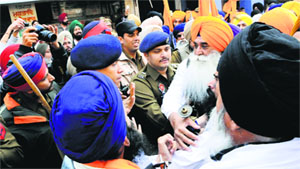 There was a face-off between the police and radical Sikh groups at the Golden Temple complex here this morning as the police tried to stop a 'Rihaee March' in support of Gurbaksh Singh who is on a fast at Gurdwara Amb Sahib, Mohali to seek the release of Sikhs languishing in various jails since the days of militancy.
Police personnel argue with members of a radical Sikh outfit outside the Golden Temple in Amritsar on Wednesday. Photo: Vishal Kumar


Kandola was involved in human trafficking
Jalandhar, December 4
Drug lord Raja Kandola, from whom "ICE" worth Rs 200 crore has been seized, was instrumental in illegally sending at least 3,000 youths abroad with the help of a Delhi-based visa officer.
vat refund
Excise officials under scanner
Patiala, December 4
At least 12 Excise and Taxation officers and 5,000 firms are under the scanner. These firms were reportedly floated only to falsely claim VAT refund and then shut down.
Convict Nishan Singh on protest fast
Ludhiana, December 4
Convict Nishan Singh, facing a life sentence for the abduction and rape of a minor girl, is on hunger strike at Borstal Jail here. Officials said he was demanding his transfer to the Faridkot Jail.
Attack on Satguru
Accused pleads not guilty in UK court
London, December 4
An Indian-origin man today appeared in a British court to plead not guilty for the attempted murder of a Namdhari sect leader during a trip to London. Harjit Singh Toor, who appeared before Justice Flaux at Nottingham Crown Court, was accused of attacking Satguru Uday Singh at Gurdwara Namdhari in Linden Street, Leicester, on August 11.
Tight security for kabaddi matches
Doda (Muktsar), December 4

To prevent protesters entering the stadium during the World Cup Kabaddi matches to be held tomorrow at Doda village in the Gidderbaha subdivision of Muktsar district, the police has converted this village on the Muktsar-Bathinda highway into a fortress.
The Doda village stadium in Gidderbaha subdivision in Muktsar district. A Tribune photograph

Panic as earth caves in near Bhakra canal
Ferozepur (Bassi Pathana), December 4

Land measuring 10-15 square feet on the banks of the Bhakra Mainline canal started caving in today, spreading panic among villagers of Bassi Pathana Block. Bassi Pathana Sub-Divisional Magistrate Sukhdev Singh Mahal, District Revenue Officer (DRO) Jeevanjot Kaur and other senior officers, including Intelligence officials, rushed to the spot to take stock of the situation.
People gather near the damaged portion on the banks of the Bhakra main line canal near Ferozepur village in Bassi Pathana block of Fatehgarh Sahib district. A Tribune photograph

Kabaddi or not, state youth high on dope
Gurdaspur, December 4
When the World Cup Kabaddi was conceived in 2010, it was claimed that it would help wean Punjabi youth away from drugs.
Finally, Delhi Express to halt at Dhariwal
Dhariwal, December 4
After the Railway Ministry approved a minute's halt for the Pathankot-New Delhi Express in Dhariwal town of Gurdaspur district, the train made its first stop here today.
Nawanshahr first to launch UPA's health scheme
Nawanshahr, December 4
The Punjab Government is set to launch the Centre's Universal Healthcare scheme in the district for people under treatment in Government Health Centres (GHCs). The district will be the first in the state to implement the scheme.
12 writers to be awarded
Chandigarh, December 4
In all, 12 writers will be awarded with the Sahitik Pustak Puraskar 2012 on December 7 during the concluding ceremony of Punjabi Week at Rampura Phul in Bathinda district, a press release said.
Avoid overstaffing, HC tells PSPCL
Chandigarh, December 4
The Punjab and Haryana High Court has ruled that Punjab State Power Corporation Limited (PSPCL) cannot incur losses and indulge in overstaffing at the same time.
Parallel probes: Amicus curiae appointed
Chandigarh, December 4
Can a superior police officer conduct an inquiry based on a complaint received from an aggrieved person, when the investigation has already been carried out by the officer in charge of a police station? For answering this and other vital questions of law, the Punjab and Haryana High Court has appointed two senior lawyers as amicus curiae or friends of the court.
'Misuse' of Red Cross funds: HC for action against IAS officers
Chandigarh, December 4
The Punjab and Haryana High Court today directed the Centre and Punjab and Haryana governments to initiate action against IAS officers of the two states and Chandigarh Administration involved in the misuse of Red Cross Society funds during their tenure.
Pak smuggler shot, Rs 45 cr heroin seized
Ferozepur, December 4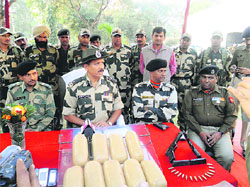 A Pakistani intruder was gunned down and 9 kg heroin was seized during an operation carried out the BSF near Jagdish border outpost in this sector today. The BSF also seized two .30 bore Chinese pistols. Ajay Kumar Tomar, BSF IG, said following an intelliegence input, the troops observed the movement of two suspected persons near the zero line who were approaching the fence. When the troops challenged them, one of them opened fired, following which the BSF men also fired in self defence, he said.
Ajay Kumar Tomar, BSF IG, with the seized contraband in Ferozepur sector on Wednesday. A Tribune photograph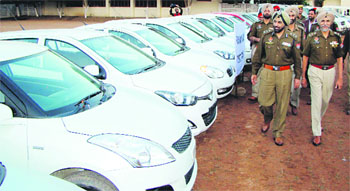 BIG HAUL: IG Patiala Zone Paramjit Singh Gill and HS Mann, SSP, inspect recovered cars with fake registration numbers from an inter-state gang of thieves in Patiala on Wednesday. Tribune photo: Rajesh Sachar
Nine booked in firing case
Tarn Taran, December 4
Nine people, including five women, were booked in a firing incident at Mallha Kurriwallha village, 35 km from here, yesterday over a property dispute. Police sources today said a case under Sections 307, 447, 511,506, 148 and 149 of the IPC, and Sections 25, 27, 54 and 59 of the Arms Act had been registered.
Building inspector booked
Patiala, December 4
The police today registered a case of trespass against municipal building inspector Harbans Singh for allegedly entering the house of a Tripuri resident on Saturday night.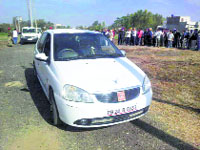 Banker found dead in car
Hoshiarpur, December 4
A body of a bank manager was found in the driver's seat of his car in Mahilpur town of the district. He had a gunshot injury on his right temple. A revolver was also found from near the body.

The car in which bank manager Amrik Singh's body was found in Hoshiarpur on Wednesday. Tribune photo