RinGside view
Leaders missing from offices
Owing to the Vidhan Sabha poll in Delhi, leaders have been missing from their offices in the Punjab Secretariat since the beginning of this month. Subsequently, the corridors of power wear a deserted look. Supporting office staff too is taking it easy.
It will be interesting to count the actual number of days the head of the state has spent in his office in the recent past. Chief Minister Parkash Singh Badal, except for a couple of days has been tied up with a string of inaugurations, launching of schemes and attending bhogs. He did spend a considerable time meeting people in the waterlogged areas. But returning to office and ensuring that other work does not suffer too is important.
Deputy Chief Minister Sukhbir Singh Badal and Revenue Minister Bikram Singh Majithia are in Delhi in connection with the Delhi elections. They are unlikely to return before the poll on December 4.
With ministers, MLAs and even Chief Parliamentary Secretaries accompanying the top leadership during the inauguration of various projects, often there is none to hear the grievances of the common people in the secretariat.
The government seems to have spent a number of days on "non-serious activity", including elections to the Delhi Sikh Gurdwara Management Committee (DSGMC). The entire top brass had then left office to campaign for the gurdwara elections. It was the same story during the Moga byelection as also during the SAD 'chintan shivar' in Goa. Besides this, the top leadership has made several foreign trips along with a battery of officers.
The issue becomes important in view of the Chief Minister announcing on more than two occasions that ministers would be available to listen to public complaints at least thrice a week. Senior officers say that "actual administration has came to a standstill".
US Honour for PU graduate
Kanwal Prakash Singh, a member of the Indianapolis Community in the US, has been awarded the Community Service Award by the Federal Bureau of Investigation (FBI) Citizens Academy of Indianapolis. Kanwal Prakash Singh has received the award for supporting "historic preservation, cultural diversity and the importance of arts to life and human spirit"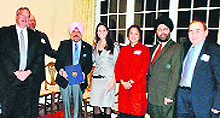 Kanwal Prakash Singh (third from left) receives the Community Service Award from the FBI Citizen's Academy of Indianapolis. A Tribune photograph

A product of Panjab University and IIT, Kharagpur, he moved to the US in 1965. His book, "The Art & Spirit of KP Singh - Selected Drawings and Writings" has been well-received. Three of his paintings are installed in The Sikh Heritage Gallery at the Museum of Natural History at the Smithsonian Institution, Washington DC.
The awardee has been quoted as saying: "I am grateful and proud for the spirited engagement, growing community involvement of Sikh Americans, and all-important media services that is connecting the NRIs and the Sikh world globally".
Women's effort gets things moving
The Gurdaspur Municipal Committee is surely a lethargic body. Tax-paying residents were fuming last week when the MC failed to lift garbage at various sites in the city. The most littered among these are the open spaces in front of schools and colleges and byzantine bylanes.
With residents' pleas to the MC authorities falling on deaf ears, and the threat of an epidemic looming large, three gutsy women of the Inner Wheel Club (Chirag), its president Ranjeeta Sharma, Shardha Mahant and Upma Mahajan, decided to take things head on. They drafted a memorandum and took appointment with the Deputy Commissioner. The latter reacted with alacrity. The MC authorities were pulled up. The garbage heaps were removed and residents heaved a sigh of relief.
However, a few days later, it was back to square one. And the enterprising club members realised that permanent problems required permanent solutions.
Repaying gratitude in a unique way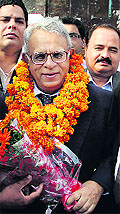 Former acting president of Pakistan, Wasim Sajjad, at his ancestral house in Surajganj locality in Jalandhar. A Tribune file photograph

Former chairman of the Punjab and Haryana Bar Council Navtej Singh Toor's joy knew no bounds after he helped locate Pakistan's former acting president Wasim Sajjad's ancestral house at Surajganj locality near Jyoti Chowk, Jalandhar. He was tipped off by an elderly Tribune reader. The house was located just a few hours before the dignitary's visit to Jalandhar on October 28.
Toor says a leading Pakistani lawyer had helped him find his ancestral house in Sialkot about a decade ago. He had merely returned the favour. Toor was born in Sialkot on October 26, 1946. He was six months old when his family migrated to Jalandhar after Partition.
When he first got a chance to visit Pakistan as a member of a delegation of Indian lawyers in 2004, then vice-president of the Punjab Bar Council, Lahore, Arif Chaudhary, helped him locate his ancestral house on Railway Road, Sialkot.
Toor had earlier helped a Lahore-based advocate, Zair Burki, in locating his ancestral house at Basti Bawa Khel in 2004. Then too he was helped by a few elderly persons of that locality.
Searching roots across border
The ancestral houses of cricketer-turned-politician Imran Khan, late Pakistan president Zia-ul-Haq and renowned Pakistani singer Nusrat Fateh Ali Khan are also in Jalandhar.
Jalandhar has 12 bastis (localities), including Basti Danishmandan, Basti Sheikh, Basti Guzan, Basti Bawa Khel, Basti Shah Kulli, Basti Mithu, Basti Nau, Basti Peer Dad, Basti Bhure Khan and Basti Pathanan. It was in these localities that a majority of Muslims resided before Partition.
Imran Khan's maternal grandfather Ahmad Hasan Khan's house is located in Basti Nau. Muhammad Zia-ul-Haq was born at Aryan Mohalla, Jalandhar, on August 12, 1924. Nusrat Fateh Ali Khan's ancestral house is situated at Basti Sheikh.
Spread over 15 kanals, Imran's ancestral haveli is now with an NRI, Bimla Rani. She lives in England. A resident of the locality, Narinder Kumar Neti, says her late husband, Mohan Lal, had purchased the haveli at an auction for Rs 85,000 post-Partition. Interestingly the haveli housed an evening college till two years ago. The tenant vacated the premises on court directions after a case was filed by the owner.
Nusrat Fateh Ali Khan was born at Lyallpur, now Faisalabad, on October 21, 1948, to a family of qawwals whose lineage went back to one Haji Maroof, who came from Afghanistan and settled in Basti Sheikh, Jalandhar.
Was film title row a drama?
The controversy surrounding Sunny Deol-starrer 'Singh Saab The Great' may have come to an end. But the manner in which it culminated left many baffled. The Akal Takht Jathedar claimed that they had given the movie the green signal after the filmmaker agreed to change its name to 'Singh Saab The Great'. He claimed to have reached this compromise on Friday morning. But the movie posters already put up in the city mentioned its name as 'Singh Saab The Great'.
Interestingly, those protesting against the movie tore posters mentioning the movie's title as 'Singh Saab The Great', contending that the Akal Takht had objected to it. This has left people wondering whether the film's title was already 'Singh Saab The Great' or the filmmaker had changed it well before the Sikh clergy's meeting.
Cong leaders lend a helping hand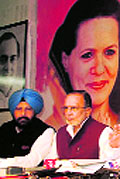 Congress MLA Kewal Dhillon (left) at a press meet in Bhopal. A Tribune photograph

Many Congress leaders have moved to Delhi, Madhya Pradesh and Rajasthan to help their party colleagues in electioneering. Kewal Dhillon, Congress MLA from Barnala, has been in Madhya Pradesh for the past 10 days. While pre-poll surveys have predicted the return of the BJP Government in Madhya Pradesh, Dhillon is confident that the Congress will stage a comeback. "Come counting day and all surveys will be proved wrong," he claims. Kuljit Nagra, MLA from Fatehgarh Sahib, has been campaigning for Sheila Dikshit in Delhi. Former CM Capt Amarinder Singh is to leave for Rajasthan soon.
— Contributed by Sanjeev Singh Bariana, Perneet Singh, Ravi Dhalwal and Dharmendra Joshi