| | | |
| --- | --- | --- |
| | OPED — CULTURE | |
Music, migration and mobilephones
Vandana Shukla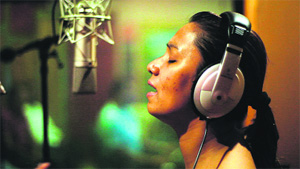 Bidesia in Bambai - Kalpana Patowary, the star of the Bhoupuri music industry records popular songs for the migrants
Social unrest, upheavals and even discontent has sought expression through the various forms of music. Scores of songs emerged around freedom fighters like Bhagat Singh during the struggle for independence — from Bhojpuri to Garhwali and Punjabi. Contemporary times have witnessed unprecedented popularity of Naxalite singers like Gaddar (Gummadi Vittal Rao).
In the classical music tradition, while male artistes were given jagirs and were addressed as Pandit and Ustad, women musicians were relegated to the status of baijis, the class of paid entertainers, not the artistes. The same art that offered men a high pedestal earned social ostracism for women. Their music was not recorded in the granthavalis, their names did not make to the pantheon of great classicists.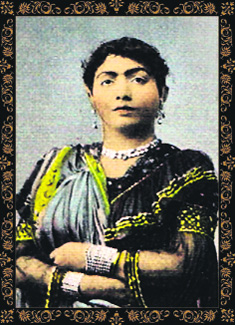 Gauhar Jan is said to have recorded the first 78 rpm disc in 1902. She was never conferred with the title of Ustad or Pandit of music.
Then came technology and it seemed, it will change the rules of the game. It was the women singers, mostly baijis, who courageously modified their art, against the diktat of the shastra to suit the needs of the emerging technology of 'recoded' music. They were also instrumental in popularising the idea of selling or marketing music. When Vidya Shah, Director of "Women on Record," a project supported by the Ford Foundation, researched music of the bygone era, she was surprised to find, in 1900, when gramophone companies came to India, it was only women who ventured out to experiment with the new technology, which required innovative artistry to compress an hour long concert into a three minute rendering for a 78 rmp disc.
But, music traditions fostered and conserved by women failed to bring them the recognition they deserved. Tremendous changes have come about in the social status of women across globe- with socio- political developments in their respective societies affecting their status. For some strange reason, in India, a distinct feminist voice never emerged in the contemporary music. Their creative energies have been used to meet the growing market demand of the so-called love songs and devotional music. We do not have a single all-female band worth mention (barring Viva that disbanded), nor an organically grown music group that would have addressed women's struggle against oppressive patriarchal practices like dowry, female foeticide and sexual violence. It is surprising, while the entire English publishing industry is dominated by women and there are distinct feminist voices in the contemporary literature of the Indian sub-continent, music industry has almost no presence of women as producers.
Women sing only love songs
While the world taps to the beats of changing identities of the Jats, Dalits, Naxals, migrant Biharis or the Blacks, even in the highly dynamic music industry, one rarely gets to hear songs of the women, by the women-- songs of their dilemmas, aspirations and identity, which has undergone tremendous change over time. A major reason behind the absence of women's voice in the Indian music can be attributed to dominence of film music, which largely caters to traditional roles women are limited to, as objects of beauty and desire. Their almost absence from the history of evolution of the Indian music is also attributed to the lack of documentation and research facilities in cultural studies in our country.
Surabhi Sharma, a documentary film maker from FTII( Films and Television Institute of India), Pune, has documented a few unusual journeys of the migrant people and communities in "Jahaji Music," a feature length documentary. Her work is unique, such extensive research on contemporary music that addresses changes taking place at several layers — political, social, gender and sexual, is rarely attempted by a researcher in India.
Surabhi came across an academic work by Dr Tejaswini Niranjana, a Bangaluru based academic, on "Gender Identity and Music" in 2007. Niranjana's work draws on the nineteenth-century travel narratives — anthropological and historical studies of Trinidad, Hindi film music, and the lyrics, performances, and reception of chutney-soca (crossover music) and calypso songs (Afro-Carribean music) of the migrated population of Trinidad. Under this study academics from the third world countries, with minimal research funding, tried to collaborate, outside the university frame to study gender, identity and music in Trinidad and Jamaica. This dialogue was explorative, it was an effort to understand how and why music of the migrants changed. The kind of socio-political influences it absorbed and how the musical grammar respond to these changes.
Politics of rebellion
Remo Fernandes, a well known Goa-based pop musician, whose music reflects multiple influences — Goan, Portugese, Sega, Latin, and the music of the erstwhile European communist states, the dancehalls from Jamaica and Soca from Trinidad, became the narrator for "Jahaji Music." As Remo moves around Jamaican dancehall singers( dancehall is a popular genre of music with reggae, roots and raaga music), recording interviews with the likes of Carlene Smith and Lady Saw, the film opens a new dimension of popular music before the viewer-- that women here articulate and assert their sexuality in the text of the songs and in their body language through performance, not for the pleasure of men, as is the case with most Bollywood songs, but to assert their power through their unbridled sexuality in playful satire, they use to assert their identity.
A woman's body in public sphere is not for male gaze in the path-breaking songs of Carlene Smith, the first dancehall queen. Lady Saw, who rebelled against the desirability of white women, whom she calls "pussy cat" challenges the white woman's status as an object of sexual preference by the bold explicit moves of the voluptuous body of a black woman. She broke the all-male politics of music by becoming the first woman DJ, producer and singer. She said, as long as she sang nice, womanly romantic songs, she was accepted by the music industry, her raunchy music drew battle lines between genders and races. The control over music and the cultural sphere had to be reengineered with the politically volatile music of these artistes who refused to toe the line of nice women's soppy songs.
This highly provocative music evolved as a by-product of rebellion against the racial governments, the heightened awareness and assertion for racial rights turned towards assertion of gender equality in music.
Music of political angst by male groups like, Desperados, Wippa Demus, Jalani Niaah, Sizzla Kalonji, Mighty Sparrow etc. gained popularity for their aggressive tone opposing oppression of the blacks. Their music of rebellion was used by political parties to their advantage, leading to assassination of a few musicians.
There was memory
Descendants of indentured labourers brought from India to the Caribbean between 1845 and 1917, on boats, brought a few belongings and their music with them. The memory of this music, retained through generations, launched the beginnings of a remarkable cultural practice among migrant Indians in Trinidad. For over forty percent of Trinidadians, who identify themselves as Indians, "Indianness" as conceived of and performed has historically been, and will remain, intimately related with what signifies nationalism, gender, culture, caste, race, and religion—in India. The folk songs they carried in memory created a new industry of chutney music in Trinidad, which offers an interesting insight into the status of women. The migrant women were supposed to live up to the values and rituals of the nineteenth century India, they had left behind, as opposed to their male counterparts. As custodians of Indian traditions, women were relegated to living in the past. It was through songs of a few rebellious female singers who exhorted women to get rid of sarees and chunnis, symbols of their slavery, the music and songs began to change. These songs rubbished double standards of the Indian male by giving a playful twist to the text of the songs. With this emerged Trinidad's most dynamic site of cultural negotiation, its popular music chutney soca, a fusion of the Indian folk and Caribbean music, as also calypso music. Here again, the rebellion of the women is a carry over from their angst against the exploitation they suffered from the hands of the sugar planters they laboured for.
Songs of identity
In another documentary by Surabhi titled "Bidesia in Bambai"(both films were screened at Jodhpur RIFF-2013) – migration is the predominant theme, and the phone becomes a recurring motif of migrant identity. Mobile phones are the only way to stay connected with the mothers and wives back home in the village for the migrant, and it is also used to circulate the music. From the songs of the migrants in Bombay, now called Mumbai, Surabhi moves on to explore the production and marketing of the migrant's Bhojpuri music in Mumbai. If the indentured labourers from India had taken their music in their memory to Trinidad, the Bhojpuri migrant carries his music in his mobilephone. His ringtone defines his Bhojpuri identity.
"Bidesia in Bambai" follows two singers in Mumbai, who occupy extreme ends of the migrant worker's vibrant music scene — a taxi-driver chasing his first record deal and Kalpana Patowary, the star of the Bhoupuri music industry. Most migrants in the maximum city inhabit the precarious edges, they live on the margins. Along with their meagre belongings, the impoverished migrants bring a vibrant musical culture that lends distinct identity to them in a hostile environment where the unmistakable political tone of Marathi hegemony often becomes counterproductive.
"Bhojpuri pop music has become a political tool of identity building in Mumbai, performances are built up to give a public face to the nameless migrant," says Surabhi. Their music is produced, circulated and performed in the crumbling sites. The migrant is both the subject of, and the audience for this music. The musical landscape he inhabits mobilises notions of masculinity, gives a footing to his identity, makes tangible his desire for a place in the city and evokes his longing for home. The folk tradition reinvents itself to suit modern tools of technology — the mobilephone, by modifying its tone and tenor to meet the needs of migrant's identity in a new location.
Carried in the memory, recorded for gramophone or, ringing in mobilephone, music continues to create distinct identities in a global village. And a village it remains. A migrant tells the interviewer, there is hardly any power in the ares he inhabits in Mumbai, making it hard for him to recharge his mobilephone.


On a different note
Dalits and the dispossessed, who remained on the lower rungs of society, gave expression to their angst through folk songs and folk theatre in the past.

Dalit pop, a new genre, is making a caste-defying statement in Punjab. Roop Lal Dhir has crooned many numbers glorifying Ramdasiyas. Dalit distinctiveness is proudly flaunted in titles like "Cool Chamar", "Kattar Chamar", "Lion Chamar" and S S Azad's "Ankhi Putt Chamaran de".

It is a banned word - The use of the word 'Cha¬mar' attracts punishment under the SC/ST Act. The singers claim it as a statement of pride.