The difference between being elected and being re-elected is whether, if you are elected, you are prepared to clean up the mess left behind by your predecessor, or if re-elected, you intend to continue making a mess of governance yourself.
Unlike his Indian counterpart Dr Manmohan Singh, who was elected in 2004 and then re-elected in 2009, Nawaz Sharif has never enjoyed a consecutive term as Prime Minister. On each occasion — in 1990, 1997, and most recently in 2013 — he has had to clear someone else's mess.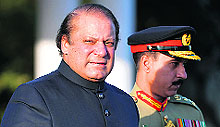 Sharif's governance has the informality of a family business.

Such stop-start mandates would challenge any leader. Sharif cannot hope to be an exception. His reluctance to govern is not feigned. It is born of an insecurity which has taught him to mark first the exit door.
Fourteen lean years in exile separate July 1999 — the year he made a quick unscheduled dash to elicit the then US President Clinton's support for a resolution of the Kargil crisis — and October 2013, when he spent an unhurried 90 minutes with US President Barack Obama in the Oval Office. In 1999, Sharif feared a coup by General Musharraf; in October 2013, he went as the Truman confidently prepared to choose his own General Macarthur.
General Kayani, however, did not wait to be fired or booted upstairs. He announced on October 6 that he would retire as Chief of Army Staff (COAS) on November 29. Kayani had become COAS in 2007 after 'persuading' his boss Musharraf to leave. In 2010, he was given an extension of three years (with President Zardari's consent) by Prime Minister Yousuf Raza Gilani (PPP). He was not prepared to accept the crown a third time.
However altruistic Kayani's motives may have been, Kayani's announcement has sent a clear message to any would-be Bonapartes within the Pakistan army. "As I complete my tenure," his requiem reads, "the will of the people has taken root and a constitutional order is in place. The armed forces of Pakistan fully support and want to strengthen this democratic order." The last general who thought like that was an Indian — Gen Sam Manekshaw who as COAS reassured Mrs Indira Gandhi that he did not pose a threat to her prime ministership.
Whoever Sharif may be considering as Kayani's replacement, should be prepared, like Prince Charles, for a long wait. Sharif has yet to decide which of his two advisers on foreign affairs — Sartaj Aziz or Tariq Fatemi — should be the 'de jure' Foreign Minister.
Sharif's style of governance has a light touch to it. It has all the informality of a family business. He has delegated the erratic economy to Ishaq Dar (whose son Ali is married to Sharif's daughter). He has left the volatile security situation to Nisar, a loyalist 'sans pareil'; and has farmed out the Punjab to his younger brother Shahbaz Sharif.
There must be moments when Sharif must envy the comforts of the presidency to the hurly-burly of prime ministership. His detractors, of whom Imran Khan has become the most vocal, accuse him of seeking solace in foreign trips instead of tackling the real issues such as education, health, water, housing, population control, food security, internal security, and spilling over them all, provincial disharmony.
As much as Sharif would wish otherwise, his brother's Punjab is not Pakistan. An MQM-PPP dominated Sindh is a headache; Balochistan is a tribal and troublesome expanse; and Khyber-Pakhtoonkhwa is the migraine that will get worse by 2014.
When Imran Khan's Tehrik-e-Insaf won the toss in the last general election, it had not anticipated to be called to bat so soon. Nor had it expected to field bullets and drones. Circumstance has made Imran Khan a born-again pragmatist. His call for negotiations with the Pakistan Taliban echoes Nelson Mandela's sage observation: "If you want to make peace with your enemy, you have to work with your enemy." The second part of Mandela's advice — "then he becomes you partner" — may be more difficult for his coalition KPK government to swallow.
By the end of this year, there will be a new army chief and a new Supreme Court Chief Justice in place. It is unlikely that the new incumbents will want to continue with the trial of General Musharraf for treason. Revenge is a dish best eaten cold; it is unsafe when stale.
By this time next year, there will be a new Afghan leader elected in place of the papier-mâché president Karzai and in New Delhi, there is a real (and frightening) possibility that Narendra Modi may be India's next Prime Minister. Modi wears half-sleeve shirts; Sharif should not be surprised when Modi keeps nothing up his sleeves.
Domestic imperatives apart, the challenge for Sharif in 2014 will be his ability to manage these important changes simultaneously on his eastern and western borders.
The writer is a Pakistan-based columnist