Breaking the Punjab cartel
The recent successes police has had against smugglers in Punjab, especially with the arrest of ex-DSP Bhola, may only be an indicator to the scale of the drug trade in the state. Any lasting curb on the business would depend on how the investigations negotiate the politics they have triggered.
Aman Sood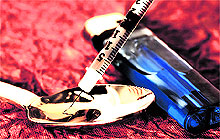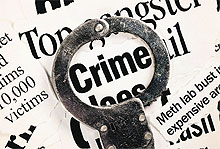 For long it has been recognised that a high percentage of the youth in Punjab has been ruined by addiction to drugs, and that the state is a major transit point in the international drug trade. Recent busting of the Bhola-Kahlon gang has, however, exposed altogether new aspects of the mess — production of narcotics in the state and involvement of drug money in politics.
The picture becomes progressively clearer as the various dots from the investigation are joined. The entire canvas is, of course, yet to be revealed.
The Punjab Police has put the worth of the international racket busted thus far at $300 million in the "international market". The operators interacted closely with politicians, sportsmen, police officials, industrialists, NRIs, and even some Punjabi singers. It is an industry straddling virtually the entire state.
Kahlon first catch
It was in March 2013 that the first chapter of the sordid tale opened with the Fatehgarh Sahib police arresting Anoop Singh Kahlon, an NRI, and seized 26-kg drugs valued at Rs 130 crore. His questioning revealed the kingpin was Jagdish Singh Bhola, a dismissed DSP of the Punjab Police, who procured drugs from across the border and supplied them to other parts of the country.
According to HS Mann, Patiala SSP, Bhola used his connections to identify factories that had the expertise and resources to produce Ice — the popular name of methamphetamine, a powerful psycho-stimulant that is much in demand in high-profile party circles. The police, however, could not lay their hands on Bhola immediately.
But Kahlon's grilling led the police to arrest Ram Singh — an Olympic medallist himself and roommate of famed boxer Vijender Singh at the National Institute of Sports, Patiala — who was also employed with the Punjab Police under sports quota.
Investigators had earlier claimed Ram Singh had "admitted" he was in touch with Kahlon since 2007 and had introduced Vijender to him a year ago. The NRI and an accomplice, Rocky, were arrested after 26 kg heroin and certain chemicals were seized from Kahlon's house in Zirakpur.
Later Vijender — also a DSP with the Haryana Police — was also summoned, but he failed to join the investigations. After being incommunicado for a fortnight, he answered queries of the Punjab Police, following which he was let off, with the police saying he was only a consumer, and not a peddler.
The kingpin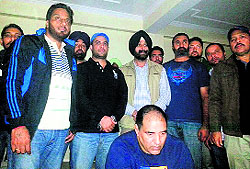 Jagdish Bhola (sitting) along with the Patiala police team in New Delhi on the day of arrest.

Bhola, on the run since March 3, 2013, when his Mohali residence was raided, evaded arrest all this while, i.e., till November 11, when a team led by Banur SHO Bikramjit Brar arrested him along with four associates at Ghanaur, 12 km short of Murthal on the GT Road, near New Delhi. Synthetic drugs "worth Rs 18 crore" were seized from them, according to the police. "The operation was planned with the counter-intelligence unit of the police," said Brar, who is now the investigating officer in the case.
The Patiala SSP then told the media Bhola was the mastermind of the racket, which was jointly exposed by police officials from Jalandhar Rural, Fatehgarh Sahib and Patiala districts.
The four arrested with Bhola were identified as Sarabjit Singh Saba from Amritsar district; Harpreet Singh from Jhabal in Tarn Taran district; Baljinder Singh, also from Tarn Taran; and Ravinder Singh from Sonepat in Haryana.
The drugs seized included 10 kg pseudoephedrine (a precursor chemical) worth Rs 10 crore; 1.5 kg Ice (methamphetamine) worth Rs 7.5 crore; and 600 gm ephedrine (a precursor chemical) worth Rs 60 lakh. The worth is as per the price assessed by the police "in the international market".
Sports connect
Even as Olympic medallist Vijender denied any links with the arrested accused, sportsmen per se came under the spotlight. In the recent past several sportsmen of national level have been arrested for their involvement in crime. In the Vijender case, the investigators have yet to establish how his car reached Zirakpur when he claims he had parked it at NIS, Patiala.
Bhola himself was a former decorated wrestler, even honoured with the Arjuna Award, Bharat Kesri and Rustam-i-Hind titles. He was recruited by the state police as a sportsman, and rose to become a DSP. After his nefarious activities came to light, Bhola was dismissed in 2004. He had even worked in a Punjabi film. Kahlon too was a former national-level sportsman.
The producers
The police has thus far uncovered two important supply chains of precursor chemicals (ephedrine and pseudoephedrine) used in manufacture of Ice — Jagjit Singh Chahal of Amritsar district and Manjinder Singh Bittu Aulakh, a resident of Preet Lari village in Amritsar, who are now under arrest.
Chahal was operating three pharmaceutical factories manufacturing ephedrine and pseudoephedrine, which were allegedly diverted illegally for the production of Ice. Chemicals worth Rs 925 crore were seized from two factories — MBP Pharmaceuticals and Montek Bio-Pharma — in Baddi, Himachal.
Aulakh — who owns Sanjog hotel in Amritsar, was close to Khadoor Sahib SAD MP Rattan Singh Ajnala and his MLA son Amarpal Singh Bony. The police suspect Aulakh used cars deployed in the politicians' security on two occasions to smuggle contraband. His links with other politicians are being probed. Several cars owned by Aulakh and bearing the number '0001' have been seized, besides multiple mobile numbers. Aulakh paid lakhs for the special numbers.
NRI net
There has been an intricate network in place to supply synthetic drugs to markets in Europe, Canada and the UK. More than 50 NRIs role is suspected in this nexus. "Many of them been identified and would be arrested soon," SSP Mann said.
Most drugs are believed to have been transported out of India by air cargo, though some went through human couriers too. Contraband would be hidden in cavities cut out in legitimate goods.
In some instances, sports clubs based in Canada and Europe were also used for distribution of the contraband through NRIs who visited India on the pretext of organising sports tournaments.
There were also Chinese, Vietnamese and people of other nationalities involved in the preparation of the synthetic drugs, specially brought to India to ensure 'quality control' in manufacture.
The investigations are still going on, and there is a lot that may yet be revealed. As some police officials say, this is just the tip of the iceberg. But as political pressure mounts following the arrest of associates of politicians, the police is beginning to become reticent in giving out details of the investigation. Hope the probe itself does not go cold.
Innovation at work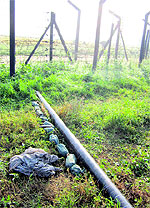 Smugglers keep innovating ways to smuggle in the contraband from Pakistan. Among the devices used are passing of heroin packets through PVC pipes pushed across the barbed wire on the border, packets concealed in cavities inside farm implements and equipment. Some farmers are also involved in this. Some smugglers are trying to take on lease agricultural land on the Pakistani side close to the border to facilitate smuggling. Trains and trucks coming from Pakistan too have been used. The beds of Ravi and Sutlej rivers also helps them.
— R.P.S. Jaswal, bsf dig (punjab frontier) at headquarters in jalandhar.
Heroin high
Heroin is the buzzword now. Over 70 per cent of youth in border districts are hooked to drugs due to the easy availability. Most use heroin, as it is becoming difficult to procure cough syrups and other synthetic drugs in high quantities.
— Dr Ramesh Mahajan, project director of the red cross de-addiction centre, gurdaspur
Way to crime
The worst part is that young boys who are addicted to drugs take to crime to earn a quick buck. Nearly all snatching activity in the Doaba region are done by youngsters hooked to heroine or synthetic drugs. Some girls have been booked too.
— Rajinder Singh, sp (detective), jalandhar (rural)
Cash-rich NRIs
NRI peddlers based in Canada or the US make use of courier services for ferrying drug-laden capsules from Punjab. There is one giveaway applicable in most cases, if not all — any NRI visiting Punjab and spending a lot of money on games, political activities or show-off would be involved in some illicit activity, most likely drugs.
— Tarlochan Sohal, a deputy sheriff of merced county in california who has experience in drug-related cases. he is from authaula village on the jalandhar-kapurthala road.