Brit-Asian cinema documenting flux
The South-Asian diaspora in the UK has explored the popular medium of films to introduce its cultural and political dilemmas to a wider audience. In the process, these films have drawn similarities between the dissimilar cultures.
Gagandeep Singh
No other medium has narrated the British Asian's struggle for survival in the UK more precisely than the British-Asian cinema. Asian-themed films have vigorously voiced the Brit-Asian community's feelings, sufferings and the issues they have been facing in their daily lives — socio-political segregation, racism, identity crisis, sexism, male dominance, women's issues, generation and cultural clash, and arranged and forced marriages.
The Asian themed films, rather low on budget, have not only been commercially successful, but have also gained critical acclaim. They have succeeded, in an inadvertent manner, underlining similarities between the loud Punjabi and the British, with their proverbial stiff upper lip.
Britain boasts of being one of the finest multicultural countries in the world, where the migrated, coloured people like South-Asians have been living with a sense of freedom and equality. The reality could be quite the opposite of this claim.
The communities, mostly Punjabis( Indian and Pakistani) and Gujaratis, who migrated from the region in the 1950s and 60s, had to experience a very segregated social structure — they faced racism on the basis of skin colour, religion, cultural symbols and attire —like the turban of the Sikh men and salwar kameez of the Punjabi women. Then, there was a cultural clash within the family with western influences entering Asian homes and the resistance to maintain the village culture they had left behind in the 50s and 60s.
It was towards the mid 80s that, for the first time the Asian community began to look at the peculiarity of their social strife through their own cinema, offering a pungent mix of freakishness of the Asian family that was both tragic and comic.
Racism, gender and homosexuality
The Oscar nominated "My Beautiful Launderette"(1985) illustrates the British reality of the 80s, during Margaret Thatcher's Conservative government. The film represents the time, when the idea of jingoistic nationalism and patriotism was getting rekindled. Written by well-known mixed-race British author Hanif Kureishi and directed by Stephen Frears, the film diligently explores the problems of classism and racism in the UK.
The middle-class business people including Brit-Pakistani and British white own the very similar interests and issues; thus, they often remain engaged in parties and meetings without any discrimination against each other. However, blue-collared British working-class feels envious and has ill-will towards the Brit-Asian's rise to the middle class. They are begun to be seen as racist thugs.
The film addresses the gender prejudice, which isn't so uncommon among the South-Asians. On the other hand, interracial homosexual relationship, which is forbidden by both British and Asian societies, is also captured very explicitly. Both Omar and Johnny are engaged in an intimate relationship that challenges their respective orthodox cultures. Nasser's brother Hussain insists that he leave UK to go back home, in Pakistan. However Naseer privileges the Britishness, he says, "...that country (Pakistan) has been... by religion...it's a little heaven here." That was perhaps the reason, many Asians who went to UK to earn money, never returned home.
All about Punjabi women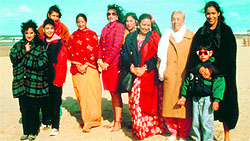 "Bhaji on the Beach" Asian women in their attire of the 60s on a beach in the UK.

Gurinder Chadha introduced the Punjabi family to the international audience with her multiple theme narratives with great verve. Her critically acclaimed, "Bhaji on the Beach "(1992) invokes Birmingham based Asian women's problems rather comically. The film, co-written by renowned screen-writer and actress, Meera Syal, explores the cultural conflict and racism, at the same time it examines almost all the spheres of Brit-Asian women's lives. Most of the leading characters in the film are either fed-up or frustrated with their monotonous family and working lives. The young woman Harshida, at the receiving end of racial bias, is paranoid about getting pregnant with a black guy. "Couldn't she find men in our own community? It's not about colour. It's about culture," reflects compulsions of hypocrisy within the community.
While it captures the brutal reality of racist Britain at a service station where some white youngsters abuse them and spit at the back of Simi, the sensitive issue of matrimonial disputes and domestic violence are balanced against the larger social issues. Ginder is looking for some respite from her traumatic married life, a victim of an abusive husband. The kind of tedious and medieval lifestyle Asian women have been carrying-on in the UK is contrasted by a woman visiting them from Bombay, who finds their attire old-fashioned, keeping India of the 60s alive in the UK. When these women see white people enjoying on the beach, it stirs many questions in their minds.
Love-cum arranged marriage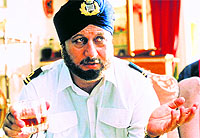 Anupam kher in "Bend it like Beckham"

The hilarious narrative of "Bend it Like Beckham"(2002), another of Gurinder Chadha's films, offers a panoramic view of the traditions of a Punjabi Sikh family, living in west London. The conservative Brit-Sikh value system— arranged marriage, family above all and the honour of family, is in danger of collapse by their younger daughter, Jess (Jasminder Bharma), who falls in love with soccer. She is inspired by David Beckham and has his posters and jersey decorating her bedroom walls. She wants to emulate his prowess in the game, but is kicked for not being domesticated and feminine by her family.
The film focuses on the Brit-Asian parents' desperations who expect their children to repeat the lives they had lived. Jess's parents, particularly her mother, wants her to be a well-cultured girl and cook "aloo-gobhi and round round chapattis." The way Asian diaspora celebrate their marriage rituals is presented realistically through the marriage ceremonies of Pinky, the older sister.
Similarities are drawn with the white families, Jules' mother insists that she stop playing football and find herself a boyfriend. Intercultural communication and cultural shocks are the additional aspects. It astounds all of Jesse's co-players from different ethnicities in a dressing room when she explains who she could marry as per her parents' instruction, only an Indian boy not a white, black and not under any circumstances a Muslim, which defines Asian stereotyping.
The film depicts a popular way of getting married among the Asians, which is love-cum-arranged marriage as Pinky, finally gets married to a person she loves, with the consent of her parents.
Cultural clash and identity crisis
Ayub Khan-Din's semi-autobiographical "East is East" (1999) portrays generation and cultural conflict within a mixed-race family living in a north England town, Salford, in the early 70s.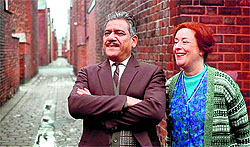 Om Puri as George Khan and his English wife Ella Khan (Linda Bassett) in "East is East."

George (Zahir) Khan, played brilliantly by Om Puri is a hypocrite, feudal, Asian father, who himself has been re-married to a British with an Irish Catholic background, Ella Khan, yet he wants his mixed race offspring to follow a proper Pakistani and Islamic identity, for instance speaking Urdu at home, going to the Mosque and reciting holy Quran. Above all he forces his boys to marry only Pakistani Muslim girls.
But his children want British- style independent lives. They see themselves more British than Pakistani. A significant topic of repatriation of immigrants is taken into a brief consideration with one of George's neighbors, who is a hardcore follower of Conservative politician Enoch Powell, who delivered the anti-immigration speech in 1968, which became known as the 'river of blood' speech.
The sequel "West is West" (2011), came more than a decade later, the narrative begins some five years after "East is East" ended. It was based on a real trip Ayub Khan-Din took to Pakistan when he was a boy. In the film George took his youngest unruly son to Pakistan to help him understand his roots.
The film becomes memorable by the meeting of George's abandoned wife of thirty years who stands for traditional values and notions of self-sacrifice, patience, and commitment towards family, despite her bitterness, and that of George's English wife. Both learn to accept each other by forgiving the man they both loved.
Sarah Gavron's directorial debut "Brick Lane"(2007) is poetic in exploring the stifled desires and pent-up feelings of a Muslim woman, Nazneen, who migrated to England from Bangladesh as a teenager after getting arranged married to a man, Chanu, almost double her age. The film was adopted from Monika Ali's controversial novel of the same name.
Reverse migration
Adapted from Hanif Kureishi's short story, the film "My Son the fanatic "(1997) directed by Udayan Prasad gives an insight into Brit-Muslim's second generation's anti-western stance and their urge to resurrect Islamic fundamentalism among the Brit-Muslims.
The narrative deals with a conflict between a liberal father, Parvez, who is satisfied with the idea of Britain and his son Farid, who sees Britain full of immorality, corruption and sins.
Farid ends his engagement with British white girl Madeleine because he believes she doesn't fit into the Islamic culture. ''They live in pornography and filth and tell us how backward we are'', he turns downs the English community.
But, the most humanising tale of the Asians living in holes like frightened pigeons comes from "Brothers in Trouble", ( 1995) a brilliantly realistic film on the plight of smuggled, illegal workers brought to England in the 60s, who struggle to save some money to send back home while living under constant fear of being caught and deported. Their tale of inhuman exploitation and humanising association with a white girl makes this film grow beyond the bracket of a Brit-Asian cinema. The struggle of its three-dimensional characters is universal.
Changing identities
The Brit-Asian films made in the initial phase were issue-based, like the Oscar nominated "My Beautiful Launderette"(1985), written by Hanif Kureishi. This was followed by Ayub Khan Din's screenplay for "East is East"(1999) and "West is West,"(2011). The portrayal of the Asian migrant family in these films was dark.
Gurinder Chadha's films, co –authored with Mira Syal, offer an all-embracing warm and affectionate tone of the cultural strife experienced by the Punjabi migrant community.
Post 9/11 the Brit-Asian community has fragmented along religious lines, between Muslims and non-Muslims. The second and third-generation British-Asian film makers, from non-Muslim backgrounds, are inclined to make genre films. But, writers and film-makers from Muslim backgrounds find their personal stories are of ever-greater interest.