PU to open fourth gate
Chandigarh, November 17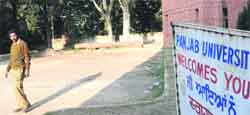 Panjab University (PU) will soon have a fourth gate near the law department to regulate increasing traffic on the campus. The gate near the law department was closed due to security reasons about two decades ago.
A security guard stands next to the boundary wall adjacent to the PU Law Department where the fourth gate of the Panjab University campus will be opened. Tribune Photo: Manoj Mahajan
CBI denies receiving complaint from accused
Chandigarh, November 17
Even as a rape accused, who levelled allegations of bribe against an Additional District Judge, said he had submitted a separate complaint to the CBI, the investigating agency said today that no such complaint had been received by it so far.
Fleeing Honda City driver drags cop up to 1 km
Chandigarh, November 17
A youth driving a Honda City car critically injured a head constable of the UT Traffic Police as the former was trying to escape from the police at a barrier at the Hallomajra light point last evening. The head constable, Rajinder Kumar, was dragged on the bonnet of the car for more than a kilometre until the accused was nabbed by the police at The Tribune roundabout.
Improved supply brings down veggie prices
Chandigarh, November 17
In a big relief to city residents, the price of onion has come down to Rs 40 at Apni Mandi after remaining above Rs 70 for the past four months. The onion prices rose during the monsoon this year and had consistently remained high varying between Rs 70 a kg and Rs 100 a kg, both at Apni Mandi and in the retail market.



Better Chandigarh
Stray dogs continue to haunt city residents
In a survey conducted in 2012, the UT Animal Husbandry Department pegged the number of stray dogs in the city at 7,847. Whether the residents are walking up to markets or enjoying a walk in the green belts, they are not spared from the menace of stray dogs. While last year, the civic dispensary in Sector 19 (dedicated dispensary for treating rabid bites) reported a total of 601 cases of stray dog bites, the number touched 4,689 till November 14 this year.



(1 to 3): An aggressive dog at a market in Sector 21; stray dogs at a park in Mauli Jagran; and a dog runs in the middle of a road near the Railway Station in Chandigarh.
Service tax 'illegal', says lawyer
Chandigarh, November 17
A city-based advocate has given a representation to the Department of Revenue, Ministry of Finance, Government of India, demanding prohibition of levying of service tax on restaurants and eating joints.
381 die every day on Indian roads
Chandigarh, November 17
City today observed World Day of Remembrance for the Road Traffic Victims (WDR) amidst a programme at the Sukhna Lake.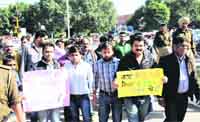 Protest against 'Ram-Leela' movie
Chandigarh, November 17
Yuva Shakti Foundation today held a protest against screening of Sanjay Leela Bhansali's recently released movie 'Ram-Leela' near press roundabout lights at Sector 9 here today.
Members of the Yuva Shakti Foundation hold a protest at Sector 9 in Chandigarh on Sunday. Tribune photo:
Huge turnout at book fair
Chandigarh, November 17
Huge turnout of people on the fifth day of the Chandigarh Book Fair at the Parade Ground at Sector 17 proved that books have not lost importance. Families came in droves with children buying colouring and activity books, and being enticed to read the illustrated classics, available in many languages.
Erratic water supply irks residents
Mohali, November 17
Residents of Phase IX, X and XI and Saneta village are irked due to erratic water supply in their areas.
310 benefit from Shagun Scheme: DC
Mohali, November 17
The district authorities have distributed an amount of Rs 46.50 lakh among the underprivileged, reserved categories families and widows, under the Punjab government's 'Shagun scheme' during this financial year.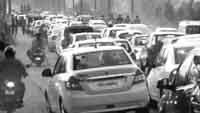 Traffic jam tests patience of commuters
Panchkula, November 17
On the occasion of Gurpurb, a bumper-to-bumper traffic was witnessed on the routes leading to Nada Sahib Gurdwara in Panchkula today.

There were traffic snarls on the eve of Gurpurb on the Majri chowk-Nada Sahib Gurdwara road in Panchkula on Sunday. Tribune Photo: Nitin Mittal
A noble cause served on Gurpurb
Panchkula, November 17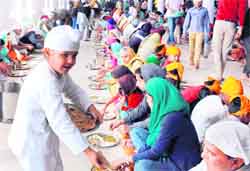 On the occasion of Gurpurb, the police officials of the Panchkula-Ambala Commissionerate assembled at the Sector 14 Police Community Hub to donate clothes and other articles to the needy.





A young devotee distributes langar on the occasion of Gurpurb at a gurdwara in Mohali on Sunday. Tribune photo: Vicky Gharu
Kathak fest concludes
Chandigarh, November 17
Dazzling 'kathak' performance of Bhopal-based Srishti Gupta of Raipur Gharana and a Delhi-based dancer Amit Khinchi concluded a three-day long Kathak Festival organised by the Pracheen Kala Kendra at the MS Randhawa Auditorium, Punjab Kala Bhawan, Sector 16, here today.
Students threaten to intensify protest
Chandigarh, November 17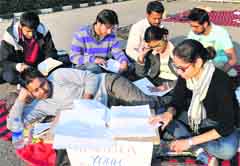 The protest by students outside the Vice-Chancellor's office against the fee hike entered its third day today. The students said they would not call off the stir until their demand was met.





Students sit on a protest outside the Vice-Chancellor's office. Tribune photo: Manoj Mahajan
10-15% fee hike in private schools from next session
Chandigarh, November 17
Private schools in Chandigarh are revising their tuition fee from the next academic session, putting more financial burden on parents. The hike to the tune of 10 per cent to 15 per cent is expected across all private schools.
Panjab varsity justifies hike in tuition fee
Chandigarh, November 17
Panjab University has justified the hike in tuition fee implemented recently for the first-year students of various courses of the university. For the past six years, there has been no increase in the tuition fee and other charges for any course in the university and it had become necessary to cut down the deficit in the annual budget of the PU.
Mohali student brings laurels
Mohali, November 17
Maninder Singh, a CSE student of the Quest Group of Institutions, brought laurels by winning top honours in the Inter-College Debate Competition of National Punjab Education Summit and Awards-2013, here.