OPED —

Sports
There is a case for legalising betting
Illegal betting is growing alarmingly with organised crime syndicates getting involved. It is perhaps time for a rethink.
Dr Ashutosh Misra
Having worked on integrity related issues in sports at the Centre of Excellence in Policing and Security for many years in Australia, it is possible to see the pragmatism in CBI Director Ranjit Sinha's suggestion on legalising betting in India.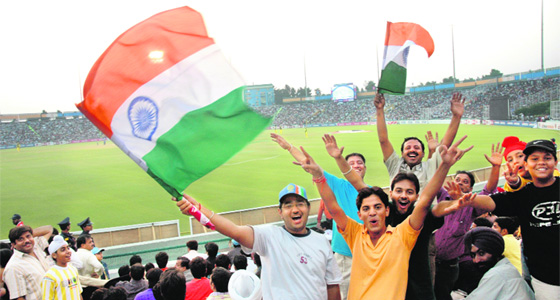 It's in the interest of licensed betting operators that their industry is not taken advantage of by match-fixers, as much as it is in the interest of cricket and its fans.
Make no mistake, the world of illegal betting is growing alarmingly with deep involvement of the organised crime syndicates who use the proceeds to fund their activities further. India is no stranger to this trend where match fixing in cricket in the 1990s had brought the sport into serious disrepute and the image took a further beating in the wake of Indian Premier League match-fixing scandals. It simply reveals the perils of running a loosely regulated enterprise. As per one bookie, most of the match-fixing profits end up in Dubai in syndicates run for decades by Dawood Ibrahim. Therefore, it should not take much convincing to argue a case for legalising and regulating a highly lucrative betting market in India.


Shocking ExposÉ
In 2013, the biggest-ever investigation revealed around 380 suspected matches, including World Cup and European Championship qualifiers, were fixed by a crime syndicate in Asia.
Betting legal in Australia
Sport betting in Australia is legal and regulated through various laws, which enables sports bodies and law enforcement agencies to protect sports from match-fixing and drug-related offences.
Soccer gambling operations
In a series of raids, Interpol has made over 7,000 arrests and seized over $27 million in cash and unearthed $2 billion worth of betting across China, Hong Kong, Malaysia, Singapore, Indonesia, Vietnam.
Fixing cricket
One of the earlier instances of players placing bets was in 1981. Australian cricketers Dennis Lillie and Rodney Marsh placed bets against their own team in a game they were playing against England. They made 7,500 pounds by placing a mere 15 pounds.
Waugh & Warne
Australian players Shane Warne and Mark Waugh took money from bookies in 1995 to pass on team and pitch information. A year later, they admitted the wrongdoing. They were let off with fines.
Cronjegate
In 2000, the Delhi Police stumbled upon a conversation between South Africa skipper Hansiwe Cronje and an Indian bookie. The police claimed that Cronje fixed the ODI games against India. The skipper was sacked and later died in a plane crash.
Big, fat Indian betting
Manoj Prabhakar stirred the hornet's nest when, in May 2000, he claimed Kapil Dev had asked him to underperform in 1994. IT officials carried out raids at the houses of several cricketers. In 2000, Mohammad Azharuddin was found guilty of match fixing and was banned for life. The others to face the brunt were Ajay Sharma (banned for life), Ajay Jadeja and Manoj Prabhakar.
Pak's spot of bother
After Salim Malik was banned for life for match-fixing in 2000, Pakistan's most embarrassing moment came in 2011 in England. Salman Butt, Mohd Aamer and Mohd Asif were sent to prison for bowling no-balls as per arrangements with bookies. The ICC banned Butt for 10 years, Asif for seven and Aamer for five.
IPL controversy
The BCCI billion dollar baby, IPL, met embarrassment in 2013. Rajasthan Royals players Sreesanth, Anket Chavan and Ajit Chandila were arrested for spot fixing. Chennai Super Kings' Gurunath Meiyappan was arrested on charges of betting.
— Subhash Rajta
Gambling and betting remains generally unlawful in the subcontinent, barring Nepal. But thanks to proliferation of match-fixing cases in cricket involving millions of dollars, a realisation has set in among scholars, sports bodies and commentators and law enforcement agencies for legalising gambling and betting.
However, the controversy is understandable, given India's historical and cultural inhibitions rooted in the epic gambling face-off (the 'chowsar') between the Kauravas and Pandavas to settle their contestation over power, which inadvertently led to the ugly outraging of a woman's modesty. The 21st century Indian mindset still clings on to those mythological events, when it should be awakening to the times we inhabit in. Gambling is still regulated through the outmoded 19th century British colonial era legislation on public gambling — the Public Gambling Act of 1867 wherein the punishment prescribed is very minimal sans any serious deterrence to offenders. So where is the deterrence, let alone the regulation in the first place?
Global phenomenon
Shouldn't then, at least a debate begin over the prudence of legalising betting in India to preserve integrity of the sports, including cricket which Indians adore? Several Indian police officials have served in the International Cricket Council's anti-corruption unit and now India has become the fourth country to set up the anti-corruption unit in cricket after Australia, Pakistan and England. Shouldn't such measures be supported through improved and innovative legislations and regulations?
It is already happening globally. Preserving the integrity of sport has become a major concern for sports bodies and law enforcement agencies alike worldwide and the transnational nature of threats to sport integrity has made the task all the more challenging. The growing involvement of organised crime syndicates in match-fixing, illegal betting and distributing prohibited drugs among athletes has grown alarmingly in Asia, Europe, Latin America and the US. Globally 60 per cent of the match-fixing and illegal betting occurs in soccer, followed by 15 per cent in horse-racing and cricket and 5 per cent in tennis and other sports.
In February 2013, following the biggest-ever investigation, the shocking exposé revealed that around 380 suspected matches, including the World Cup, European Championship qualifiers and Champions League, were fixed by an organised crime syndicate in Asia, involving around 425 match/club officials, players and criminals across 15 countries. Deeply concerned with growing corruption and criminal activities in football, Fédération Internationale de Football Association (FIFA) and Interpol signed a 28 million euros 10-year agreement in May 2011 to curb and prevent Asian based match-fixing and illegal betting in sports.
Soccer saga
Over the years, in a series of raids knows as SOGA (soccer gambling operations), Interpol has made over 7,000 arrests and seized over $27 million in cash and unearthed an overall $2 billion worth of betting from illegal dens across China, Hong Kong, Macau, Malaysia, Singapore, Indonesia and Vietnam. In 2011, the president of the International Olympic Committee JacqueRogge, identified gambling-related corruption as the biggest single threat to the integrity of international sport. The IOC also through its founding working group established the Fight Against Irregular and Illegal Betting in Sport in March 2011.
In Australia, sport betting is entirely legal and regulated through various Commonwealth, state and territory laws and regulations which enables the sport bodies, sporting codes and law enforcement and regulatory agencies to preserve sports from match-fixing, illegal betting and drug-related offences in sports. The 2013 Australian Crime Commission report highlighted that Australian sport is not immune from this corruptive influence and recommended stricter legislations to further regulate the sport betting industry. Financial Action Task Force in Australia also recognises that the sporting industry is one of the many sectors that is attractive for criminals for money laundering.
Across the law enforcement agencies, regulatory authorities and academic experts there is a common belief that there existed an utter disregard by the sports industry for self-regulation in Australia which is now being addressed. In June 2013, the Parliamentary Joint Select Committee on Gambling Reforms submitted its inquiry report which recommended that the sport industry needed to self-regulate its gambling policies pertaining to gambling products and advertisements, failing which the government and government agencies should create appropriate legislation on gambling in sports. In October 2012, a National Sport Integrity Unit was created for controlling gambling-led corruption and other illegal and unethical practices in sport. Owing to these measures, Interpol officials have acknowledged that Australia's betting regulations, law enforcement and executive response mechanism are considered of a high standard for preserving integrity in sport.
Unlicensed betting
According to UK-based sports corruption expert, Prof Jack Anderson, unlicensed betting operators operating online and offshore have caused problems for the proper regulation of the industry in the UK, other EU states, and the US and in Australia breaches of the Interactive Gambling Act 2001 have been brought to the attention of the Australian Federal Police with increasing frequency. Until recently, there was a lack of intelligence concerning the links of organised crime and gambling led sport corruption in Australia.
In Australia, as Inspector Jason Saunders of the Queensland Police puts, from being a blind spot of the law enforcement agencies once, now sports corruption, including illegal betting and match-fixing, receives deeper attention. Previously, it remained largely within the domain of sport controlling bodies and regulators and police involvement was purely reactive. Now there is more information sharing between law enforcement and the sports controlling bodies occurring which facilities effective policing of match-fixing. Saunders reasons that the traditional views and priorities of Australian law enforcement agencies have begun to change, including those relating to gambling led corruption in sport and its relevance to and potential impact upon organised transnational crime.
Similarly, with rapid advancement in technology, cyber crime and online fraud has also been seen strategically as a priority issue. The proliferation of online betting and gambling and the rapid development of exotic or spot betting have exposed sport to vulnerabilities of transnational and organised crime involvement. Police agencies in Australia now recognise the threat from gambling led corruption in sports. In February 2013, the Victoria Police created a Sporting Integrity Intelligence Unit (SIIU) and a specialised squad to investigate the allegations of organised crime in sport and other states are also contemplating similar measures.
Coordination, collaboration and information sharing between the number of law enforcement and monitoring agencies, sporting controlling bodies and other stakeholders, including gambling industry, has been stepped up in Australia. The rationale is that in a robustly regulated setup substantial and unusual bets can alert the receiving operator and that information can be passed onto the rest of the betting community and to the sports authorities in question. It is also in the licensed betting operators' interest that their industry is not taken advantage of by match-fixers, as much as it is in the interest of sports itself.
Why should then India shy away from at least debating the merits of Ranjit Sinha's remarks? In all fairness, as Rahul Dravid remarked, it was time for legal reform and the turn of national and state legislature and the criminal law administration to intervene. India can learn a great deal from the Australian experience to preserve the integrity of sports.
The writer is Associate Investigator, ARC Centre of Excellence in Policing and Security, Griffith University, Australia