Man dies of heart attack, kin protest at GMCH
Chandigarh, November 21
A 45-year-old man died early in the morning today allegedly after suffering a heart attack as his house in Colony Number 5 was demolished in the ongoing demolition drive at the colony. Denying post-mortem, his family staged a protest at the Government Medical College and Hospital (GMCH), Sector 32, in the morning. They alleged that the police forcibly took his body for a post-mortem examination.
Mohali wards off encroachers
Mohali, November 21
Nearly 150 families of the demolished Colony No. 5 of Chandigarh have reached Jagatpura and Saidan villages for shelter. The district administration fears that the uprooted people are likely to encroach on areas around Mohali.

City needs to have headquarters of IT firms: Expert
Chandigarh, November 21
For emerging as an IT hub as competent as the Silicon Valley of India, Bengaluru, Chandigarh needs to develop registered headquarters of IT companies. For that, startup companies need to be strengthened so that they grow into giants while having their roots (headquarters) in the city, suggested the chairman of Mindtree Limited, Subroto Bagchi.
Subroto Bagchi



Residents to move court
Mohali, November 21
Greater Mohali Area Development Authority (GMADA) will be soon acquiring the land in Hoshiarpur village.
Literati-2013 to enliven City Beautiful
Chandigarh, November 21
Literati-2013, another two-day Lit Fest in Chandigarh, starting from November 23 at the Lake Club, Sector 3, Chandigarh, promises interesting literary discourse on a number of issues.
Junk dealers make business from debris
Chandigarh, November 21
From amidst the ruins of demolished structures in Colony No.5 here, life is once again dangling out a future at least for the moment.



Residents sit in the open after the demolition drive at Colony No. 5 in Chandigarh on Thursday (1) Residents shift their belongings at the rehabilitation colony, Dhanas; and (2) and (3)demolition drive in progress at Colony No. 5 in Chandigarh on Thursday. . Tribune photos: Parvesh chauhan
Allotment letters: Residents cry foul
Chandigarh, November 21
For the second consecutive day, a number of slum dwellers from Colony No. 5 thronged Sector 42 camp-office of the estate office to try their luck to get the allotment letters of rehabilitation tenements built at Dhanas. A large number of people stated that they were ignored by the authorities deliberately.
Civic body clears merger of 13 villages
Chandigarh, November 21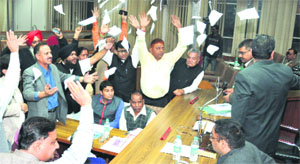 Ignoring the resentment of the opposition parties for the transfer of 13 villages to the Chandigarh Municipal Corporation by UT administration, the general house today gave its consent in its favour and passed a resolution. A special general house meeting was convened by the mayor Subhash Chawla on the issue of the transfer of 13 villages to the MC.
Councillors of the SAD-BJP throw the torn copies of the special agenda during a meeting on Thursday. Tribune photo
Conclave Destination IT North concludes
Chandigarh, November 21
The two day Destination IT North organised by Departments of IT, Chandigarh and Punjab, STPI Mohali and CII concluded here today with over 300 IT professionals, government officials, academicians, and students participating in it from across the country and the globe.
Key accused still at large
Panchkula, November 21
The Panchkula police have not yet arrested Shailender, alias Sanju, involved in the murder case of Gurwinder Singh.
Respite to power consumers
Chandigarh, November 21
The Chandigarh Industrial Tenants Association has welcomed the decision of the Joint Electricity Regulatory Commission (JERC) on giving relaxation under regulation 6.10 (3) of the Electricity supply code 2010 under which the Advance Consumption Deposit was demanded from the consumers by the UT Electricity Department. The Chandigarh Industrial Area Tenants Association had filed a petition in the JERC for relaxation. The Chandigarh Industrial Area Tenants Association office-bearer, BS Saini , pleaded that the Chandigarh Electricity Department has no policy for installation of the prepaid electricity meters whereas the regulation 6.10 (10) of Electricity supply code provides "That if a person requires to take supply through a pre-paid meter the distribution licensee shall not take security deposit from that person."
Over 100 take part in CME on gastroenterology
Chandigarh, November 21
Gastroenterology and Liver forum (GLF), Chandigarh, organised an international CME on Liver diseases, here on Tuesday.
London College awards city prof
Chandigarh, November 21 The Royal College of Obstetricians and Gynaecologists, London, has awarded Dr Harpreet Kour Isher, Associate Professor, at Gian Sagar Medical College with the Vijaya Patil Prize Medal this year. She has been conferred with Membership of Royal College of Obstetricians and Gynaecologists (MRCOG), London.
Music maestro enthralls audience
Panchkula, November 21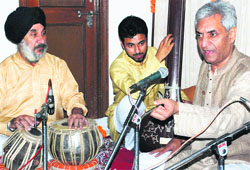 Hindustani classical music vocalist Madhup Mudgal left the audience spellbound at Gandharva Mahavidyalya in Sector 10 in Panchkula.






Madhup Mudgal performs at Gandharva Mahavidyalaya in Sector 10, Panchkula, on Thursday. Tribune Photo: Nitin Mittal
Communal Harmony Week celebrated
Mohali , November 21
Communal Harmony Week celebrations began at Paragon Senior Secondary School here yesterday. The celebrations are aimed at showing solidarity with and respect for the brave soldiers of the Indian Army.
DAV's Dramatics Club excels at youth fest
Chandigarh, November 21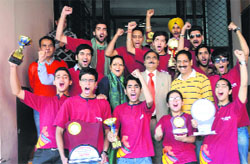 DAV College Dramatics Club "Aaghaaz" has set a new benchmark by winning the first position for one-act play and third position for its self-written skit at the North Zone Inter-University Youth Festival, 2013-14, held at Babasaheb Bhimrao Ambedkar University, Lucknow.

Students of DAV College Dramatics Club celebrate their victory on the college campus at Sector 10 in Chandigarh on Thursday. Tribune Photo: Manoj Mahajan
SSA teachers launch letter-posting campaign
Chandigarh, November 21
The Sarva Shiksha Abhiyan Teachers Welfare Association (SSATWA), Chandigarh, launched a three-day letter-posting campaign to convince the UT authorities for their regularisation.
Two hurt in clash at DAV College
Chandigarh, November 21
A bloody clash took place at DAV College, Sector 10, here this morning when a former student was attacked with rods and batons by over a dozen persons just before principal's office. All the assailants escaped right under the nose of the police and the college security with no arrests in the case made so far. The entire scene of crime is seen in the CCTV footage of the college and police is hopeful of making arrests soon.
Gharuan, Canada varsities ink MoU
Mohali, November 21
Chandigarh University, Gharuan, has signed an MoU with Royal Roads University, Canada, to encourage student and faculty exchange in the field of business management. Cindy McLeod, vice-president, signed the MoU on behalf of Royal Roads University along with Dr RS Bawa, Vice-Chancellor, Chandigarh University.
Model-making contest for students tomorrow
Chandigarh, November 21
Taking inspiration from the world famous Rock Garden in the city, the Dr SS Bhatnagar University Institute of Chemical Engineering and Technology (SSB UICET), Panjab University, is hosting a model-making competition for the undergraduates and school students of the tricity on November 23.
Education Department sets up help desks
The Education Department has set up two help desks in Dhanas, to guide the parents, settling here, from Colony No 5, about the admissions of their children. The department is currently running a school in flats (from 1825 to1856), Dhanas, as a makeshift arrangement till a new school building has not been constructed there. Children above primary level will be enrolled in nearby government schools.