Bhai Vir Singh and the call of the Valley
Bhai Vir Singh, the poet, scholar and theologian laid the foundation of the revival of Punjabi literary tradition. His special bond with Kashmir and its scenic beauty led to lyrical creative outpouring
Rajinder Kaur Bali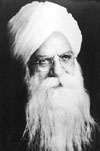 He was born on December 5. 1872
Bhai Vir Singh, father of modern Punjabi literature, was born on December 5, 1872, in Amritsar. He was a great saint-poet of the 20th century. He belonged to Diwan Kaura Mall's family. His father, Dr Charan Singh, was a well-known and respected medical practitioner who provided free medical service to the needy. He was a writer of eminence and it would not be out of context to say that he co-authored the Granth Kosh, in 1899 with his son Bhai Vir Singh. Gurbaani and the Sikh scriptures had a profound influence on Bhai Vir Singh. From an early age, his maternal grandfather Giani Hazara Singh introduced him to the Sikh scriptures. The writings of Guru Nanak, who saw God and Nature as one, henceforth became the central theme in most of his writings.
Multidimensional genius
Bhai Vir Singh at the Alpather lake in Gulmarg, Kashmir. photo courtsey: the writer
His genius did not manifest in one direction only but was multifaceted. He made Punjabi, at that time considered a rustic language, into a vehicle for the expression of philosophical ideas and mystic experiences. His literary works on nature and art had a powerful impact on transforming the lives of countless men and women and inspired many to achieve literary excellence.
His birthday is celebrated every year in India and abroad with great fanfare by his followers, which include a long list of dignitaries. Special functions are held at Bhai Vir Singh Sadan in Delhi and at his heritage home, known as Bagh wali kothi at Bhai Vir Singh Marg (formerly Lawrence Road) in Amritsar.
His love for Kashmir and passionate poetry on Kashmir's bountiful beauty and moving prose brought the magic of Kashmir to the Punjabi language and to the millions that had not yet visited Kashmir. The spell of nature's beauty in the valley was divine and musical strains were incarnated in the poem Matak Hulare. These poems were later compiled by Prof. Puran Singh under the name Celestial Vibrations.
Creator's presence
Bhai Vir Singh was so overwhelmed by the natural beauty of Kashmir, he wrote snippets on pieces of paper that he carried in his pockets wherever he went. In the natural beauty, he saw the "Creator" and felt his presence, be it in the stones of Martand or the ever-magnificient Dal Lake. Due to the untimely death of his younger brother, he had to leave for Amritsar and these penned treasures were misplaced and lay forgotten. These small jewels of papers were then found and collected by Prof Puran Singh like beads of scattered rosary. He collected them and sought Bhai Vir Signh's permission to compile them in a book. Thus came these collection of poems into a book form that was first published in Punjabi and now is available in the Devnagri script. Bhai Vir Singh Sadan is in the process of having this work of literature published in English and Urdu so that the people of Kashmir can know and read about the essence of their heritage, while also reaching out to a wider audience of English-speaking readers.
Poetic spirit
How did poetry dawn on him? Where did the music-sprinkling words, which he combined, come from? I think the ever-flowing water of the great chashma Verri Nag become his pen's ink. In moments of ecstasy, he achieved this knowledge and disclosed:
Kavita di sunder hai
Nchae nachharri vasdi
Aapne sangeet lahre
Apne Parkash lasdi
(Kashmir's nature has been graciously charming &helpful in devising the details — as if features of a beautiful damsel).
When one travels by road to Kashmir, one crosses high mountains and it is as if one enters paradise. The landscape is full of an astonishing variety of flowers. The poet (Bhai Vir Singh) came across nectar flowing out of crystal springs. There are lakes big and small, there are rivers singing along in rare glee. The grandeur is not confined to any geographical enchantment. There are trees tall and medium-sized, bearing very delicious fresh fruit of different hue. So much so, the taste lingers with the one who eats it for a long time. Then one can only offer thankfulness for the ecstasy to the Almighty creator.
Kashmir has had admiring visitors and the people born there are themselves so beautiful, simple and charming. The locals built various shrines and decorated them with colourful paintings as worshippers. Bhai Vir Singh saw the ruins of some of these shrines. The idols installed in them could have been removed, without inflicting destruction. These shrines were "history" erected in stone and symbolised a particular civilisation. These were Awantipura and Martand Mandir. The poets' lamentation is instructive for all times. It was actually his discerning and sympathetic eye that made him write in Matak Hulare, thus:
Martand de khandar
Maar pai sad Martand nu
Pathar ro kurlaane:
"Pathar torein? Dil par tutde — dil Kaba Rabba ne
Laayen hathora sanu? Par takk
Satt pae "rab ghar" nu.
Ghar ghar de vich wasda jehra
Tu kinu rab sinjhane?"
("When Martand was beaten down
The stones wept and wailed
You are breaking stones? Hearts are bursting
You may hammer us but just perceive
The strokes fall on the abode of god
It is the god who lives in everyone
But who is the one who is recognised as God?").
If only, these monuments could have been saved preserved as representing ancient architecture and art. He further went to see the famous gardens of Kashmir because his perception was that where there is a garden, there is God. He came across Nishat Bagh, Sahlimah Bagh. Nishat Bagh is near the Dal Lake and splendid mountain peaks hold the garden and the lake in their lap. He speaks to Nishat, enchanted with its beauty:
Nishat Bagh
"Dal de sir sirtaj
Khara nishat tun
Parbat godi vich,
Hain to lateyal
Tilae pehredaar
Pitche han
Agge hai. Darbar
Dal da vichya!"
This famous garden was originally designed by the Mughals. The spot has been carefully selected. It is still the favourite garden and lake of Srinagar. No tourist comes back without going there, the valley is picturesque. As you all know, Kashmir is full of water sources from where one can drink pure water. Visitors feel thirsty and the natural, running cold water is comforting for the mind and the soul. These natural springs are also located in enchanting places. Nature has been bountiful in bestowing its beauty in all places of the great Valley. These springs are Verri Nag, Ichha Bal, Kukar Nag and others — all favourites of visitors. The famous spring on which the poet has written a beautiful poem, is surprisingly memorised by many lovers of his works in India and abroad. If one hears the lines with their eyes closed, it creates a feeling of anand or bliss for both the speaker and the listeners.
After praising Verri Nag, the poet goes to another beautiful source of water, Ichha Bal, that is flowing out in a unique rhythm. The poet puts a question which is answered by the spring. It is so beautifully personified in a tone of a musical piece. Some singers have also sung it It is said when the poet with his friends went to visit, he overstayed and continuously kept gazing at the chashma, forgetting the passage of time and others with him, he waited to see the intensity of the flow of the chashma. When it became quite dark, he asked the deep-rooted question in
Ichhabal dian Doonghian Shaaman:
"Sanjh hoi parchanve chhup gaye
Kyon Ichhabal toon jaari?
Nain sarod kar rahi viwan hi
Te turno bi nahin haari
Sailani te panchi, maali
Has sabh aaram vich aaye
Seham wadia chh agya
Te kudrat tik gai saari"
("It is dusk, the shadows have become invisible
Ichabal, why are you running along?
Tourists, birds and the gardeners have all retired
Even the nature in its eternity is at standstill.")
Spring answers:
"Seen kitchjina ne khadi
O kar araam nahin bhende
Nehon wale naina ki neender
Oh dine raat pae vahende".
("Those who have intense love in their chest
They do not set their oars at rest.
The eyes full of ardent affection don't sleep.
The flow of loving tears is there day and night
Their love is endless till they meet their Infinite".)
He himself was so engrossed that the flowing waters reminded him of his own situation of eternal love and its atonement. The intensity of affection in the poet perpetually occupied him and he was pining for attaining amalgamation with the infinite. Intense love for his beloved is personified through the spring.
His keen praise did not ignore either Pahalgam or Gulmarg, According to him, Gulmarg was conducive for blissful meditation; because of its comforting quietness. The mystic bound in himself a whole soul, enjoying the pretty moments, which are hardly found in the plains.
Celestial vibrations
Bhai Vir Singh was befittingly called by Harindranath Chattopadhyay as the "Sixth River" of Punjab and declared as the "Sikh of the century."
Poems on and about Kashmir in Matak Hulaare are recognised as one of his outstanding contributions to Punjabi poetry. It is an everlasting tribute to natural magnificence, which shines out in every part of Kashmir and gives us celestial vibrations or Matak Hulaare. In the present time, when strife is marring the beauty of the heavenly place, we cannot further tolerate the destruction of the heritage.
Let us all pray to God to keep peace in the Valley so that humanity is able to enjoy the blissful environment. Mohammed Iqbal, the famous writer, praised Kashmir thus:
"Gar Firdous barue zaminest — haminesto — haminesto — haminesto!"
Translated, it means: "Agar jannat zameen pe hai….
To yahin hai, yahin hai, yahin hai!"
(If there is Paradise on the face of the earth, it is this, it is this, it is this!)
The writer is Bhai Vir Singh's grand-daughter
His love for Kashmir and passionate poetry on Kashmir's bountiful beauty and moving prose brought the magic of the region to the Punjabi language and to the millions that had not yet visited Kashmir. The spell of nature in the Valley was divine. Musical strains were incarnated in the poem Matak Hulare later compiled by Prof Puran Singh
Pioneering work
His romances are considered forerunners of the Punjabi novel. His writings in this genre —Sundari (1898), Bijay Singh (1899), Satwant Kaur were aimed at recreating the heroic period (eighteenth century) of Sikh history. His protagonists were models of courage, fortitude and human dignity.
The novel Subhagji da Sudhar Hathin Baba Naudh Singh, popularly known as Baba Naudh Singh, shares with the epic Rana Surat Singh his interest in the theme of a widow's desperate urge for a reunion with her dead husband.
In November 1899, he started a Punjabi weekly, the Khalsa Samachar. He revised and enlarged Giani Hazara Singh's dictionary, Sri Guru Granth Kosh, in 1927.
He was honoured with the Sahitya Academy Award in 1955 and the Padma Bhushan Award in 1956.