Police needs to drop masculine image
Upneet Lalli and Praveen Kumari Singh
The year 2013 has been significant for the movement of gender rights and justice. The global campaign of One Billion Rising, in February 2013 was a landmark in bringing about greater awareness to end violence against women around the world. In India, the public outcry of December 2012 led to an agitated response for more effective laws and a demand for a more sensitive law enforcement system to protect women.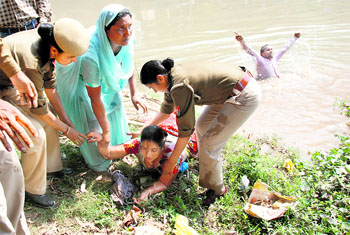 Empathy: People demand an intelligent use of emotional skills required to deal with situations for police interventions. A policewoman rescues an agitating teacher.
The Criminal Law Amendment Act of 2013, defines new offences of crime of sexual assault against women with severe penalties. Women's safety and security is a basic right and also an essential pre-condition for their entitlement to all other rights. The legal reforms should help women break their silence on sexual harassment of any kind, and then build a law enforcement system that protects and ensures their safety. The challenge today lies in making the public and private life safe for women.
Special competencies attributed to women work as a double-edged sword in the police, predominantly a masculine profession. As a result, women are perceived to be less competent and are given softer jobs to handle.
Along with the legal reforms, there has been a lot of emphasis on the police reforms. The first agency that puts the criminal justice system in motion is the police. The civil force, responsible for the maintenance of law and order has been traditionally viewed as a masculine force. Police needs to be transformed into an organisation that acts professionally and is accountable and responsive to the needs of the community. Various committees as well as the Supreme Court have stressed upon the need for bringing about police reforms. However, only piecemeal reforms have taken place in our country. Gender sensitive police reforms is the need of the hour, due to the prevalent culture of gender- based violence .Crime statistics indicate the gravity of crime against women, there has been a maximum rise in the crime of rape. From 1971 to 2012, the increase was 902 per cent. Cases of sexual harassment have shown a rising trend, which is expected to grow in the coming years, with more women joining the work force.
There are two main components of the gender sensitive police reforms. One aspect focuses on remedying the pervasive gender imbalance within the police force, which has been traditionally male dominated and the second component is mainstreaming. Under this component all the policies and practices in the police need to be made gender sensitive. Both gender balancing and gender mainstreaming are essentially two sides of the same coin.
Gender balancing
Worldwide, women entered the criminal justice system in response to the increased societal violence. Gender- based instances of violence, like domestic violence, human trafficking and sexual assault pose one of the greatest threat to human security. The National Police Commission (1980) pointed out that women police have a crucial role to play in areas where police come in direct contact with women. The need for more women in police is felt because they are able to interact efficiently with other women than their male counterparts.
Also, the visibility of women in police helps to dispel the negative sentiments of distrust in police and boost public confidence, particularly for women. In India, the first Women Police Unit was established in the erstwhile Travancore state of Kerala in 1938. The concept of having women police was felt during the labour strike in Kanpur in 1938, where the need to control women workers by the armed police force was required. The formal recruitment of women in Police force in India started on a regular basis only after Independence. During partition, large number of incidents of kidnapping, abduction, rape and violence against women and children in relief camps were reported and the need for women police force was felt. After Independence, some lady constables were recruited in Punjab for management of refugee camps in 1949.
The glaring disparity
Presently, there are 84,479 policewomen in position covering all the states and UTs, out of a total strength of 21,24,596 police personnel. It constitutes a mere 3.98 per cent of the total police force (based on sanctioned strength) and is 5.33 percent (based on the actual strength police that comes to 15,85,117), as in January 2012.There were 510 women police stations at the end of 2012. Further, the Central Government maintains seven Central Police Armed Forces (CAPFs) for specialised tasks. There are 15,071 women posted in CAPFs, mainly in CRPF (35.9 per cent) and CISF the number is 4,815 (31.9 per cent).
A global comparison indicates that developed countries and Sub- Saharan Africa have the largest population of women police with 13 and 12 percent respectively. In 2007, the first female U.N. Peace keeping contingent comprising of 100 highly trained Indian women police officers was sent to Liberia. This served as an inspiration to the public there, and was also a major catalysis for bringing more women in police, since women police were seen as positive role models.
Another primary argument of introducing women in the field is due to the gender unique skills and abilities and special competencies. A set of complex and unsettling changes in society demand an intelligent use of emotional skills required to deal with situations for police interventions. While the common grievance with the police is that they are rude, indifferent, abusive, intimidating and corrupt, women police with right inputs of training can be used to change this perception. Secondly, women are thought to be better at communication, more nurturing and more empathetic than men. Different set of skills from investigating officers are required today, for instance dealing with victims and survivors of trafficking and sexual assault cases require great sensitivity and understanding. In this regard, women police officers will be more suitable, as rapport can be easily established by them with the victims.
Mainstreaming women
In recognising the need for specialised approaches to gender based violence in law enforcement, the UN General Assembly passed resolution 52/86 on Crime Prevention and Criminal Justice Measures to Eliminate Violence Against Women. This resolution provides guiding principles for the design of new operating practices and procedures to be applied to specialised units. It provides for special Crime Against Women (CAW) cells in different states where such crimes get reported and have to be dealt with. Ironically, these may also create problems for victims — for instance, a victim may go to a thana that is closer to her residence, but then she is asked to approach the CAW cell, which may be quite far. Such jurisdictional issues add to the confusion for the victim in her battle for access to justice. Research into efficacy and impact of nearly 500, all women police units, and victims feedback will help in identifying the gaps. More women in each thana will definitely help, as women police will also get the confidence to deal with all kinds of cases. The chauvinistic work practices need to be eliminated. Contextual discrimination is also harmful, since it implies that women officers should handle cases only like domestic violence, dowry, and male officers are to be assigned with all kinds of cases.
Another caution is that more women in the police does not automatically guarantee a more gender- sensitive police service. Women police may also have the same set of attitudes, and gender biases. A shocking example of insensitivity was the custodial lock up of a young rape victim in U.P., this year, by the women police. This may also be due to the fact that the incentive systems and training may still reinforce operating practices that discriminate against women, particularly if women in the police are present in just token numbers. This also underlines the fact that gender sensitisation training is essential for both men and women. Sometimes, women too are caught up in the hyper- masculine image of the police organisation.
Chauvinistic work practices
No khaki for women
There are only 84,479 policewomen in position, covering all the states and UTs, out of a total strength of 21,24,596 police personnel.
It constitutes a mere 3.98 per cent of the total police force (based on sanctioned strength).
Going by the actual strength of police, that is 15,85,117, as in Jan 2012, it comes to 5.33 per cent.
In Sub-Saharan Africa, women constitute 12 to 13 per cent of the police force.
The special competencies attributed to women, may work as a double- edged sword for women in the field. While interacting with women police in different training programmes two factors emerge to be most stressful for the women police. These are; role conflict and being perceived as less equal to male counterparts. Women police are often not assigned investigative duties, not made in charge of thanas, and are given soft duties. The male officers also complain about lack of professionalism in them. Recruitment drives targeting women must avoid gendered divisions of labour and power that relegate women to the lower ranks and the least valued tasks. The National Conference of Women in Police has deliberated upon various functional and operational issues of women in police. So far five such conferences have been held. The fifth National Conference of Women come out with certain recommendations for improving facilities and these include recommendations like day care centres / crèches, separate barracks for women personnel , flexible working conditions, issues related to sexual harassment at workplace, gender mainstreaming, grievance redressal mechanisms, welfare measures and gender sensitisation programmes. These need to be implemented.
Some of the most insensitive remarks about gender- based violence have come from the leadership of law enforcement agencies. An invasive and insensitive behaviour from the top has trickledown effect and also reinforces the prejudiced mindsets of the subordinates. Zero tolerance policies with respect to sexual harassment and abuse are essential elements of gender-sensitive police reform and must be backed by strong enforcement actions, including complaints mechanisms, to demonstrate a high level of commitment to gender equality.
Upneet Lalli is Deputy Director, Institute of Correctional Administration, Chandigarh, and Praveen Kumari Singh is Director, State Relations, MHA, New Delhi