Mid-day meal scheme: Punjab ranked second in Centre's report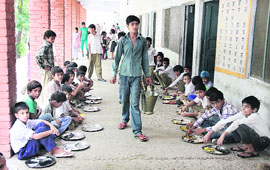 Chandigarh, November 26
Despite drawing flak for unprofessional deliverance of mid-day meals in government schools at several places in the state, Punjab has bagged the second position among states and union territories in the latest report on the scheme by the Union Ministry of Human Resource Development. Punjab, with an aggregate of 76.81 points based on evaluation under five parameters, is a close second to Karnataka (77.79) and way above the national average of 59.

UK hotel turns into court as NRI sues his millionaire son
London, November 26
In an unusual move, a five-star hotel was turned into a court in the UK to allow a wheelchair-bound 86-year-old father of a multi-millionaire NRI hotel tycoon to give evidence against his son in a 50 million pound property dispute.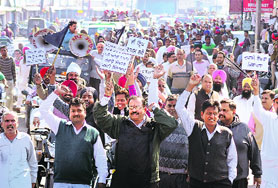 Traders observe bandh, demand withdrawal of property tax
Patiala, November 26
Showing solidarity with, Shopkeepers and traders throughout the city kept their establishments closed in response to a bandh call given by the Vyapar Bachao Sangharsh Committee in protest against the imposition of property tax on residential and commercial property.
Traders hold a protest rally in Patiala on Tuesday. Tribune photo: Rajesh Sachar
Potato prices reach Rs 25/kg
Chandigarh, November 26
Delayed production and hoarding by some traders have sent the potato prices soaring. Potato prices in the retail market are now Rs 20-Rs 25 a kg while the wholesale market rate is Rs 12-Rs 13 per kg. Officials blame hoarders for the high potato prices this season. "As in Lasalgaon ( Maharashtra) where traders had constricted the supply of onions, we have learnt that the potato supply is being deliberately restricted," said a senior official.
Priyanka Chopra to spice up World Cup Kabaddi's opening ceremony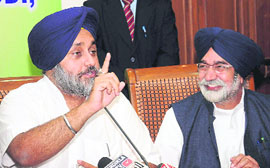 Chandigarh, November 26
The fourth edition of the World Cup Kabaddi promises to be a glitzy and glamorous affair with the Punjab Government roping in Bollywood star Priyanka Chopra to perform at the opening ceremony in Bathinda on November 30.
Deputy CM Sukhbir Badal addresses a press conference in Chandigarh on Tuesday. On his right is Education Minister Sikander Maluka. Tribune photo: Manoj Mahajan

City scan
RITES engaged to study ROB prospects
Amritsar: A year after the Railways rejected the proposal to widen the busy Bhandari railway over-bridge (ROB), the Amritsar Improvement Trust (AIT) has once again engaged the RITES to carry out a feasibility study for building a new ROB on the stretch between Bhandari bridge and Rego railway overbridge.
2 months on, cops fail to arrest teen's killers; kin protest
Sangrur, November 26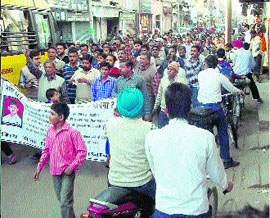 About two months after 13-year-old Vidhu Jain was set ablaze in broad daylight in Malerkotla, the police is yet to make arrests in the case. To express resentment over police inaction, Vidhu's family and hundreds of supporters today took out a protest march through various markets in the town. Heavy police force was deployed to maintain law and order in the town.
Family members of Vidhu Jain, who was set ablaze on September 30, and other supporters hold a protest march in Malerkotla on Tuesday. A Tribune photograph

Annual meet on cancer begins
Patiala, November 26
The 29th national annual review meeting of the National Cancer Registry Programme, begins today at Government Medical College, Patiala. Dr A Nandakumar, Director-in-charge, National Centre for Disease Informatics and Research, Bangalore, said based on the data collected for the past 31 years, it had been found that India led the world as far as lung cancer was concerned. Many other forms of cancer were also on the rise in the country, he said.
Health centres to have hi-tech ambulances
Faridkot, November 26
With a sharp increase in the number of road accidents in the state, the Punjab Health System Corporation (PHSC) has decided to equip ambulances, including those lying defunct, with latest infrastructure to provide immediate care to mishap victims.
Firm denies report
Chandigarh, November 26
In response to the news report "Firm owner, listed for award, booked" published in The Tribune on November 9 wherein it was alleged that the owner of Nutricia International Pvt Ltd was booked under the NDPS Act, the company has contradicted the facts.
BSF recovers weapons along border
Amritsar: The BSF has seized four pistols, a revolver and 52 rounds of ammunition from the Kalsian border outpost in the Ferozepur sector. The arms were seized during a special search operation carried out ahead of the border fence by BSF troops on Tuesday. The weapons were wrapped in polythene and concealed about 1.5 feet under the ground. The spot from where the recovery was made was about 50 metres from the international border on the Indian side. — TNS


HC orders probe into VAT refunds worth Rs 500 crore
Chandigarh, November 26
Mincing no words to say VAT refunds worth almost Rs 500 crore have been given to firms in Punjab for interstate trade and export of goods, the Punjab and Haryana High Court has ordered a probe by the Central Bureau of Investigation (CBI).
HC: Ensure timely payments under scholarship scheme
Chandigarh, November 26
The Central Government has sanctioned Rs 280.81-crore as central assistance for the implementation of post-matric scholarship scheme for students belonging to the Scheduled Castes. The development is significant as 3.5 lakh students are entitled to the benefit spread over 2,000 institutions. The scheme is to be implemented by the state governments and union territories on 100 per cent assistance from the Union Government.
Dayanand hospital management-staff dispute
HC raps police for using excessive force
Chandigarh, November 26
More than a decade after the Punjab Police stepped in the dispute between the management and employees of Dayanand Medical College and Hospital, Ludhiana, the Punjab and Haryana High Court has dubbed it as a prima-facie case of excessive use of force.


Man kills wife, 3 kids before shooting self
Ferozepur, November 26

A man shot dead his wife and his three minor children before shooting himself in his house in Ferozepur's Turi Bazaar on Monday night. The deceased Pankaj Gakhar (35), owner of a flourishing wholesale kiryana business, had strained relations with his wife Esha for some time. Though the reason behind the dispute could not be ascertained, sources said the duo often got into heated arguments. One such argument yesterday took a fatal turn for the five-member family.
Pankaj and Esha Gakhar in happier times; (inset) 15-month-old Tanav, the youngest of the children. Tribune photos

Youth sets himself ablaze
Hoshiarpur, November 26
A street vendor set himself ablaze outside the local bus stand here this evening. Passersby managed to somehow control the fire and took him to the local Civil Hospital. Doctors said he had suffered around 80 per cent burns and referred him to a specialty hospital in Ludhiana after giving him first aid.