Rajpura plant to be opened on CM's b'day
Rajpura, November 25
The Rajpura Thermal Plant's first unit will be functional from December 8, Chief Minister Parkash Singh Badal's birthday.
Fazilka MC leaves 270 plot owners in the lurch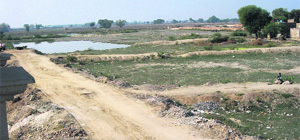 Fazilka, November 25
Owners of about 270 plots auctioned by the Municipal Council (MC), Fazilka, in its proposed Shayama Prasad Mukherjee Colony, popularly known as the Dhobi Ghat locality, feel cheated as they have not been given possession of the land sold to them years back.

The Shayama Prasad Mukherjee Colony site in Fazilka. Tribune photo

HC: Remove illegal hotels in Golden Temple vicinity
Chandigarh, November 25
The Punjab and Haryana High Court today set a two-month deadline for the Amritsar Municipal Commissioner and Town Planner to act against illegal hotels and guesthouses in the city.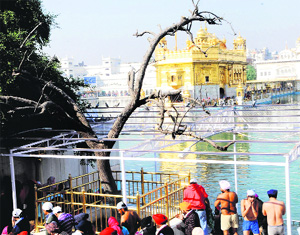 Efforts on to revive dying 'beri'
Amritsar, November 25
A part of Dukhbhanjani Beri, the ancient "ber" tree at the Golden Temple Complex having great religious significance, has dried up with hardly any leave left on it. The tree located on the banks of the holy sarovar now has only trunk and branches left.




The Dukhbhanjani Beri at the Golden Temple complex in Amritsar. Tribune photo: Vishal Kumar

BJP ministers spar at traders' meet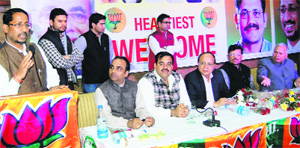 Amritsar, November 25
Industry Minister Madan Mohan Mittal and Local Bodies Minister Anil Joshi got into a public spat during an interaction with traders at a hotel here. Both ministers later tried to play down the incident, while state BJP chief Kamal Sharma attributed the difference of opinion to a "communication gap".

Industry Minister Madan Mohan Mittal (far right) reacts as Local Bodies Minister Anil Joshi (left) addresses traders in Amritsar on Monday. Photo: Sameer Sehgal

Transporters' rivalry turns ugly
Abohar, November 25
The rivalry between truck and canter (mini truck) operators turned violent last night when a group of 12 persons carrying sharp-edged arms and fire weapons stormed into the office of a canter operators' union on the Abohar-Hindumalkot road here.

The ransacked office of a canter union in Abohar; a vehicle set afire and a damaged van outside the union office. Tribune photos
Armed goons attack taxi drivers in Nawanshahr, 4 hurt
Nawanshahr, November 25
Panic gripped the town as over 20 unidentified armed goons struck at a taxi stand on the premises of the local bus stand today.
Cleaning drains: CM warns officials against lapses
Muktsar, November 25
To bring in transparency in the execution of cleaning and de-silting of water channels, Chief Minister Parkash Singh Badal has directed the Chief Engineer (Canals) to take the overall responsibility for utilisation of funds before the rabi crop season. The move has come in the wake of numerous complaints regarding improper cleaning and de-silting of drains, which had caused widespread losses to farmers during the monsoon season.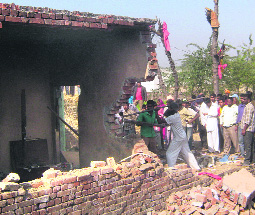 Unidentified persons brought down the house of a rape and murder accused in Kapurthala's Boota village on Monday. The police has registered a case. A Tribune photograph
Strike on, 20,000 SSA teachers await wages
Sangrur, November 25
More than 20,000 teachers of the SSA and the non-teaching employees of the Sarva Sikhsha Abhiyan (SSA)/ Rashtriya Madhyamik Shiksha Abhiyan (RMSA) have not received their salaries for the month of October.
State to organise 1,500 free cancer check-up camps
Chandigarh, November 25
The government in collaboration with Roko Cancer Trust, London, has chalked out a strategy to organise 1,500 free check-up camps to detect cancer at an early stage, said Chief Parliamentary Secretary, Health and Family Welfare, Dr Navjot Kaur Sidhu while addressing a press conference here today.
Pakistan hands over Sarabjit's belongings
Islamabad, November 25
Pakistan today handed over to Indian officials 36 items belonging to death row prisoner Sarabjit Singh, who died after a brutal attack inside a jail in April, and asked India to reciprocate by releasing fishermen and other prisoners.

Missing Phagwara student's body may have been found
Phagwara, November 25
The police may have recovered the body of 30-year-old Phagwara resident Natasha Narang who went missing in Australia on October 4. The belongings of the deceased, including a hand bag and a cellphone, were found on the banks of a river in Tasmania on October 9.
Natasha Narang

2,950 acres of land in Fatehgarh Sahib grabbed
Fatehgarh Sahib, November 25
Over 30 per cent of the panchayat land in the district has been encroached upon. The District Development and Panchayat Office (DDPO) has been fighting legal battles for the past two decades to reclaim the land.
0001 goes for Rs 3.5 lakh in Hoshiarpur
Hoshiarpur, Novemember 25
A revenue of Rs 9,53,200 was earned from the auction of vanity numbers of PB007 AM series conducted by the District Transport Department today. The auction was conducted in presence of SDM-cum-DTO Captain Karnail Singh.



HC notice to two varsities
Chandigarh, November 25
The Punjab and Haryana High Court today granted two weeks to Fatehgarh Sahib-based Sri Guru Granth Sahib World University and Guru Kashi University at Talwandi Sabo to respond to allegations of offering courses in physical education against National Council of Technical Education (NCTE) norms.