Residents of Colony Number 5 get their papers for the allotment of rehabilitation flats in Dhanas verified at a camp at Congress Bhawan, Sector 35, Chandigarh, on Tuesday (Left) and Artists paint on a wall ahead of Crafts Mela begining on November 29 at Kala Gram in Mani Majra, Chandigarh on Tuesday. Tribune photos: Parvesh Chauhan & Manoj Mahajan.
Water supply to remain affected today, tomorrow
Chandigarh, November 26
The water supply to the city will be affected for two days due to repair work at Kajauli water works. Water will be supplied from 4 am to 8.30 am and 6 pm to 8 pm on November 27, while on November 28 the residents will get the water between 4 am and 9 am.

Sukhchain Singh Gill to replace Naunihal Singh
Chandigarh, November 26
Sukhchain Singh Gill will take over as the new Senior Superintendent of Police (SSP) of Chandigarh on December 15. The Ministry of Home Affairs has cleared Sukhchain Singh Gill's name for the post, said sources.
Sukhchain Singh Gill
NSG commandos stand guard at Elante
Chandigarh, November 26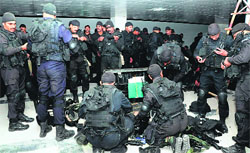 The National Security Guards (NSG) in coordination with the Chandigarh Police is conducting a three-day training programme-cum-mock drill at prominent places in the city. The programme began today with the NSG commandos entering the Elante mall and Infosys building and undertaking an exercise to combat terror attack.
NSG commandos prepare for mock drill at the Elante mall in Industrial Area, Chandigarh, on Tuesday. Tribune photo: Parvesh Chauhan




Chemists to challenge PGI's move to auction shops on discount basis
Chandigarh, November 26
In a setback for patients, the PGIMER's move of auctioning shops on the basis of maximum discounts instead of maximum rents (quoted by chemists) is likely to take backseat.
Parents of special kids to meet GMCH director
Chandigarh, November 26
Parents of students at the Prayaas, a centre for learning for special children, Sector 38, will meet the Director of the Government Medical College and Hospital (GMCH), Sector 32, tomorrow and request the latter not to shift their kids to the Regional Institute of Mentally Handicapped, Sector 31.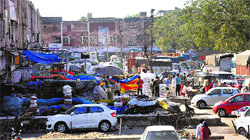 Demolition drive called off
Chandigarh, November 26
After announcing a demolition drive at the Sector 26 vegetable and grain market, the enforcement staff of the UT Estate Office today called off the demolition drive at the last minute.
Food grains and cereals stacked on open platforms of shops-cum-flats at Sector 26 Grain Market, Chandigarh. Tribune photo: Manoj Mahajan
Major reshuffle in UT police
Chandigarh, November 26
A major reshuffle took place in the Chandigarh Police with senior officials transferring a total of 543 Chandigarh police personnel - eight Inspectors, 41 sub-inspectors, 24 Assistant Sub-Inspectors, 154 head constables and 316 constables.


Body of victim identified
Chandigarh, November 26
Two days after a body with stab injury marks was found in Dhanas, the UT police have identified the body as that of Anil Kumar Pandey, a salesman with a Sector-15 based chemist shop. The victim is 35 years of age.
Punjab seeks integration of master plans
Chandigarh, November 26
Punjab has sought integration of the proposed master plan of Chandigarh with the master plan of surrounding areas of the state.
Row over statement of nominated councillor on TV
Chandigarh, November 26
Statements made by Surinder Bahga, one of the nominated councillors, against other nominated councillors during a discussion organised by a news channel over the issue of merger of 13 villages of the UT in the Municipal Corporation (MC), have courted another controversy.
Jhajj surrenders Rs 1.05 cr
Chandigarh, November 26
A sum of Rs 1.05 crore was surrendered in a survey on Jhajj Rent-a-Car, Phase 9, Mohali. Officials said that the company surrendered the amount after irregularities were detected by the income tax team during the survey.
Nominated councillors to get revised honorarium
Chandigarh, November 26
Nominated councillors of the Municipal Corporation (MC), Chandigarh, will finally get double honorarium. The MC has received the revised notification for the increase in honorarium of councillors.
Elderly told to use painkillers cautiously
Panchkula, November 26
As many as 100 senior citizens of the Mata Mansa Devi Resident Welfare Association, Panchkula, took part in a workshop on 'Digestive problems in elderly' organised by Max Super Specialty Hospital, Mohali, at Mansa Devi Complex, here today.
Sikh hardliner's protest enters 13th day
Mohali, November 26
The protest of Sikh hardliner Gurbaksh Singh Khalsa entered its 13th day today.
PUDA employees continue protest
Mohali, November 26
Members of the PUDA Employees Coordination Struggle Committee continued their protest in front of the PUDA office here today.
Counter set up to prepare Aadhaar cards
Mohali, November 26
To facilitate residents of the area, the district administration has set up a permanent counter to prepare Aadhaar card in a suvidha centre at the District Administrative Complex, Phase 1, here.
Mohali achieves 100% target
Mohali, November 26
The health authorities in the district have claimed to achieve 100 per cent target by administering polio drops to 1,38,514 children between the age group of 0-5 years during the three-day Pulse Polio Drive concluded here today.
Visitors throng currency counter
Chandigarh, November 26
Residents from various parts of the city today rushed to exchange higher value notes with those of Rs 10, 20 and 50 and also procure coins of Rs 1, 2 and 5 at the coin-cum-new currency counter set up at Sector 22 here.


Students aid 13-yr-old patient
Chandigarh, November 26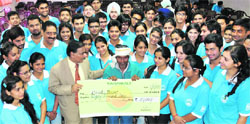 The Navsankalp, a student-run charitable association of DAV College, Sector 10, Chandigarh, gave a new hope of life to a 13-year-old girl, Ikra, by donating Rs 25,000 for her treatment today. She had been diagnosed with chronic constrictive pericarditis etiology.
Students of DAV College, Sector 10, Chandigarh, along with a cheque for ~25,000 meant for the treatment of a needy patient at the PGIMER in Chandigarh on Tuesday. Tribune photo: Pradeep TewarI
SGGS College observes 26/11 anniversary
Chandigarh, November 26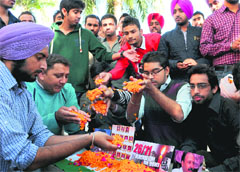 The ABVP unit of Shri Guru Gobind Singh (SGGS) College, Sector 26, observed the fifth anniversary of the 26/11 Mumbai terror attacks, on the premises of the college today.






Students pay floral tributes to the 26/11 Mumbai terror attack victims at SGGS College, Sector 26, Chandigarh, on Tuesday. Tribune photo: Manoj Mahajan
Scholars get tips on writing research papers
Chandigarh, November 26
Researchers should avoid plagiarism and maintain good research ethics in their journals, advised Laney Zhou from Oxford, UK), while addressing scholars at a workshop on how to get one's work published in research journals organised in collaboration with the Elsevier Journal Publisher at the Panjab University (PU).
Seminar on Lok Adalat held
Mohali, November 26
Students of several schools were made aware about various aspects, schemes and functioning of Permanent Lok Adalats during a seminar organised to mark the National Law Day on the premises of Shivalik Public School, Phase 6, here today.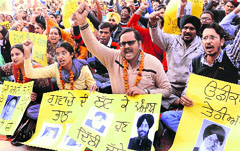 Non-teaching staff protest
Mohali, November 26
Call it 'Gandhigiri', members of the Sarva Shiksha Abhiyan/RMSA Non-Teaching Employees Union, Punjab, adopted a unique way to lodge their protest to press for their demands.


Non-teaching staff protest in support of their demands at Phase VIII in Mohali on Tuesday. Tribune photo: Vicky Gharu