Police probing Dhami's links with peddlers
Patiala, December 3
The interrogation of Amandeep Singh Dhami, wanted in the US in a 2008 murder case, has reportedly revealed his links with high-profile persons dealing with drugs in India and abroad.
Sniffing is passé, now addicts turn to injecting heroin
Chandigarh, December 3
The Punjabi youth, particularly those in the border belt, have been shifting to taking heroin through injections against the age-old style of sniffing it in powder form, in a style that was popularly known as "chasing the dragon".
'Ram-Leela' unit wants complainant booked for buying pirated CD
Chandigarh, December 3
The tables were virtually turned on the complainant in the "Ram-Leela" matter today when the director and cast of the film sought the registration of a case against him for allegedly procuring the movie's pirated CD.
SGPC warns against 'parshad' from strangers
Amritsar, December 3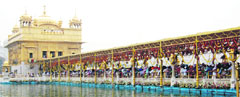 A day after three pilgrims from Kota in Rajasthan were taken ill after consuming 'parshad' given to them by some strangers at the Golden Temple Complex here, the SGPC (Shiromani Gurdwara Parbandhak Committee) has announced a string of measures to check such incidents.
On disability day, nod to fill posts for visually impaired
Faridkot, December 3
On the occasion of the International Day of People with Disability today, Chief Minister Parkash Singh Badal gave his approval to the filling up of 167 posts of teacher-cum-music instructor from among visually impaired candidates in government schools.
His love for tattoos did him in
Jalandhar, December 3
Fugitive Amandeep Singh Dhami was a crafty man. Knowing he could be easily nabbed in Canada, he chose to escape to Mexico from there he travelled to Kathmandu and then to India, Tarlochan Sohal, Deputy Sheriff, Merced County, California, US, told The Tribune on the phone.
Holiday in govt schools today
Chandigarh, December 3
The Punjab Government has announced a holiday in all government schools in the state on Wednesday.
Anganwadi workers' protest march ends
Nawanshahr, December 3
A protest march by the Anganwadi Mulazam Union, affiliated to the Centre of Indian Trade Unions (CITU) culminated at Khatkar Kalan, native village of Shaheed Bhagat Singh, in the district today. The march had started from Amritsar on November 7.
Sikh man in US facing bias for beard gets $50,000
New York, December 3
A Sikh man in New Jersey who faced discrimination for sporting a beard has received $50,000 in settlement. Gurpreet S. Kherha, now 29, from Paramus, New Jersey, applied for a job at the Tri-County Lexus, a car dealership in Little Falls, in 2008.
Online admit cards for PU students
Chandigarh, December 3
Panjab University students will now be able to download their examination admit card from the internet. The authorities will start the online admit cards system from Wednesday. The students of postgraduate semester examination of first and third semester and those of other PG courses can download their admit cards from the university website http://exams.puchd.ac.in/. Dr Parvinder Singh, Controller of Examination, said the roll numbers for postgraduate semester examinations of first and third semester of all PG courses had been issued and uploaded. The regular students would be able to get their downloaded roll numbers from their respective institutions. — TNS
MLA: Halt train at Gururharsahai
Ferozepur, December 3
Guruharsahai MLA Rana Gurmit Singh Sodhi along with a delegation of local residents today submitted a memorandum containing a list of demands of the border residents to Union Railways Minister Mallikarjun Kharge. Sodhi said the demands included introduction of new stoppage of the newly commissioned Pooja Express, which runs between Sriganganagar and Jammu, at Guruharsahai. Sodhi also demanded that the train from Sarai Rohilla in Delhi to Ganganagar be allowed to have a short halt at Malout to benefit textile traders. — TNS


HC for more transparency in allocation of tenders
Chandigarh, December 3
For more transparency in allocation of tenders, the Punjab and Haryana High Court has directed the States of Punjab and Haryana, the Centre and the Union Territory of Chandigarh to furnish reasons within a week of receiving representations from aggrieved parties.
Submit details of those jumping parole, says HC
Chandigarh, December 3
At least 39 convicts lodged with the Patiala Central Jail who jumped parole are yet to be re-arrested. The situation is worse in Haryana, where at least 150 convicts and are yet to be re-arrested.
Sikh leader faces fraud case in NZ
Aukland, December 3
A top leader of the Sikh community in New Zealand allegedly committed fraud and lied in an attempt to win a local body election three years ago, a High Court jury in Auckland was told today.
Convicted, Indian may lose Oz citizenship
Melbourne, December 3
An Indian-origin businessman could be stripped of his Australian citizenship and deported after he was convicted of identity fraud, a media report said today. Randeep Singh Waraich was found guilty in the Heidelberg Magistrates' Court of supplying false information in his applications for Australian visas and citizenship, Immigration Minister Scott Morrison said. — PTI


22 kg heroin found in Pak rail cargo
Amritsar, December 3

The Customs Department today found 22 kg of heroin and a one-time metal seal in rail cargo from Pakistan. Addressing a press conference here this evening, Deputy Commissioner, Customs, Vijay Bahadur Singh said the contraband was found from Wagon No. 113193, one of the 10 wagons attached with Samjhauta Express that arrived here yesterday.
Vijay Bahadur Singh, Deputy Commissioner, Customs, with the seized contraband in Amritsar on Tuesday. Photo: Vishal Kumar
Thieves decamp with ATM at Muktsar
Muktsar, December 3
Taking advantage of absence of security at the Punjab and Sind Bank's ATM booth on the busy Kotkapura road here, thieves last night decamped with the teller machine containing Rs 4.63 lakh in cash.