Serving Sikh soldiers want more Indians in US army
New York, December 2
The US should change its policy to allow more Indian-Americans to join the military without compromising on their religious beliefs and practices, the only three Sikh soldiers in the US army say. Major Kamaljeet Singh Kalsi, Captain Tejdeep Singh Rattan and Corporal Simran Preet Singh Lamba are the only three Sikhs serving in the US army currently.
Cotton farmers in for relief as central agency procures crop at higher rates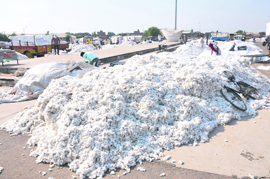 Abohar, December 2
After a long wait by farmers, the Cotton Corporation of India (CCI) on Saturday started procuring the crop for a price more than what the private players offered. Arhtiya Association President Pramil Kalani said the CCI had purchased 200 bales of cotton at Rs 5,100 per quintal. The private players are offering Rs 4,500 per quintal. CCI Deputy General Manager (DGM) AK Srivastava monitored the buying process.

No seat-swap with Akali Dal, says BJP
Sangrur, December 2
BJP state president Kamal Sharma today said currently there was no possibility of any seat-swapping with its alliance partner SAD in the next Lok Sabha elections. In Sangrur to mobilise party leaders and workers for the December 21 Jagraon rally of NDA's prime ministerial candidate Narendra Modi, he said neither the BJP nor the SAD had made any offer on seat-swapping so far.
Cong: Money being wasted on kabaddi
Amritsar/ Tarn Taran, Dec 2
Pradesh Congress Committee (PCC) chief Partap Singh Bajwa today lashed out at the SAD-BJP government for "splurging" huge amount of money on holding the World Cup Kabaddi even as it was finding it tough to pay salaries to its employees and pension to elderly and differently abled persons on time.


Teen accuses SHO of assault
Fatehgarh Sahib, December 2
A 17-year-old girl has accused the Station House Officer (SHO) of the Fatehgarh Sahib police station of physically assaulting her. The girl and members of her family held a dharna near the district police headquarters this evening, leading to a traffic jam on the Sirhind-Bassi Pathana road.
Jakhar wants goods transport mafia taken to task for 'jazia'
Abohar, December 2
Anguished over an attack on Congress councillor Suman Taneja, party workers led by Congress Legislature Party (CLP) leader Sunil Jakhar marched to the Superintendent of Police (SP) Kuldeep Singh Chahal's office here today.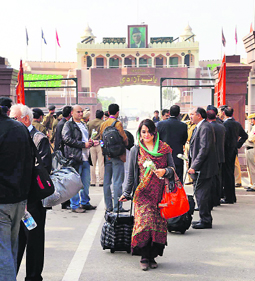 Pak media delegation on Amritsar tour
Amritsar, December 2
A delegation of Pakistani journalists today crossed over to India through the Wagah border for a two-day tour to Amritsar. On a programme sponsored by the Union Ministry of External Affairs, the 23-member delegation took a tour of the Integrated Check Post at Attari and was briefed about the way bilateral trade is conducted. The delegation comprises journalists from prominent media groups like the Dawn, Jang Group, The Express Tribune and Geo TV. They evinced keen interest in trade infrastructure and facilities available on the Indian side. The delegation was given a presentation at the ICP.

A media delegation arrives from Pakistan through the Attari-Wagah border on Monday. A Tribune photograph

Reliance all set to provide 4G services in state
Chandigarh, December 2
The Punjab Government has brought out a policy on laying optical fibre network and telecom infrastructure. The policy, okayed by the state Cabinet on Saturday, is aimed at facilitating Reliance Industries Limited in laying the optical fibre network to start 4G services in the state.
Sale of properties nails govt lie on economy: Tewari
Ludhiana, December 2
Union Information and Broadcasting Minister Manish Tewari today demanded a 'white paper' on the financial situation of Punjab. Tewari said the Punjab Government had so far remained in denial mode, making everybody believe "all is well". In a statement issued here while quoting news reports based on RTI information provided by the state government itself, Tewari pointed out that it was official now that the government had either sold or mortgaged its properties to get money for its day-to-day expenses.
Abohar traders to oppose property tax
Abohar, December 2
Traders have decided to oppose the collection of property tax by the Municipal Council (MC). During a meeting of the All Traders Beopar Mandal here yesterday, Congress Legislature Party (CLP) leader Sunil Jakhar supported the view that the cash-strapped MC had failed to provide basic amenities, including supply of drinking water, sewerage system and street lights, for the past five years.
Government to modernise all nine milk plants
Chandigarh, December 2
To herald a white revolution, the Punjab Government will invest Rs 80 crore on modernising its milk plants, said Chief Minister Parkash Singh Badal at a meeting with the Managing-Director of the National Dairy Development Board (NDDB), Dilip Rath, who called on him at his residence.
2 more technology parks on anvil
Chandigarh, December 2
Punjab is seeking Centre's help to develop two new Software Technology Parks at Ludhiana and Amritsar. The state has one park at Mohali and will be setting up another one at Amritsar soon. Talking to mediapersons after signing an MoU with the Department of Information Technology and Software Technology Parks of India, state Information Technology Minister Adesh Pratap Singh Kairon said that he had sought permission for two new parks at Jalandhar and Ludhiana.
Bindra lays stone for rifle shooting range
Sangrur, December 2


Ace shooter Abhinav Bindra laid the foundation stone of a rifle shooting range during Delhi Public School's first annual athletic meet here yesterday. The Olympic gold medallist assured the school management of providing guidance and technical support. A parachute display, alley cat song dance, Rajasthani and Punjabi folk dances mesmerised one and all. School chairperson Dr Ravi Sher Singh Toor read out a school's report. Bindra advised the students to work hard to achieve success. — TNS
3 devotees taken ill after eating 'parshad'
Amritsar: Three residents of Kota (Rajasthan) were taken ill on Monday after they ate "parshad" given to them by unidentified men at the Golden Temple complex. They were sitting in front of Akal Takht when two persons offered them parshad following which they complained of dizziness, an eyewitness said. — TNS
20 years on, HC orders reinstatement of ex-serviceman discharged from police
Chandigarh, December 2
Over two decades after an ex-serviceman was discharged from the Punjab Police during training, the Punjab and Haryana High Court has deprecated Punjab Government's approach. It has ordered his reinstatement with continuity in service.
Set up solid waste plant in a year: HC
Chandigarh, December 2
The Punjab and Haryana High Court has come out with eight commandments for making Ludhiana a better place to live in with directions for setting up a solid waste management plant within a year. Taking up the matter, Justice Hemant Gupta and Justice Fateh Deep Singh asserted the installation of a solid waste management plant was imperative and "may be the first step towards making Ludhiana a better place to live in."
Frame policy for vendors, state told
Chandigarh, December 2
The Punjab and Haryana High Court today issued a notice to the States of Punjab and Haryana, along with UT Chandigarh, for implementing Supreme Court's directions on putting in place a policy for street vendors and hawkers.
Attack on RTI activist: HC seeks report from SSP
Chandigarh, December 2
The Punjab and Haryana High Court today called for a report from the Barnala Senior Superintendent of Police (SSP) on threat perception to RTI activist Tarsem Jindal.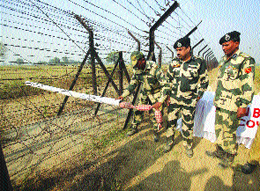 Bid to smuggle heroin foiled
Udhar Dhariwal (Amritsar), December 2
The BSF foiled yet another bid by Pakistani smugglers and confiscated 14 kg of heroin worth Rs 70 crore in the international market. Three Pakistani smugglers were injured, two of them critically, as the jawans opened fire. However, the intruders escaped into the Pakistani territory. One of them could have been killed, said BSF sources.
BSF officials with packets of heroin seized from Udhar Dhariwal border post on Monday. Tribune photo: Vishal Kumar

Councillor booked for thrashing MC inspector
Patiala, December 2
The local police have registered a case against SAD councillor from Ward no. 9 Sukhdev Singh Sandhu for allegedly thrashing a building inspector on Saturday. The complainant, Harbans Singh, in his statement to the police, alleged that Sandhu and his supporters thrashed him when he instructed a local jeweller to stop illegal construction in Preet Nagar area. "Sandhu also threatened me of dire consequences if I reported the matter to anyone," he said.
Missing Muktsar toddler's body found in tank
Muktsar, December 2
The body of missing 18-month-old boy, Ekam of Bhuttiwala village, was found from a small underground water tank outside his house this evening. He had gone missing under mysterious circumstances on November 25 from outside his house while playing.
Kidney scam: 2 more doctors booked
Mohali, December 2
The Mohali police today booked three more doctors and an administrative official of Surya Kidney Care Centre at Sector 69 following the interrogation of Dr Arjinder Singh Bains' during his three-day police remand. Deputy Superintendent of Police (City II) Ajinder Singh said they had booked Dr RS Rai, Dr Satya Shree and Dr Munish Chabra and Jashanjit Singh, administrative official, of Surya Hospital in the kidney scam. — TNS