Dentist, 3 elderly persons robbed of cash, valuables
Panchkula, December 2
Four persons, including three senior citizens (one of them 110 years old), were robbed of cash and valuables in two separate incidents in Panchkula during the past 24 hours.


Dr Anip Gupta, who was robbed inside his clinic in Ramgarh. A Tribune photograph
Councillor's sit-in gets civic body moving on recarpeting work
Chandigarh, December 2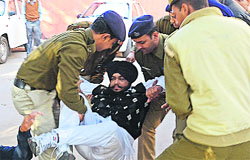 A peaceful sit-in over the alleged failure of the MC to recarpet roads in in Butrela, Badheri and Attawa villages in Sector 41 and 42 by a local SAD councillor in true Gandhian style outside the office of the MC Commissioner today saw civic body officials finally moving into action.

The police take away SAD councillor Malkiat Singh, who was protesting outside the MC Commissioner's office in Sector 17, Chandigarh, on Monday. A Tribune photograph
Winter is in, uniform in government schools isn't
Chandigarh, December 2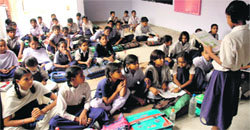 The distribution of the winter school uniform is yet to begin in several government schools in the UT even though the winter has set in and the Education Department today revised the school timings.


Several schools in the UT are yet to distribute the winter school uniform among students. A file photo
CAG finds fault with CHB
Chandigarh, December 2
While the Pride Asia project of Delhi-based realtor Parsvnath Developers Ltd at Rajiv Gandhi Chandigarh Technology Park (RGCTP) is stuck in arbitration with the Chandigarh Housing Board (CHB), the board has been held responsible for spending Rs 360 crore from the bid money for the project.
No lessons learnt from Khushpreet murder case
Senior police officers swung into action later in the day on Monday and transferred the SHO of the Sector 39 police station, Inspector Narinder Patial, to the operation cell for his negligence in handling the Pinki murder case. Incidentally, Inspector Patial remained suspended for quite some time after he was found negligent in handling the Khushpreet case in 2010. He was reinstated only last year. Patial was the SHO of the Sector 34 police station and had been punished for negligence in handling the Khushpreet case.
Man ends his life
Chandigarh, December 2
Blaming his family members for harassing and mentally torturing him, a 56-year-old man allegedly committed suicide by consuming poison at his residence in Sector 27 last night. The victim, Daya Kishan, an employee of the Haryana Government Press, left behind a suicide note blaming his wife, daughter and son-in-law for forcing him to take the extreme step.



Over 1,000 non-teaching employees hold protest outside DGSE's office
Mohali, December 2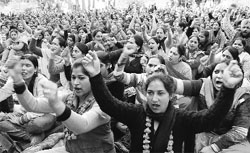 Defying the orders issued by the Punjab Director General School Education (DGSE), Non-Teaching Employees Union, members of Sarva Shiksha Abhiyaan (SSA)/ Rashtriya Madhyamik Shiksha Abhiyaan (RMSA), continued with their strike and over 1,000 employees held a protest outside the DGSE's office, today.
Members of the Non-teaching Employees Union hold a protest at Phase VIII in Mohali on Monday. Tribune Photo: Vicky Gharu
Contractor held for negligence
Mohali, December 2
The Mohali police have arrested a contractor in connection with the death of a 14-year-old boy. The victim, Vishnu, had died after falling down in a pit at Madanpura roundabout on Sunday.
ISKCON opens one more centre in Panchkula
Panchkula, December 2
The International Society for Krishna Consciousness (ISKCON) opened one more centre in Panchkula. The centre is situated in Sector 9.
Bilateral cooperation with Central Asia stressed
Chandigarh, December 2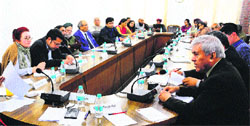 While stressing that there is an immense potential for India and Central Asian countries to cooperate in the fields of security, economy and education, experts from India and several Central Asian countries felt that there was a need to create greater awareness in both regions about issues of mutual interest.
Delegates at an interactive session on cooperation between India and Central Asian countries in Chandigarh on Monday. A Tribune photograph
Compensation in medical negligence cases discussed
Chandigarh, December 2
The Medicos Legal Action Group (MLAG) today held a meeting to discuss the issue of amount of compensation awarded in cases of medical negligence.
World Disabled Day
Chandigarh, December 2
World Disabled Day was observed at Prayaas, a rehabilitation centre for differently abled children, today. Children with disabilities from various institutions of the city participated in fancy dress, race, painting and dance competitions on the occasion.
Councillors reach out to residents
Chandigarh, December 2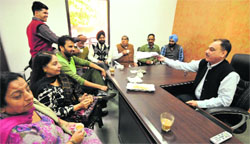 Councillors of the Municipal Corporation these days are busy opening new offices, forming teams of volunteers to help out residents and even hearing their complaints at weekends. Keeping in mind the parliamentary elections the next year, the councillors are working very hard and providing services on residents' doorstep to strengthen the voter base of their respective parties.
Councillor Mukesh Bassi hears the grievances of residents of his ward in Chandigarh on Monday. Tribune photo: pradeep tewari
Forensic experts to record evidence via video-conferencing
Chandigarh, December 2
Forensic experts in city hospitals are soon going to record evidence before courts through video-conferencing. The move will save the travel time for the experts and help them manage the load of post-mortems and medico-legal cases.
LPG consumers sore over delay in delivery of cylinders
Chandigarh, December 2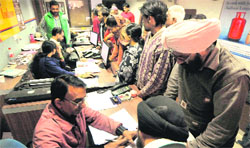 A number of LPG consumers at Burail are up in arms against the dilly-dally tactics adopted by the Sukh Gas agency in the delivery of LPG cylinders. The consumers, who had gathered outside the office of the gas agency, said the delivery of LPG cylinder was being delayed for over two weeks.

Rush of consumers at the office of an LPG dealer at Burail on Monday. Tribune photo
Day 4: Colours of Haryanvi culture dominate Crafts Mela
Chandigarh, December 2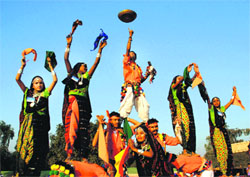 The fourth day of the Crafts Mela, under way at the Kala Gram, saw a host of colourful activities. The programme, titled "Colours and Sound of Haryana", hogged the limelight in the evening and depicted cultural heritage of the state.




Artistes present a cultural dance during the Crafts Mela at Kala Gram in Chandigarh on Monday. Tribune Photo: Nitin Mittal
Play highlights common man's plight
Chandigarh, December 2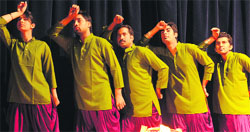 The Adakar Manch, Mohali, in collaboration with the Sangeet Natak Academy, Delhi, staged a play - Baat Soohe Phullan Di, at Punjab Kala Bhawan, Sector 16, here today. Written and directed by Dr Sahib Singh, the play highlighted how wrong decisions by rulers affected the lives of the common people.
The Punjabi play "Baat Soohe Phullan Di" being staged at Punjab Kala Bhawan, Sector 16, Chandigarh. Tribune photo: Pradeep Tewari
Need for law to regulate live-in relationship
* Should there be a law to govern live-in relationship? In the wake of the SC framing guidelines for determining live-in relationship, Chandigarh Tribune spoke to local citizens on this issue.
feedback
Keep residents' interest in mind
There is a little number of vacant lands left in the City Beautiful that are reserved for commercial and other usage.
College takes out AIDS awareness rally
Chandigarh, December 2
Programmes to mark World AIDS Day continued in the city today.
PU to appoint professional counsellors
Chandigarh, December 2
Soon, the Panjab University will be hiring professional counsellors to deal with student grievances and help them overcome the stress they face during academic sessions.
Timings of govt schools revised
Chandigarh, December 2
With the onset of winter, the UT Education Department today revised the opening and closing time of government schools. The revised schedule will remain effective till January 31 next year.
Varsity finalises schedule for meetings
Chandigarh, December 2
The Panjab University (PU), Chandigarh, today finalised the meetings of various faculties of Syndicate elections, which will be held at the Senate Hall on the university campus on December 9 and 10.
School students' date with veteran filmmaker
Panchkula, December 2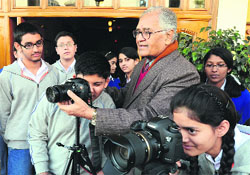 Students of a Panchkula school may get a chance to work with veteran filmmaker GL Bhardwaj, who shot the iconic umbrella scene in the Raj Kapoor and Nargis-starrer Shree 420.




Filmmaker GL Bhardwaj gives tips to students during a photography workshop organised at The Gurukul, Sector 20, Panchkula, on Monday. Tribune photo: Nitin Mittal
Herbal garden comes up at GCG-42
Chandigarh, December 2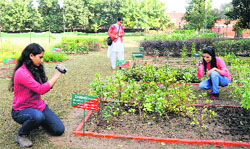 A herbal garden was inaugurated at Post Graduate Government College for Girls-42, Chandigarh, by Sandeep Hans, DHE (Colleges), UT, and Kuldeep Sharma, IFS, Deputy Conservators of Forests, UT, today.

Students capture herbs in their cameras at the herbal garden, which was inaugurated at the Post Graduate Government College for Girls, Sector 42, Chandigarh, on Monday. Tribune photo: Vicky Gharu
Educationists awarded
Chandigarh, December 2


Santosh Sharma, principal of Jawahar Navodya Vidyalaya, Chandigarh, and Rajesh Kumar, a Hindi teacher, have been awarded with the Navodya Vidyalaya Samiti National Incentive Award for administrative skills and innovation in the field of teaching and other co-curricular activities for the year 2012.
Santosh Sharma and Rajesh Kumar